The 18th Mise-en-scène Short Film Festival (MSFF) 2019 'Imagination of Genre Exhibition' began its seven-day film festival starting with the Opening Ceremony that was held on Thursday, June 27 at Amorepacific headquarters.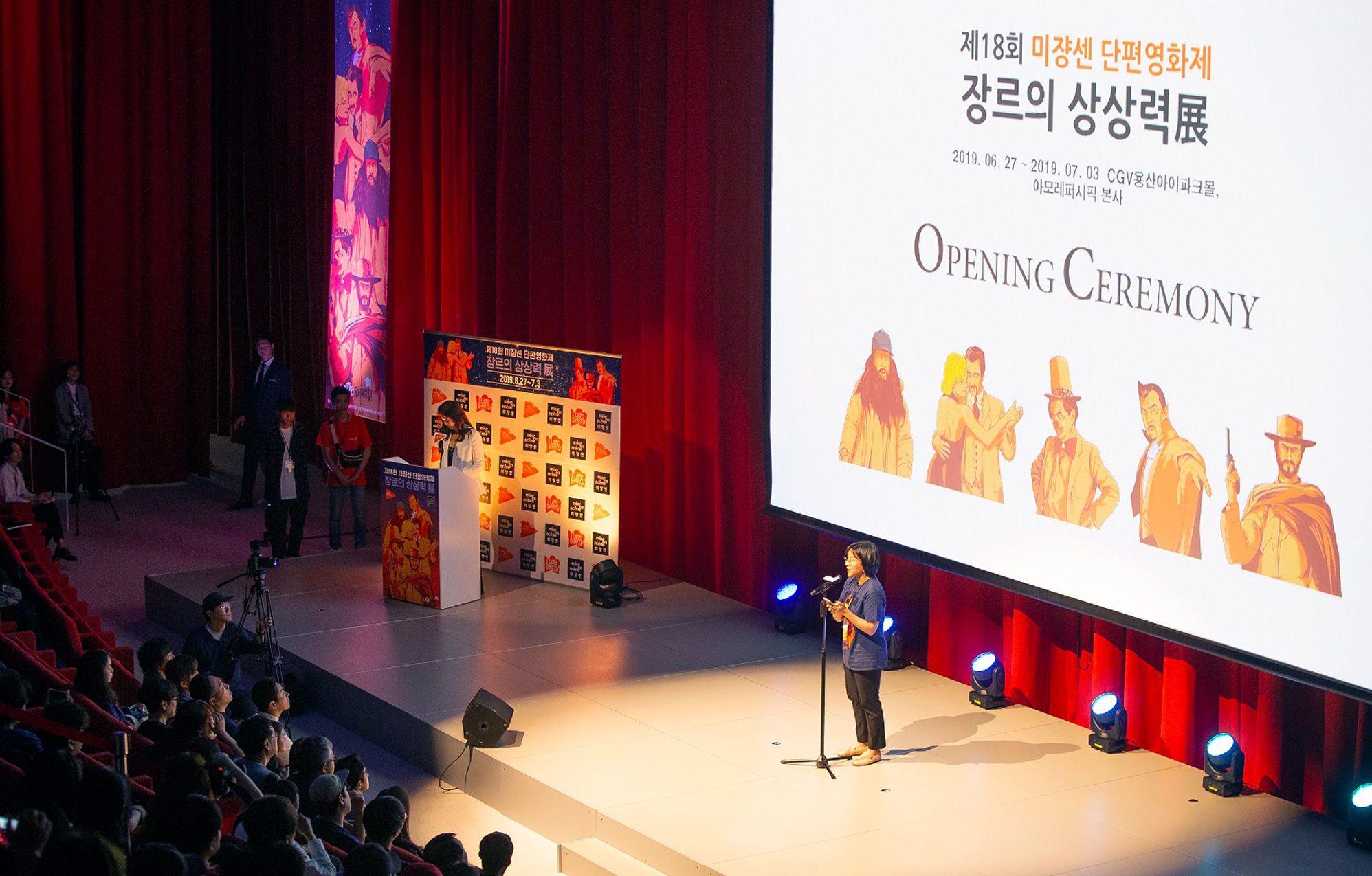 Chairman Lee Hyeonseung, Festival Director Jang Jaehyun as well as honorary committee members Choi Donghoon and Hur Jinho, and judges Min Kyudong, Yoon Gaeun, Lee Yoonjung, Jeon Gowoon attended the Opening Ceremony. Actors Go Ahsung, Ryu Deokhwan, Moon Sori, Lee Siyoung, and Ju Jihoon also attended as honorary judges, gracing the event.
Film director Yoon Gaeun delivered judges' commentary on the preliminary saying, "it was difficult yet rewarding to select 59 films out of the 1,184 entries for the preliminary round" and added, "I am pleased as I look forward to seeing the exciting films we reviewed on a small monitor now on the big screen."
President Ahn Saehong at Amorepacific, which has sponsored Mise-en-scène Short Film Festival since its first festival in 2002, said, "we believe that a sincere interest in culture and arts will make the world more beautiful" and added, "we will continue to support filmmakers who will be leading the next 100 years of Korean film industry."
In celebration of the 100th anniversary of Korean films, two early short films that were selected as opening films were screened. Film directors Kim Kiyoung's 'I Am a Truck (1953)' and Ha Giljong's 'The Ritual for a Soldier (1969)', which were played in film versions, received a standing ovation from participants.
The 59 films of this year's MSFF Competition program will be screened from June 28 (Friday) to July 3 (Wednesday) at CGV Yongsan I'Park Mall. The 59 entries advanced into the preliminaries winning over other submissions 20 to 1.
Other than the festival's Competition program, there are other special programs to look forward to. The two early short films that were selected as opening films will be introduced on June 29 (Saturday) and July 1 (Monday) under the name 'Korean Film 100th Anniversary Special Exhibition'. Four short films that capture the fear of unfamiliar moments will be unveiled as 'Visit of Strange Things' and five short films that look into the different lives and world views of women as a 'Special Tribute to Female Filmmakers' to the public. The 'Special Tribute to Female Filmmakers' will be held free of charge from July 1 (Monday) to 2 (Tuesday) at the headquarters of official sponsor Amorepacific as a company that has grown serving women.
More information on reservations for the MSFF Competition program is available on CGV website, and the overall information on the festival on MSFF website (www.msff.or.kr)