Amorepacific Group published its 2018 Sustainability Report 'A More Beautiful World' that contains the sustainable management activities of last year.
Since the publication of the first-ever sustainability report in Korea's beauty industry in 2009, Amorepacific Group has been publishing a sustainability report every year for the past 11 years. This year's report was designed in a way that shares the story around key achievements in order to foster easier communication with customers. Besides the printed edition, the company published for the first time a digital version of the report (sr.apgroup.com)that enables interactive communication with the millennial generation who are more used to digital medium.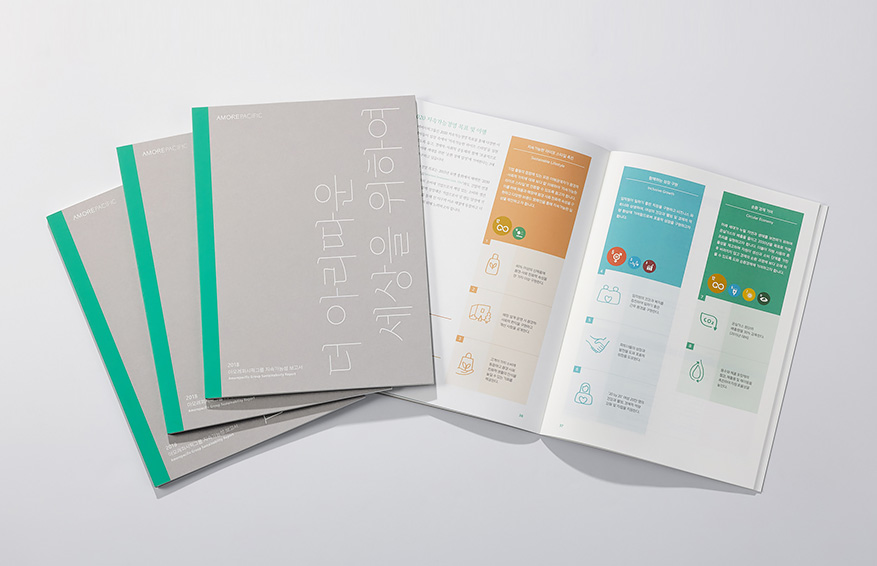 In this year's report, Amorepacific Group covered the Group's sustainable management activities and the achievements of each brand centered around three strategic directions (Sustainable Life, Inclusive Growth, Circular Economy) and eight commitments based on its 2020 Sustainable Management Vision, 'A More Beautiful World'. As a consumer goods company, the Group achieved SDG 12 'Responsible Consumption and Production' out of the 2030 Sustainable Development Goals (SDGs) that were adopted by the UN General Assembly in 2015. The report also includes activities to achieve SDG 5 'Gender Equality' as a company that grew by serving women.
To achieve its goal to promote sustainable life, Amorepacific Group committed to reducing plastic consumption across its entire process from production to disposal. Since 2018, it used FSC-certified paper buffer material instead of bubble wrap at local distribution centers and applied recycled materials made with collected empty bottles in the containers of cosmetics products.
In addition, Amorepacific Group continued various activities to realize inclusive growth by ensuring the health and well-being of its members, business partners, and the marginalized in local communities. It carried out '20 by 20 Commitment' activities in 2018 with the goal of beautifying the lives of 200,000 women by 2020 by improving their health, well-being and economic empowerment. The Group also implemented projects to support key partners by assessing their level of competency in labor, safety, environment areas and offer education for improvement measures. There are also 16 health keepers with visual impairment and 2 employees with physical disabilities working at 'Laon', a manipulative therapy center located in Amorepacific Group headquarters. Proceeds are donated to three organizations, including the Korea Blind Union.
Moreover, Amorepacific Group made great effort to contribute to creating a circular economy through efficient use of resources and reduction of greenhouse gas emissions. It actively makes full use of idle spaces in its domestic and overseas business sites to generate photovoltaic energy, and especially uses solar power in operating production facilities at Beauty Campus Osan. As a result of research of 15 years into protecting biodiversity, Jangwon No. 2 and Jangwon No. 3 were created and both were each used as ingredients in Innisfree and brand Amorepacific products, respectively.
Following last year, Amorepacific Group's 2018 Sustainability Report was published as a booklet only covering the key achievements and core activities of last year to reduce environmental impact due to the use of paper. The full version that includes detailed achievements and data can be found on Amorepacific Group website (www.apgroup.com)
[Amorepacific Group 2020 Sustainability Commitments]
Amorepacific Group 2020 Sustainability Commitments
3 Pillars
8 Commitments
Sustainable Life
1. Incorporate at least one benefit for the environment or our society into more than 40% of our new products.
2. Integrate environmental and social consideration into the design and operation of our stores and disclose our improvement.
3. Provide customers the opportunity to take part in sustainable consumption and raise their awareness of environmentally and socially sustainable lifestyle.
Inclusive Growth
4. Create a great place to work by improving employees' health and welfare.
5. Promote inclusive growth by supporting our business partners' growth and development.
6. '20 by 20' commitment: support the health, well-being, and economic empowerment of 200,000 women by 2020.
Circular Economy
7. Reduce our greenhouse gas emissions by 30% per tonne of production from the 2015 baseline.
8. Improve resource efficiency by promoting reduction, recycling and reuse of water resources and packaging materials.