Amorepacific (Chairman & CEO Suh Kyungbae) launched the global premium brand Laneige in the European market. Laneige will begin targeting the European market by entering around 800 Sephora stores across 18 European countries1 , including France, Russia, Spain and Italy, starting April.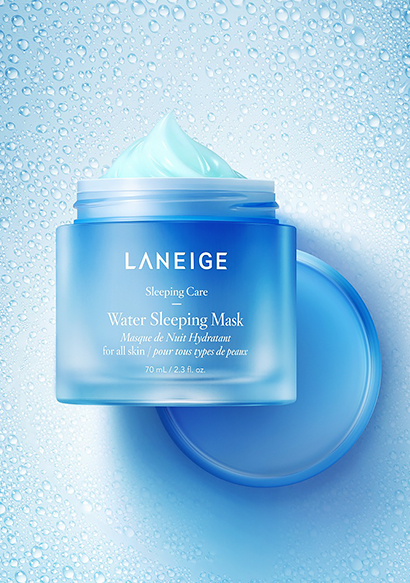 Using the experience of successfully launching in Sephora stores in the U.S. and Australia as a stepping stone, Laneige plans to implement various activities to win the hearts of European consumers by focusing on about 20 main products, including the 'Water Sleeping Mask' and the global bestseller, 'Water Bank Moisture Cream'.
Head of Amorepacific Europe Thierry Maman said, "I am very pleased to unveil Laneige, a premium moisture-focused functional cosmetics brand, through a close partnership with Sephora in Europe where there is an increasing interest in skincare," and added, "We are committed to becoming a beloved brand in Europe based on Laneige's leading expertise on skin moisturizing and innovative products with added functional skincare."
The brand had taken its first step onto the global stage by entering the Hong Kong market in 2002 and, as of end of 2018, it entered 15 markets across Asia, North America, and Oceania. Laneige has now strengthened its standing as a leading K-Beauty brand in a total of 33 markets by entering the Sephora stores of 18 European countries.
Amorepacific has continued to expand its business in Europe by acquiring the luxury perfume brand, Goutal Paris, in 2011 and by opening Korea's major luxury beauty brand Sulwhasoo's solo store in 2017 as the only Korean brand to open a solo store in Galeries Lafayette Paris Haussmann, France, where the world's best luxury brands are offered.
Amorepacific has prepared for Laneige to expand into the European market by analyzing Europe's cosmetics market and its consumers for years. According to the global market research agency Euromonitor, the size of the European cosmetics market was around 93.4billion Euros in 2017 – a developed market that accounts for about 22% of the global cosmetics market. It was shown that the European market has high awareness and interest on 'K-Beauty' as well and consumers in Europe considered quality and functionality as the most important elements in purchasing cosmetics products.
1

The 18 countries in Europe Laneige entered via Sephora: France, Russia, Spain, Italy, Poland, Luxembourg, Monaco, Germany, Romania, Serbia, Bulgaria, Greece, Portugal, Switzerland, the Czech Republic, Denmark, Sweden, and Turkey