Amorepacific Group and the world's largest health and beauty retailer A.S. Watson Group signed a Memorandum of Understanding (MOU) at Amorepacific Global Headquarters to strengthen global strategic partnership.

Amorepacific plans to accelerate its expansion into new markets through the strategic partnership with A.S. Watson Group, which has a wide distribution platform across Asia and Europe and strengthen brand awareness in overseas markets by delivering innovative products with a unique value of Asian Beauty to a wider audience.
Amorepacific successfully delivered brands Mamonde, Ryo and Mise en Scène in key markets in Asia, such as China and Taiwan, using A.S. Watson Group's platform. It confirmed that A.S. Watson Group accurately identifies customers' needs and effectively targets them based on data through close collaboration and that the group is the best partner for brands to solidify their positions in new markets.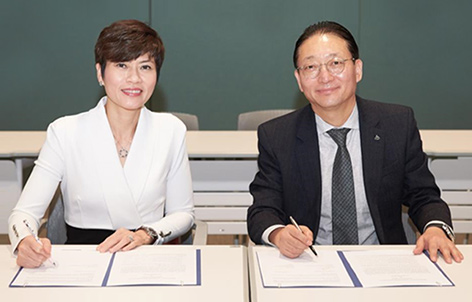 Amorepacific President Ahn Saehong said, "We look forward to developing detailed plans that can create synergy effect for both groups taking this MOU with A.S. Watson Group as an opportunity," and added, "Amorepacific is committed to creating more contact points with customers around the world and making utmost effort to innovatively change customer experience."
A.S. Watson Group CEO Malina Ngai said, "A.S. Watson Group and Amorepacific are both key players in the global beauty industry with proven experience and expertise. I thank Amorepacific for trusting A.S. Watson as an effective retail platform to grow in Asian and European markets, and we will work together to provide the best products and shopping experiences to customers."
A.S. Watson Group has 12 retail brands and more than 14,900 stores in 25 markets around the world. In addition, it provides the best shopping experience and popular K-Beauty products for customers around the world who are interested in K-Beauty. The K-Beauty category of A.S. Watson Group has grown by 56% and 122% in Asia and Europe (including Russia and Turkey), respectively, since 2015.