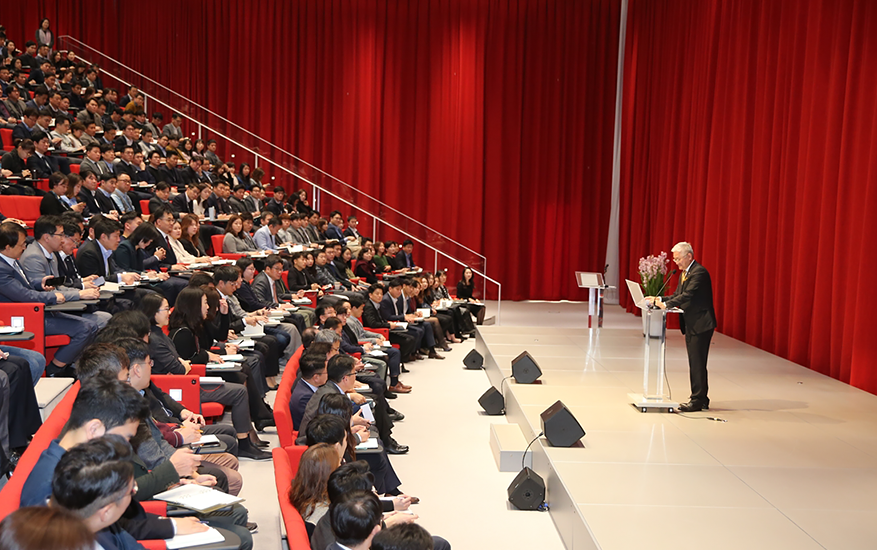 Amorepacific Group has designated 'Exciting Changes' as the management policy for 2019.
Amorepacific Group held new year's kick-off ceremony for 2019 at Global Headquarters Main Hall in Yongsan on January 2 (Wednesday). Chairman Suh Kyungbae proposed this year's management policy by saying, "Changes are golden opportunities for new innovations. We should not fear or hesitate and enjoy all changes happening now" in his New Year's speech.
In particular, Chairman Suh mentioned changes of times and customers such as the 4th industrial revolution, millennials and generation Z, emphasizing, "Amorepacific must become a company that makes cosmetics with a better understanding of cosmetics than anybody rather than a company that merely produces good products." He also added, "Let's concentrate all our commitment and capabilities on creating and spreading Asian Beauty, which is a fundamentally new-level goal that goes beyond K-Beauty trend."
In the meantime, Chairman Suh stressed the importance of 'Customer-centricity', which is a key management principle that will never change. He stated, "Amorepacific's everything is determined by customers. It is more important than anything to not drift away from customers and proactively moving toward that center", highlighting the group's resolution to execute three major tasks – 'Development of innovative products', 'Improvement of customer experience' and 'Digital changes'.
For the development of innovative products, Chairman Suh proposed 'Beyond comparison' as the main keyword. "Based on deep understanding and research, we have to develop the world's first and world's best products that are highly differentiated and could not be copied by others." He then stated, "In the age of omnichannel that breaks the boundaries between online and offline, the group should offer infinitely multifarious customer experiences in and outside of stores while striving to create fandom based on interactions with customers" when it comes to customer experience. Lastly, Chairman Suh asked for a company-wide maximized use of digital media. Under the recognition that "Digital and mobile have the largest impact on today's cosmetics industry", he emphasized that the group "should communicate with customers on all levels through multi-brands, multi-categories and multi-channels utilizing AI, big data and cloud computing from various angles."
Meanwhile, Amorepacific Group carried out a preemptive reorganization at the end of 2018 for focused capabilities of brand marketing and sales and strengthened new growth sectors such as duty free or digital. Based on the change, the company plans to continue its journey toward 'Great Global Brand Company' this year by actively responding to changes in distribution paradigm, accelerating pioneering of new global markets, securing future management fundamentals and establishing a highly-committed organization.