Global beauty company Amorepacific announced its full-scale business expansion in the Philippines with its two global brands— Innisfree and Laneige —as front-runners on December 13.
Amorepacific established Amorepacific Philippines in Metro Manila, the capital region of the Philippines, in August and opened the first store of its global naturalism beauty brand, Innisfree, in SM Mall of Asia, the largest shopping mall in Manila, last month. This was then followed up with the official store opening of its global premium brand Laneige in SM Makati Department Store, the shopping hub of Manila, on December 13.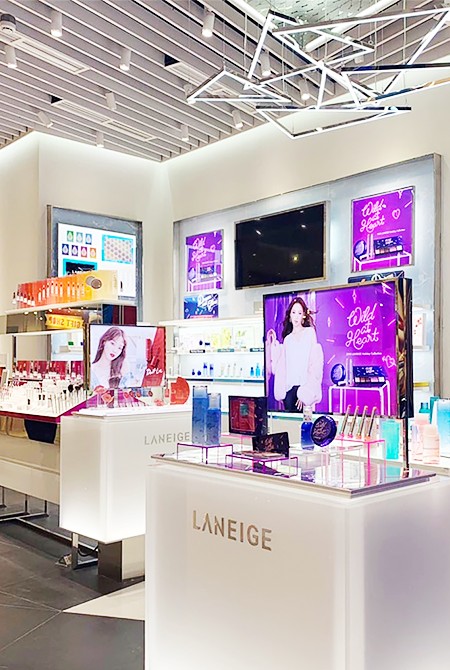 Laneige also entered the largest e-commerce channels in the Philippines including Lazada along with the opening of its bricks-and-mortar store to expand its online reach for customers all around the archipelago which consists of many islands. Its star products are the worldwide hit, Lip Sleeping Mask, ranked top in the lip category at Sephora US and Australia, as well as Water Sleeping Mask and Water Bank collection. Laneige plans to expand both its online and offline channels in 2019.
The Philippines with a population of over 160 million has great potential for growth. Amorepacific is particularly targeting the premium beauty market which is growing quickly along with the rising popularity of K-beauty. By expanding into this promising market, Amorepacific aims to strengthen its presence in the ASEAN region, which is one of the important strategic business regions for the company. Amorepacific has so far run its business successfully in Singapore, Malaysia, Thailand, Vietnam and Indonesia.
Amorepacific Group is the largest global beauty company in Korea with 73 years of history and is the leader of Korean beauty (also known as K-beauty), the hottest beauty trend in the world beyond North America, Europe and Asia. Ranked in the Forbes' list of the 100 most innovative companies for four consecutive years, Amorepacific has been committed to developing customer-centered innovative technologies based on the corporate philosophy of Asian Beauty . The company has brought its original, innovative products to the world including cushion foundation, overnight mask and boosting serum, which have all created new beauty categories in the global beauty market and changed the beauty routine of women all around the world.
"We are glad to finally make our way into the Philippines market and respond to its increasing need for our brands. Through our differentiated, innovative products and premium brands, we will spread Asian Beauty across the Philippines and satisfy the local customers," said Na Jungkyun, the head of Amorepacific ASEAN RHQ.