Amorepacific Foundation (Chairman Lim Heetaek) is holding its first international conference under the theme of 'In Search of Asian Beauty: Reclaiming Asian Aesthetics in the 21st Century' at the Amore Hall on the 2nd floor of Amorepacific headquarters located in Yongsan for two days from October 26 (Fri) to 27 (Sat).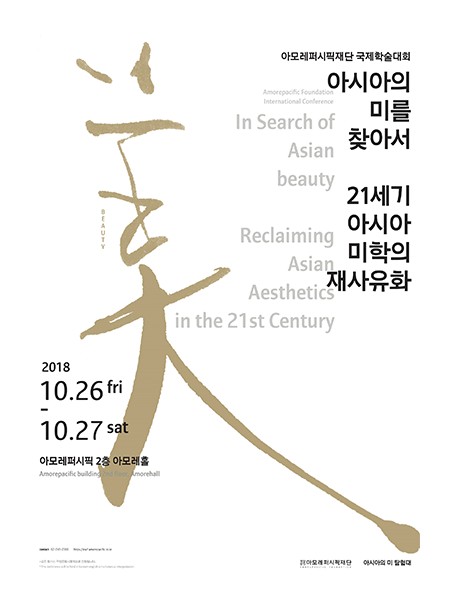 The international conference has been arranged to provide a venue for communication and exchange to expand the philosophical, methodological and social meaning of 'beauty' by moving beyond discussions of beauty centered around the West, interpreting the modern significance of 'Asian Beauty' created in the lives in the East Asian region and sharing research on beauty of the East and the West.
The conference has 5 sessions, during which a total of 23 speakers from six countries, including Korea, Germany, the U.S., Singapore, Japan and China, will present. There will be presentations and discussions on each of the themes of the sessions – Session 1 Concepts and Perspectives, Session 2 Beautiful Personhood: Representation and Performance and Session 3 Beautiful Places on the 26th and Session 4 Lifestyle and Living and Session 5 Popular Culture, Technology and Images on the 27th.
Registration and further information on the conference can be found on the website of Amorepacific Foundation(http://ascf.amorepacific.co.kr) with on-site registration also allowed.
Director Baik Youngseo of Amorepacific Foundation said, "Amorepacific Foundation has explored and studied beauty as a historical and social component coexisting in the Asian region by shifting perspectives and thinking that were centered around the West," and added "I hope by holding the first international conference we can expand the scope of research into beauty of the East and the West."
Amorepacific Foundation's 'Asian Beauty' project was planned to discover the concept and characteristics of Asian beauty and encourage research into Asians' aesthetic experience and perspective. Since 2012, the foundation has held research project contests on 'Asian beauty' for doctorate degree researchers every year. Selected researchers receive research grants and their results are disclosed to the public via the 'Asian Beauty' publication series. In addition, the foundation holds 'Asian Beauty Lectures', an interactive series of lectures with the public. Amorepacific Foundation plans to share and spread the unique significance and value of 'Asian Beauty' through 'Asian beauty' research.
[Note]
Day 1: October 26 (Fri), 09:30 ~ 18:10
Time
Program
Speakers and Chairpersons
10:00
Welcome speech & Opening speech
Lim Heetaek (Chairman of Amorepacific Foundation)
Baik Youngseo (Emeritus Professor, Yonsei Univerisy / Korea)
11:00
Session 1: Concepts and Perspectives
The Trajectory of Flowers: The Tradition and Revolutions of the Japanese Culture
Contesting Notions of Asian Beauty: An Art Historical Perspective
Painted Blank: Reclaiming the Aesthetics of Empty Space
Discussion
Chair: Kim Hyunmee (Dept. of Cultural Anthropology, Yonsei Univerisy / Korea)
Yasuo Kobayashi (Emeritus Professor, The University of Tokyo / Japan)
Priya Maholay-Jaradi (Dept. of History, National University of Singapore / Singapore)
Cho Kyuhee (Dept. of Archaeology and Art History, Seoul National University / Korea)
Chair: Lee Chonghwa (Dept. of Political Science, Seikei University / Japan)
14:10
Session 2: Beautiful Personhood: Representation and Performance
Inside Out: Self-Portraiture in East Asia
Beautiful Sights Make Beautiful Sounds: Good Looks as 'Star' Power for Performing Classical Musicians and Singers in Asia
Ghost Aesthetics: Child-Spirit Imagery and Materialization in Thailand
Discussion
Chair: Kim Hyungjun (Dept. of Cultural Anthropology, Kangwon University / Korea)
Chang Chinsung (Dept. of Archaeology and Art History, Seoul National University / Korea)
Ho Swee Lin (Dept. of Sociology, National University of Singapore / Singapore)
Megan Sinnott (The Institute for Women's, Gender, and Sexuality Studies, Georgia State University / U.S.)
Chair: Kim Jongyup (Dept. of Sociology, Hanshin University / Korea)
16:20
Session 3: Beautiful Places
Stupa and Cave – Two Archetypes of Buddhist Architecture
Vibrant Duration: Towards the Constant Inversion of Reciprocity between Individual and Architecture
Discussion
Chair: Kang Taewoong (Dept. of Cultural Industry in Northeast Asia, Kwangwoon University / Korea)
Kim Bongryol (President, Korea National University of Arts / Korea)
Deli Zhao (Dept. of Urban Design, China Academy of Art / China)

Chair: Woo Donson (Dept. of Architecture, Korea National University of Arts / Korea)
Day 2: October 27 (Sat), 09:30 ~ 14:50
Time
Program
Speakers and Chairpersons
10:00
Session 4: Lifestyle and Living
Embrace the Pain, Sooth the Soul: Aethetics of Suffering in Korean Southwestern Folk Song
From Writing to Designing: Modern Evolution of Character-arts in East Asia
Discussion
Chair: Shin Jeongsoo (Division of Global Korean Studies, The Graduate School of Korean Studies, The Academy of Korean Studies / Korea)
Hilary Vanessa Finchum-Sung (Dept. of Korean Music, Seoul National University / Korea)

Yang Seuk (Dept. of Foreign Languages and Literatures, Inje University / Korea)
Chair: Seo Bokyeong (Dept. of Cultural Anthropology, Yonsei University / Korea)
13:00
Session 5: Popular Culture, Technology and Images
How Does Contemporary Art in Southeast Asia Match Global Art?
A New Perspective on Beauty of a Generation Wearing Digital Technology: Focused on K-beauty and Fandom
Discussion
Chair: Choe Keysook (Institute of Korean Studies, Yonsei University / Korea)
Yvonne Spielmann (Institute of Professional Development / Germany)

Kim Aera (Ewha Womans University / Korea)

Kim Soyoung (School of Film, TV and Multimedia, Korea National University of Arts / Korea)
*The program may be subject to change