From Tuesday, October 16 to Friday, December 14, iconic Korean luxury beauty brand, Sulwhasoo is holding a 2018 Sulwha Cultural Exhibition at the Headquarters of Amorepacific Group in Yongsan.
Sulwha Cultural Exhibition, which marks its 12th exhibition this year, is Sulwhasoo's original mécénat activity that reinterprets the brand's root, Korean traditional culture, in a contemporary context to communicate brand value.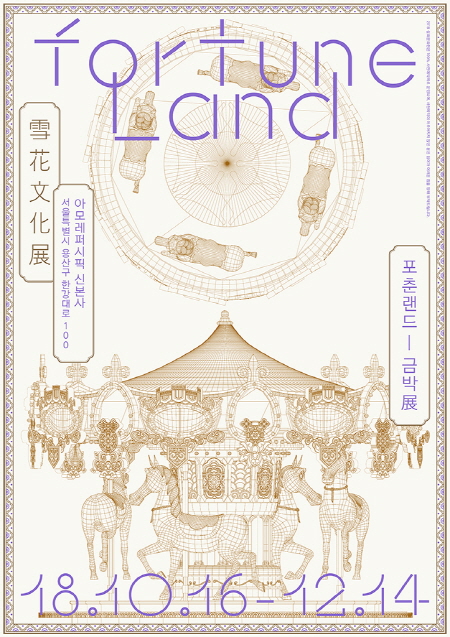 2018 Sulwha Cultural Exhibition presents modern interpretation of the beauty created by the ancestors, with the theme of 'gold leaf,' the Korean traditional decorative technique that imprints lucky omen by tracing letters or patterns with thin gold leaf on fabrics.
This year's exhibition will feature the art works by 13 contemporary artists, who are involved in a range of areas such as space, graphic, objet, fashion, cartoon, media, sound, etc., including Kim Deokhwan, intangible cultural property No. 119. The artists have created the works being inspired by the traditional gold leaf art. They have reinterpreted aesthetic sense of the traditional gold leaf art in different ways for their works to emit the beautiful harmony of tradition and modernity.
In particular,
Moreover, the exhibition hall decorated as an oriental fantasy theme park will present gold leaf tattoo trial, fortune cookies, and art products, providing audience with entertainment, food, and something to treasure. Audience can directly experience various works, going beyond simple appreciation of the works, and feeling and empathizing with the beauty of tradition.
In addition, Sulwhasoo is carrying out the global CSR campaign, 'Beauty from your Culture' in order to contribute to the preservation and succession of traditional culture of Asian countries as well as Korea. The limited edition consisting of First Care Activating Serum EX and Perfecting Cushion, the two best-selling products from Sulwhasoo, as the main products has been released in six countries including Korea, China, Singapore, Malaysia, Thailand and Indonesia and the proceeds will be donated for the purpose of preserving the cultural heritage of each country.
2018 Sulwha Cultural Exhibition requires pre-registration, and further information about the exhibition is available at the website www.sulwhasooculture.com.
[Summary of Sulwha Cultural Exhibition]
Title
Period Tuesday, October 16, 2018 – Friday, December 14, 2018
Time 10 a.m. – 6 p.m.
Place 1F Headquarters of Amorepacific Group in Yongsan (100, Hangang-daero, Yongsan-gu, Seoul)
Inquiries 2018 Sulwha Cultural Exhibition information desk (+82-2-6040-2400)
Website www.sulwhasooculture.com