Amorepacific will hold the Complete with Fragrance Exhibition from October 1 to 5 on the first floor of its headquarters in celebration of the No. 600 Issue of the beauty magazine, HyangJang.
HyangJang, which has published 600 issues over six decades by Amorepacific, is the oldest existing beauty magazine in Korea. Amorepacific published the first edition of the monthly beauty magazine Hwajanggye in 1958 and started to share stories about fashion trends, culture and international news, which was new at that time. The magazine attracted a lot of attention with the appearance of the best actresses since its first edition, and soon became popular by offering a wide range of stories. The magazine changed its name to Nancho in 1963 and then to HyangJang in 1972, continuing its publication until now. It is considered an iconic magazine that led Korea's cosmetics culture.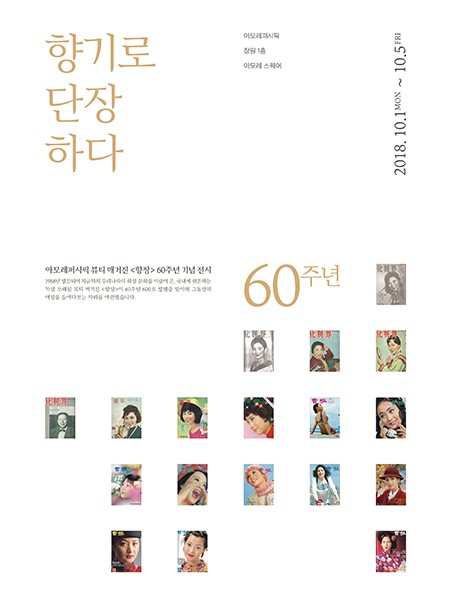 The Complete with Fragrance Exhibition is a special exhibition that displays the 60-year history of HyangJang. The exhibition will display magazine covers that made headlines along with key contents, including advertisements and articles. Visitors can see the trend and change in cosmetics culture per era by the information on how to apply makeup provided by Amorepacific. Visitors can also observe the best actresses of each era by looking at the chronological history of cover models.
HyangJang has also issued a comprehensive range of content, highly acclaimed for holding a significant position in the history of magazine and publication in Korea. The exhibition offers a glance into the lifestyle and social aspect of each era as HyangJang has covered various content, such as fashion trends, experts' columns on various fields of society, and literary works including poems and short stories, along with information on beauty.
The Complete with Fragrance Exhibition celebrating the No. 600 Issue of HyangJang will be held on the first floor of Amorepacific Group headquarters for 5 days from October 1, open to the public for free. Anyone can access the magazine, HyangJang, through Amorepacific counselors. Issue No. 600 will be published as a special edition, partially designed with the old covers of Hwajanggye and Nancho, the beginning of HyangJang.
For further information on the exhibition, please reach out to Amorepacific Customer Service at 080-023-5454