Amorepacific Group issued its 2017 Sustainability Report, 'A MORE Beautiful World,' on the activities and performance of sustainable management carried out in 2017.
Since its first sustainability report in 2009 for the first time in Korea's beauty industry, Amorepacific Group has continued to issue its sustainability reports every year for the past decade. In celebration of the past 10 years, the 2017 Sustainability Report reflects Amorepacific Group's 10 year-journey towards 'A MORE Beautiful World.' The report also includes the sustainability management activities and performance for an inclusive growth with customers, the environment and society centered around Amorepacific Group's 2020 Sustainability Commitments.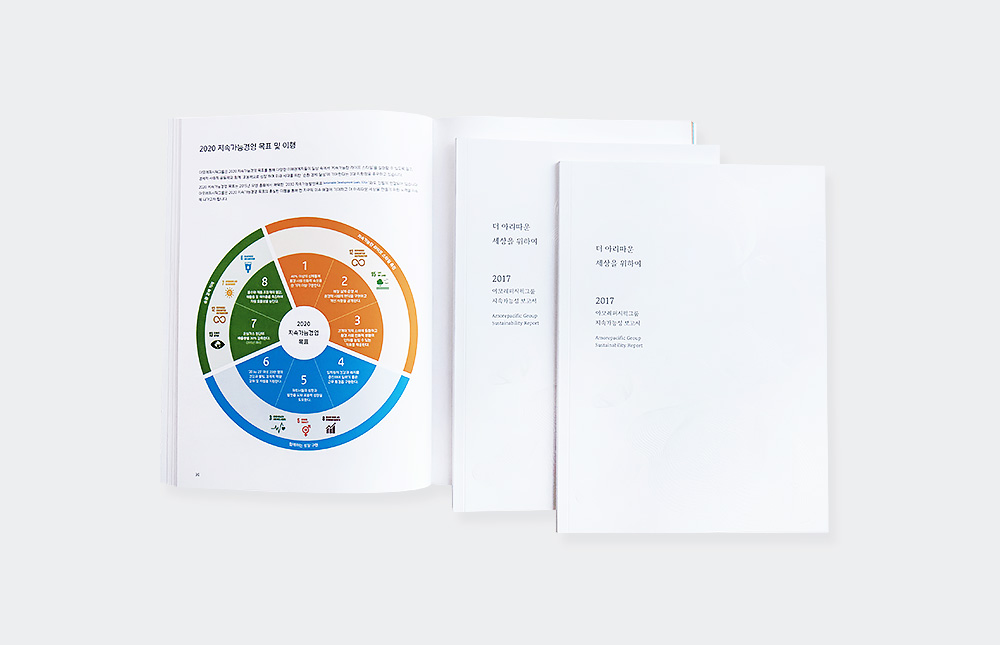 The 2020 Sustainability Commitments declared by Amorepacific Group last year pursues 3 pillars; seeking to help create sustainable lifestyle in everyday lives; achieving inclusive growth with economic and social communities; and contributing to the circular economy for future generations.
To promote sustainable lifestyle, Amorepacific Group has committed to improving sustainability in all stages from product development to disposal. As a result, Amorepacific Group incorporated one or more environmentally or socially friendly elements into 28.8% of its new products launched in 2017. In addition, Innisfree's 'Gong Byeong Gong Gan', which uses recycled makeup containers, was opened to enable customers to take part in the upcycle process. Value consumption campaigns customized to each brand were implemented to provide the opportunity for consumers to fulfill sustainable lifestyle.
Furthermore, Amorepacific Group carried out various efforts for an inclusive growth with employees, business partners, and local communities. There are welfare facilities in place for the health and welfare of employees, such as the AP-Severance Clinic where medical specialists offer medical services at the new headquarters of Amorepacific Group. And by actively promoting various CSR campaigns, Amorepacific Group supported the health and well-being, economic empowerment and independence of about 145,000 women.
To contribute to the circular economy, Amorepacific Group strived to increase the efficiency of the use of natural resources in the entire business process. To achieve this goal, various facilities and systems to improve energy efficiency were introduced at the Amorepacific Group new headquarters. Bioplastics from biomass sources and recycled plastics were applied to product packaging, contributing to improving resource efficiency.
Moreover, only the key performance and activities of last year of the 2017 Sustainability Report were issued in paper brochures, while the full version of the report is available on Amorepacific Group website (www.apgroup.com) to reduce the environmental impact due to use of paper.
For 8 consecutive years, Amorepacific Group was included in the Dow Jones Sustainability Korea Index, which is a global sustainability assessment and investment standard designed to measure sustainability performance of companies through a comprehensive assessment of economic, environmental and social aspects.