17 September 2018, Hong Kong – Amorepacific Hong Kong, an overseas subsidiary of Amorepacific Group, Korea's No.1 beauty corporation and a blue-chip company, held its second 'Makeup Your Life' CSR campaign event earlier this month. Organized in partnership with Global Chinese Breast Cancer Organisations Alliance and the Hong Kong Hereditary Breast Cancer Family Registry, this year's event built on the success of the inaugural workshop in supporting the well-being of female cancer patients in their daily lives by offering makeup advice that alleviates the suffering caused by sudden changes in their physical appearance.
60 female cancer patients who are in the rehabilitation and treatment stages, or within 2 years of treatment completion, participated in the event comprising three hands-on sessions at the Amorepacific Hong Kong Learning & Development Centre in Causeway Bay. Amorepacific Hong Kong beauty mentors shared useful skincare and makeup tips and techniques while helping participants perform their own makeovers to help reaffirm their beauty and confidence.
The event also provided cancer patients with the opportunity to socialize with others going through similar difficulties and experiences, in an informal atmosphere of mutual support and friendship. Participants enjoyed a healing break from their illness and the stresses of treatment with a day of fun, laughter and relaxation.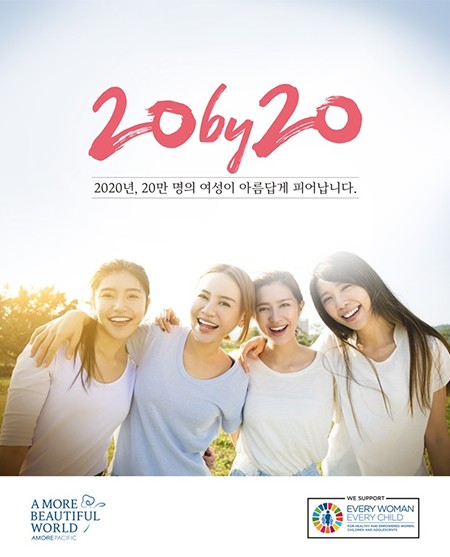 Mr. Jeff Cheng, Marketing Director of Amorepacific Hong Kong, said, "Over the past two years, we have seen the positive impact our 'Makeup Your Life' campaign has had on Hong Kong's female cancer patients, in helping them face cancer with optimism and resilience. This year, we celebrate the strength and beauty of this extraordinary, resilient community, as we continue to empower and embolden them to live their most beautiful life."
Introduced by Amorepacific Group in Korea in 2008, the Makeup Your Life campaign is designed to offer beauty solutions to female cancer patients who have suffered unwanted changes in appearance, such as aging of the skin or hair loss in the course of cancer treatment. Its aim is to alleviate psychological distress and depression, and to help patients develop a more positive attitude to life by reclaiming their beauty and regaining their self-esteem.
Over the last 10 years, 14,040 female cancer patients have received the assistance and expertise of 5,241 Amore counsellors globally. The campaign broadened its reach to Mainland China in 2011, Vietnam in 2015, and Singapore, Hong Kong (China) and Taiwan in 2017. This year, the event will extend to Thailand. By the end of this year, the Campaign is expected to have benefited 15,686 female cancer patients across seven markets.
The 'Makeup Your Life' campaign demonstrates the Group's steadfast commitment to create 'A MORE Beautiful World' and to give back to the communities in which it operates. The Group believes that every woman works hard to create a better life for themselves, their families, their communities and their world, and when their lives are beautiful, the world will also become more beautiful.
"With the vision of A MORE Beautiful World, we are committed to actively helping every woman live their life to the fullest and contribute to a more beautiful world," explained Mr. Cheng. "Amorepacific Hong Kong believes passionately that we have a role to play in supporting our local community and we are proud to join hands with the Global Chinese Breast Cancer Organisations Alliance and Hong Kong Hereditary Breast Cancer Family Registry to bring this meaningful campaign to our city. 'Makeup Your Life' is just one of many CSR initiatives we have undertaken to make a positive impact in our local community and to make life better, healthier and more beautiful. Going forward, we will continue to evolve and expand this campaign to reach and help more people."
The 'Makeup Your Life' event comprised three sessions of two hours each. All sessions offered lessons in skincare, basic makeup theory and demonstrations. Participants were also encouraged to develop their own skills at a practical application class, with professionals on hand to provide useful tips and techniques. At the end of each session, participants were given a complimentary bag of products from Sulwhasoo and Laneige so that they could recreate their new looks at home.
20 by 20 – The Amorepacific Promise
Amorepacific strives to keep the promise of 20 by 20 for a more beautiful world through continuous CSR activities and fulfill its responsibility as a global corporate citizen. Early last year, Amorepacific Group announced its plan to beautify the lives of 200,000 women by the year 2020 by providing support for their health, well-being and economic empowerment.
UN EWEC(Every Woman Every Child)
In 2017, Amorepacific announced to be a private sector partner for EWEC (Every Woman Every Child; a United Nation-led global movement to address the major health challenges facing women and children) to accelerate progress on UN Sustainable Development Goals (SDGs).
Launched in 2010 and led by the UN Secretary-General, the Every Woman Every Child movement aims to intensify national and international commitment and action by governments, the UN, multilaterals, private sector and civil society to keep women's, children's and adolescents' health and wellbeing at the heart of development. As a multi-stakeholder platform to operationalize the Every Woman Every Child Global Strategy for Women's, Children's and Adolescents' Health, the movement mobilizes partnerships and coordinated efforts across sectors to ensure that all women, children and adolescents not only survive, but also thrive to help transform the world.