The beautiful dream that began in Yongsan in 1956 has created the current Amorepacific and we are now communicating with the world. We will create new beautiful dreams embracing Korean beauty at Amorepacific's new headquarters which will become the hall of beauty that changes the world into a more beautiful place.

- Suh Gyungbae, CEO and Chairman of Amorepacific Group
Amorepacific Group is to begin the third era in Yongsan with the completion of its new headquarters in 2017. The employees of Amorepacific Group, who are now working at Signature Tower in Cheongyecheon-ro of Seoul, are planned to be gradually moved in to the new headquarters in Yongsan starting from the 20th this month.
Former Chairman Suh Sungwhan, the founder of Amorepacific who established the company in Gaeseong in 1945, laid a foundation of the business in the site of the current headquarters, Hangang-ro, Yongsan-gu in Seoul in 1956 and completed the construction of a 10-story new building in 1976 in line with the expansion of business thereby developing Amorepacific Group into a representative company that leads Korea's cosmetic industry. In 2017, Amorepacific Group completed the construction of its new headquarters that pursues creativity and communication in the same location and is to begin its third era in Yongsan targeting the global beauty market.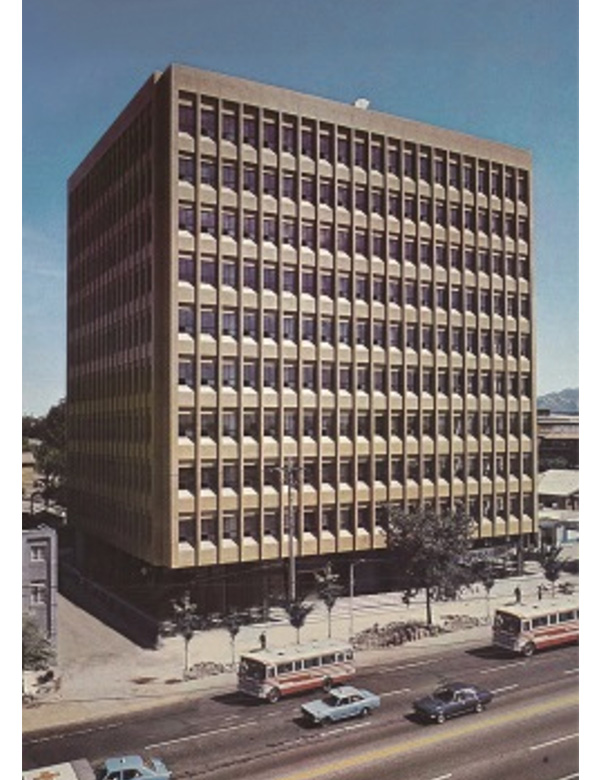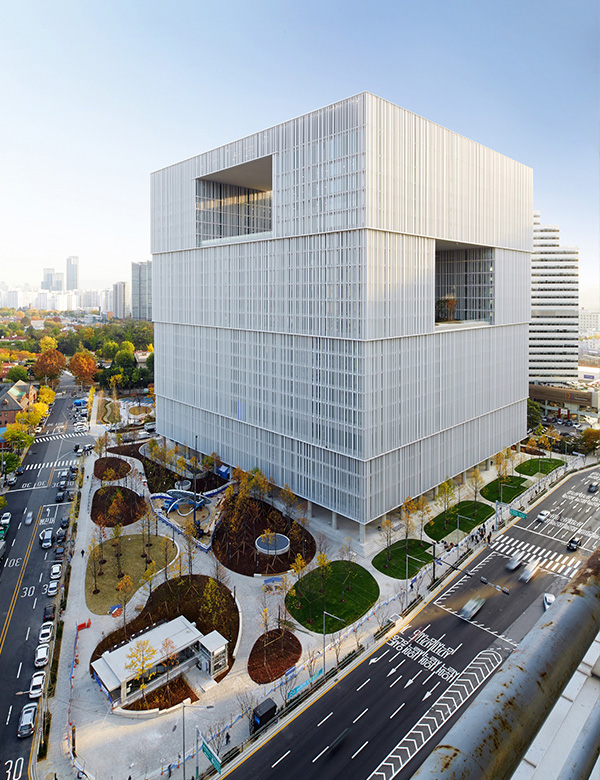 Amorepacific Group has established basic principles of fulfilling social responsibilities and forming harmony with the surrounding areas as it resettles in Yongsan, the location that shares the long history of the company's growth. To this end, Amorepacific Group tried to find ways to ensure natural connection and communication between nature and city, local community and the company and customers and employees through the new headquarters under the key word of 'connectivity'. The group is proposing a new path for urban regeneration with the higher-class building which is an open and comprehensive work space and a space of community that can culturally and socially revitalize Yongsan, local community and Seoul.
The new headquarters of Amorepacific Group, located in Hangangdae-ro 100, Yongsan-gu, Seoul, was designed by a globally renowned architect from the UK, David Chipperfield. David Chipperfield was inspired by the refined beauty of white porcelain moon-shaped pot that conveys comfortable and rich feelings without glamorous techniques, and designed the new headquarters of Amorepacific into a one big moon-shaped pot with an elegant and simple shape. In particular, the features of Korean traditional house, such as gardens within a building that remind of Hanok gardens, were reflected in several parts of the building with modern interpretations to create a building that contains Korean beauty in a city surrounded by concrete jungle. Also, Amorepacific cooperated with Korea's young architects to design the new headquarters' surroundings to contribute to the development of architecture culture in Korea. The underground public sidewalk that connects the new headquarters with Shin-Yongsan Station (Line 4) was designed by stpmj (architect Lee Seungtaek and Lim Mijeong) and the park management building behind the headquarters was designed by architect Yang Sooin.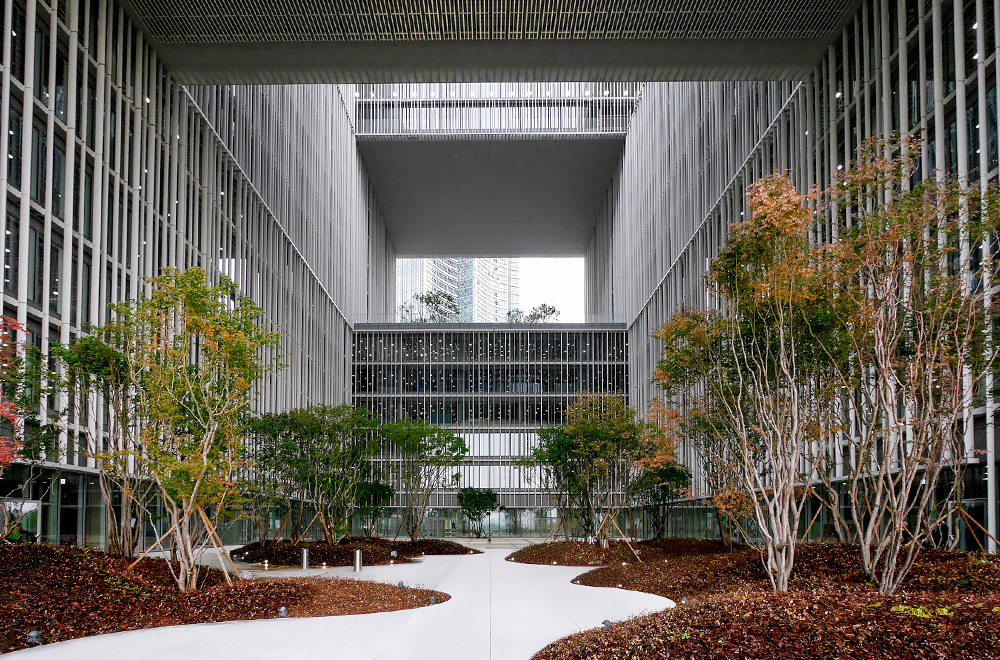 The new headquarters of Amorepacific Group has a gross area of 188,902.07m² with seven underground stories and 22 stories above ground and can accommodate up to 7,000 workers. One of the biggest characteristics of the building is 'Roof Garden', three gardens within the building. The gardens in the building set up on the 5th, 11th and 17th floor occupy the space equivalent to five to six stories and they allow employees to breathe closely with nature and communicate and rest comfortably with the change of seasons.
The spaces from the first underground floor and the third floor are communal cultural spaces designed to communicate with local community. Upon entering the lobby on the first floor, visitors will encounter a large-sized 'atrium' connected to the third floor. The atrium, finished with exposed concrete, has minimized commercial facilities and offers public space for cultural communication to emphasize the openness of the building. The lower floors of a building are generally used for commercial purposes in consideration of profitability and it is difficult to find a building that use those floors as the spaces with public features as Amorepacific's new headquarters. In particular, the first floor has an open art gallery and exhibition catalogue library so that the employees, visiting customers and citizens can freely access to various cultures and the company can fulfill its responsibilities as a corporate citizen. Amorepacific Museum of Art plans to offer various project exhibitions at the exhibition spaces on the first floor and the first underground floor. The Main Hall (450 seats) is situated on the second and third floor to host diverse cultural events and around 30 meeting rooms (6~110 seats) have been designed for outside customers. Other various spaces are to be established for communication with customers such as customer research space and a shop that allows customers to experience Amorepacific's brands. The building also has an in-house daycare center that can accommodate 90 children for employees with kids.
The spaces above the fifth floor are for welfare services and offices. The fifth floor offers enjoyable environment for all employees as an exclusive welfare space that includes cafeteria and café with 800 seats, fitness center and GX room that can accommodate a maximum of 130 people and lounge and healing zone (massage room).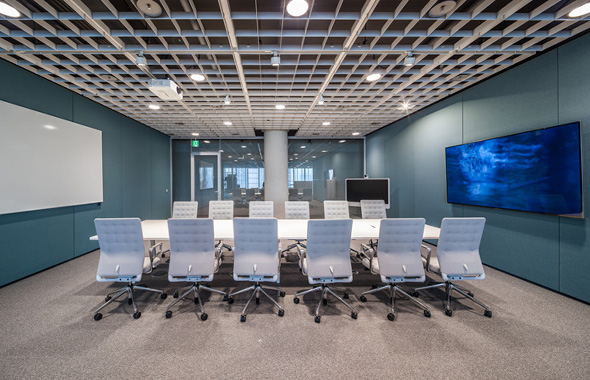 The floors between 6 and 21 are for offices that were designed focusing mainly on maximized open communication. The offices have horizontal and spacious work spaces for easier communication for more people. To ensure smooth communication among employees, open-type desks were set up without partitions, internal stairs were established to allow people to freely move between different floors and all meeting rooms were constructed with transparent glass walls. In addition to individual work space, more communal spaces were made for cooperation among employees and work-focus spaces for one person were also established for more concentrated work, thereby offering a flexible environment where employees can choose their work spaces themselves depending on their needs. Also, natural sunlight can be enjoyed at any spot of the building through the opening of three gardens and external windows of the building. The company hoped to create a healthy working environment for employees through furniture arrangement optimized for natural sunlight and automatically adjusted internal lights with a sensor according to external light.
The new headquarters of Amorepacific Group is to be occupied by 3,500 employees of Amorepacific Group, the holding company, Amorepacific and its major affiliates including Etude House, Innisfree, Espoir, Amos Professional and Aestura. The new headquarters will join Amorepacific Group's new journey towards its vision, 'Great Company', as the company begins its third era in Yongsan as an Asian beauty creator that changes the world with beauty.
Overview of Amorepacific Group's new headquarters
Address: Hangangdae-ro 100, Yongsan-gu, Seoul
Size: seven underground stories and 22 stories above ground
Lot area: 14,525.70m² / Building area: 8,689.63m²
Gross area: 188,902.07m²
Designer: David Chipperfield Architects
Construction: Hyundai Engineering & Construction
Construction period: August 2014 ~ October 2017
6th~22th floor
Offices
(17th ~ 20th floors are leased to Samil PricewaterhouseCoopers for 10 years from April 2018)
5th floor
Welfare space for employees
- Employees' cafeteria and cafe, fitness center/GX room, lounge, healing zone (massage room), etc.
2nd~3rd floor
Communal spaces for culture and communication with customers
- Main hall, reception rooms, customer research space, Innisfree Cafe, daycare center, etc.
1st floor
Information desk, Amorepacific Art Gallery lobby, exhibition space, exhibition catalogue library, Osulloc Teahouse, etc.
1st underground floor
Amorepacific Art Gallery, shops
2nd~7th underground floor
Parking lot
* The 7th underground floor and the 4th and the 22nd floors are to be used for machine rooms
[Note] David Chipperfield
David Chipperfield is an architect born in London in 1953. He studied architecture at School of Art & Design at Kingston College and Architectural Association School of Architecture in the UK and built his career at renowned architecture companies in the UK including those of Richard Rogers and Norman Foster. Since the establishment of David Chipperfield Architects in 1985, he has been actively engaged in architecture of cultural, living and commercial facilities, interior and product designs for 30 years around the world.
Working in the global stage, David Chipperfield has won around 100 architecture awards and is recognized as one of the most influential contemporary architect. His representative works include Museum of Modern Literature in Marbach am Neckar, Germany which won Stirling Prize, the academy of architecture design, in 2017. He was knighted in 2010 for his contribution to architecture in the UK and Germany. In 2011 alone, David Chipperfield received Royal Gold Medal from RIBA (Royal Institute of British Architects) and Mies van der Rohe Award, which is given to an excellent modern building, from the EU.
His offices are based in major economic and cultural cities in the world such as London, Berlin, Milan and Shanghai and is currently working on around 30 projects including Nobel Center in Stockholm (a building for cultural and scientific activities related to Nobel Foundation) and other projects in New York, London and Zurich.