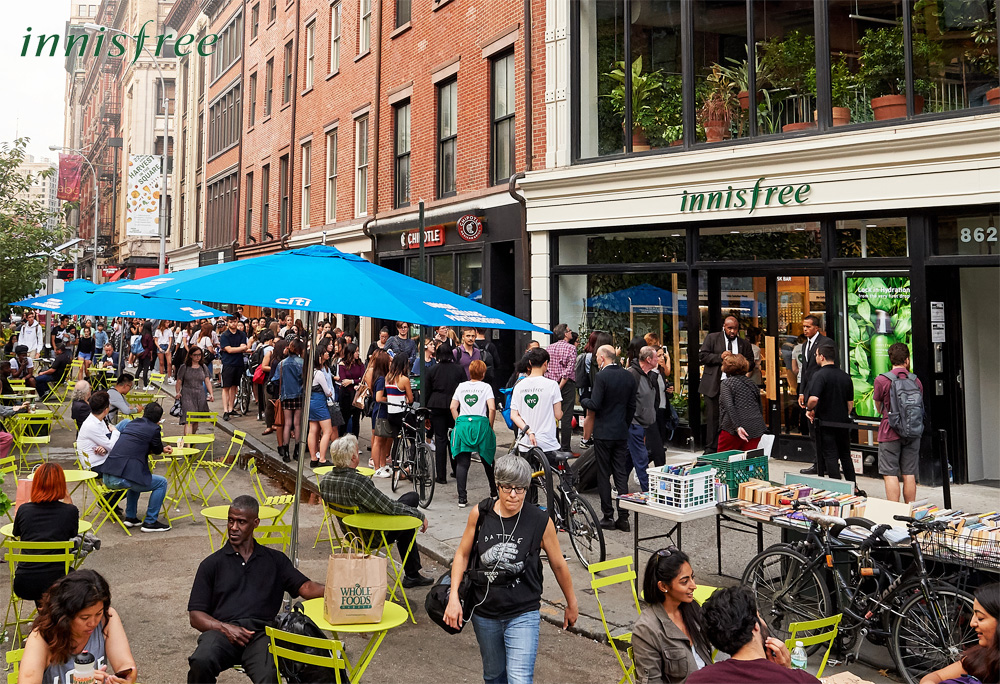 Seoul, September 18, 2017 – On September 15, Amorepacific Group launched innisfree in the United States by opening the brand's first flagship at 862 Broadway in New York City's Union Square. One of the fastest-growing brands in the Amorepacific Group, innisfree caters to consumers' ever-changing interests thanks to a fast-paced innovation process, diverse customizable offerings and engaging stores. Known for its innovative formulas and responsible green practices, innisfree skin care products are formulated with an average of 80% naturally derived ingredients responsibly sourced from the pure and protected Korean island of Jeju.
The Union Square location features two levels including the main store floor and a private mezzanine level that will house make-up artist masterclasses, K-beauty skin care training as well as green living classes. At 1,700 square feet, the main floor will feature a 21-foot-tall living green wall to illustrate the brand's Jeju Island heritage, from where innisfree responsibly sources most of its ingredients including Green Tea from 350 acres of USDA organic-certified green tea fields.
Customers are invited to discover over 11 naturally-derived skin care regimens and curate their mask selections to their specific skin's needs with innisfree's Mask Bar, featuring global best-selling sheet mask collections such as It's Real Squeeze Masks, Bio-Cellulose Masks or Skin Solution Masks, as well as Sleeping Masks and travel-friendly Capsule Recipe Masks.
innisfree also elevates make-up customization with their My Palette and My Compact walls that bring pops of color into the green space. The My Palette system easily allows customers to mix-and-match their eyeshadows, blush, bronzer, concealers, color-correctors and highlighters - an all in one easy palette. My Compact offers over 100 unique compact case designs to easily house blush, highlighter and contour duos, powder and 2 cushion foundation formulas with a 14-shade range that addresses the diversity of the US customers. True to their skin care roots, both of innisfree's cushion foundations are infused with hydrating Jeju Green Tea Extract and sunscreen to provide a hydrating, protective base. innisfree also offers hair care, body care and home fragrances as well as a selection of beauty tools.
After seeing a continued increase of orders to the US from their international e-store, innisfree decided to bring its best-selling formulas stateside, along with 150 exclusives specifically created for the US consumer. These US exclusives include an expanded shade range, as well as multi-tasking products to fit into their modified 5-step US K-beauty routines (Cleanse / Replenish / Treat / Moisturize / Protect). In addition to the new formulations, the brand conducted new clinical studies to ensure their best-sellers in Asia were just as effective on skin from other ethnicities.
"We believe it's the right time to durably seed innisfree in the US since the brand is perfectly aligned with the key expectations of American millennial and Gen-Z beauty consumers: We offer high-quality skincare with naturally-derived ingredients and Instagram-worthy personalized make-up, fast-paced innovation, immersive retail experience and authenticity through our responsibly sourced Jeju Island ingredients and green sustainable practices. While our new e-commerce site will serve the entire country, we will focus the next 18 months on establishing our store presence in New York City, with ambitious expansion plans for the rest of the country to follow," said Julien Bouzitat, Vice President and General Manager of innisfree USA regarding the US launch of the brand, which has opened over 1,600 stores in Asia since its creation in 2000.
As part of their commitment to preserving the purity of Jeju Island and the environment as a whole, innisfree has partnered with Terracycle for an Eco-Recycling program that encourages people to drop off their innisfree empties to the store to earn points for the loyalty program. These materials will be put towards new packaging or upcycled into new objects, like store merchandising. Inspired by the preservation efforts of innisfree on Jeju Island, additional programs to promote sustainability and give back to local communities will be rolled out through the upcoming months.
The full range, as well as limited online exclusives, is now available on www.innisfree.com, which was also launched on September 15, 2017. The website will ship nationwide.
About innisfree
innisfree offers innovative beauty solutions powered by the finest natural ingredients found on Korea's pristine Jeju Island. Thanks to its volcanic origins, this fertile oasis has a unique ecosystem with great abilities to nurture beautiful skin. With the wonders of nature at the heart of innisfree, they take great care to preserve and protect the environment in all that they do. innisfree skin care products are formulated with an average of 80% naturally derived ingredients responsibly-sourced from the pure and protected island of Jeju. innisfree's extraction methods preserve the purity and efficacy of these wholesome ingredients from plant to bottle, offering advanced formulas for every skin concern. innisfree practices and promotes green living and supports causes that give back to the Earth and the community.
About Amorepacific Group
Presenting innisfree to customers in the US, is Korea's largest and oldest beauty company Amorepacific Group. Since its foundation in 1945, the company has been dedicated to combining the best of natural Asian ingredients and advanced bio-technology, thus growing into the world's 7th largest beauty company by sales in 2016. Recognized as one of the most innovative companies in its field and ranked #16 in Forbes' Most Innovative Companies list, Amorepacific Group has charted a solid growth path by pioneering new beauty categories such as sleeping masks, boosting essences and Cushion compacts. In addition to innisfree, Amorepacific Group currently offers high-end flagship brand Amorepacific; luxury holistic beauty brand Sulwhasoo; premium skincare and makeup brands Laneige, multi-brand store Aritaum, as well as high-end perfumery house Annick Goutal in the US market.