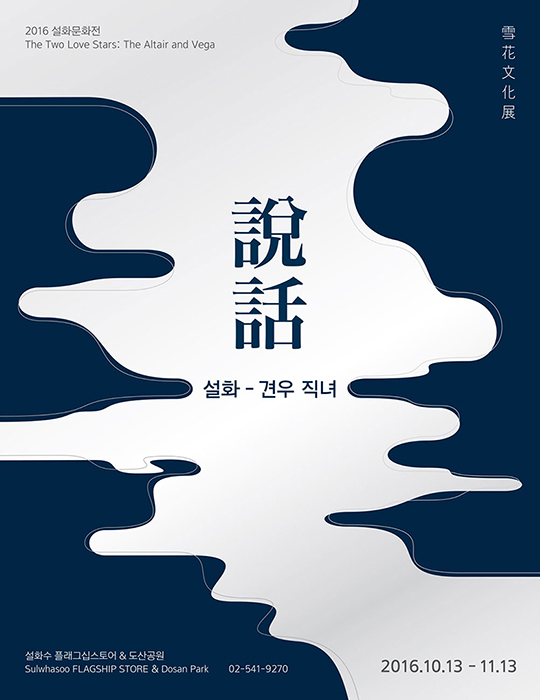 Seoul, Korea, October 13, 2016 – Sulwhasoo, Amorepacific's a holistic beauty brand rooted in Asian philosophy and wisdom, today kicks off 2016 Sulwha Cultural Exhibition, titled "Once Upon A Time: The Two Love Stars, the Altair and Vega" at the Sulwhasoo Flagship Store and Dosan Park in Seoul. The exhibition will run for a month til November 13.
Celebrating its 10th year, the annual Sulwha Cultural Exhibition aims to realize Sulwhasoo's brand values of balance and harmony and explore Korean beauty that has inspired the brand from its inception. The exhibition has earned a reputation as a highly-anticipated cultural event that not only contributes to preserving and building on cultural traditions, but also an event that enhances communication and understanding between generations by marrying tradition and modernity. From 2015, the exhibition has revisited ancient Korean traditional tales – an orally passed-down tradition –from a contemporary perspective, offering a unique experience to visitors and bringing together a wider range of generations.
The marriage between tradition and modernity continues this year. The 201 Sulwha Cultural Exhibition reinterprets the Korean traditional tale of 'The Two Love Stars: The Altair and Vega' – a tragic love story that has been passed down from generation to generation and seen as having influenced the Korean psyche significantly. Dealing with the symbolic themes of love and promise as well as encounter and continuation, the story is used as a motif by contemporary artists from various genres with fresh imagination. This approach will provide visitors with an opportunity to reimagine the familiar story from different viewpoints.
This exhibition has been curated and organized by Amorepacific Museum of Art and is attracting attention with eleven teams of promising modern artists. Media artists Joon Kim, Elly Cho, and FriiH; architects stpmj, OAA and Youngwook O.; installation artists Gayoung Jun, Sujin Lee, Yeojoo Park; design artists Fabrikr and Jimi An + Sanghong Lee are the participating artists with diverse background and genre and will present multiple artwork of the reinterpretation of the folktale in various perspective.
Held at two different locations – the Sulwhasoo Flagship Store and Dosan Park – the exhibition offers visitors a rare opportunity to explore how landmark places can play into the artworks. The exhibition at Dosan Park, a place of historic significance in Korea, is intended to promote the country's cultural and historical values while the exhibition at the Sulwhasoo Flagship Store will showcase the brand's sustained efforts at preserving Korean heritage and its close collaboration efforts with traditional artisans. For example, the exhibition will feature handkerchiefs and notes made in collaboration with Jeong Gwan-chae, a master artisan of traditional dyes designated by the Korean government.
For more information, visit the Sulwha Cultural Exhibition 2016 website (www.sulwhaculture2016.com), the official Instagram of the exhibition (www.instagram.com/sulwhasoo.kr) or Sulwhasoo's Facebook page (www.facebook.com/sulwhasoo.official)
Sulwha Cultural Exhibition
Time: October 13 – November 13, 2016
Venue:

Sulwhasoo Flagship Store, 18, Dosan Dae-ro 45-gil, Gangnam-gu, Seoul
Dosan Park, 20, Dosan Dae-ro 45-gil, Gangnam-gu, Seoul

Opening hours: 10am – 8pm (both on weekdays and weekends)
Contact: +82-2-541-9270