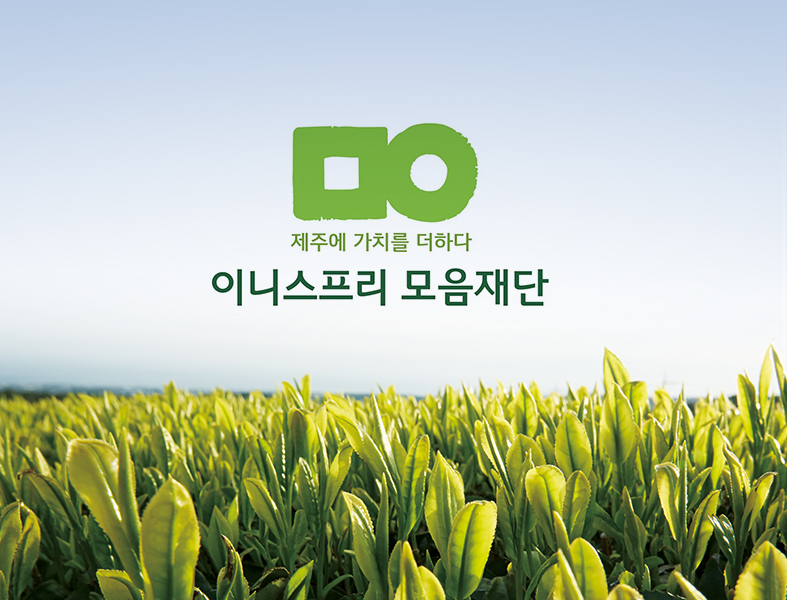 innisfree Moeum Foundation (head director Park Mun-ki) is a public foundation 100% funded by innisfree Co., Ltd., a subsidiary of Amorepacific Group. It announced on July 13 that it will invest 10 billion won in projects on Jeju Island over the next five years.
The project is part of Amorepacific's broader plan to invest KRW 100 billion in businesses on Jeju Island, which the group announced after establishing the Second Jeju Center for Creative Economy and Innovation in 2015. While running innisfree Moeum Foundation, Amorepacific Group will provide support for cosmetics research and the growth of businesses using the natural resources of Jeju Island. It will also build a 4,000 pyeong (13,223 m2) green tea production base next to Dolsongi Tea Garden in Seogwipo, Jeju, and develop high-end experience-oriented beauty tourism sites in addition to spa resorts which use Jeju's unique lava seawater and green tea. This will make it a role model for the "scenery-tourism" industry by creating synergy through conversion of primary, secondary and tertiary industries. Moreover, Amorepacific Group is running a Shared Growth Fund for small and medium-sized businesses as part of its effort to boost the economy of Jeju Island and, ultimately, keep Jeju Island clean for a harmonious coexistence between people and nature.
Established in November 2015, innisfree Moeum Foundation will undertake a number of projects to conserve Jeju's ecosystem, develop its cultural sites, and foster global talent. Its focus will be given to four main projects: Oreum Book Project, Eco Forest Project, Cultural Village Project and a scholarship program.
Firstly, the Oreum Book Project will help to preserve oreums (volcanic cones) both big and small around Jeju Island and communicate their ecological value. In association with botanists, earth scientists, social ecologists and photographers plan to conduct research on the vegetation and soil quality of oreums and publishe their research results. At the same time, the project will carry out preservation activities to maintain clean oreums.
Secondly, the Eco Forest Project aims for the ecological restoration of waste dumps. Its purpose is to transform landfill sites into beautiful forest and restore the ecological system through tree planting, landscape gardening and trail construction. This will enhance the sustainable future of Jeju Island.
The third project is the Culture Village (Street), which, under the Beautiful Fair Trade Program (Amorepacific's environmentally-friendly ingredient procurement program), aims to reinvent old downtown areas, streams and villages as tourist attractions, so that local residents as well as tourists can enjoy Jeju Island as a place of harmony between people and nature.
Lastly, the scholarship program was designed to help the young farmers of Jeju Island. It will operate training programs in association with farming experts and offer scholarship and special study-abroad programs to students with outstanding performance. This will promote innovation and lead the agricultural industry into the future.
"innisfree Moeum Foundation was established under the slogan of "Add Value to Jeju Island." It began with a sense of responsibility toward harmonious coexistence with Jeju Island, the source of our vision and philosophy. We, innisfree, will do our utmost to restore and conserve the beautiful environment of Jeju Island", said Park Mun-ki, head director of innisfree Moeum Foundation.
Meanwhile, there has been a special connection between Jeju Island and Amorepacific Group ever since the founder and former CEO Suh Sung-whan (pen name Jangwon) restored the wasteland near Dosun, located to the southwest of Halla Mountain, Jeju, into a green tea garden in 1979. Amorepacific Group cultivated a one million pyeong (3,305,785m2) tea garden named OSULLOC Organic Tea Garden, which consists of Seogwang Tea Garden, Dolsongyi Tea Garden and Hannam Tea Garden. In 2000, it launched the Korea's first naturalism-oriented cosmetics brand, innisfree. In 2001, it opened Korea's first tea museum, OSULLOC Tea Museum, and in 2013 a tea culture experience, OSULLOC Tea Stone, was opened to allow customers to enjoy the beauty and culture of Jeju. While making use of Jeju's indigenous ingredients, innisfree has also taken the lead in preserving Jeju's environment through sponsorship of the Gotjawal Trust of Jeju, innisfree Clean Jeju Campaign, innisfree Jeju House and Jeju Conservation Effort.