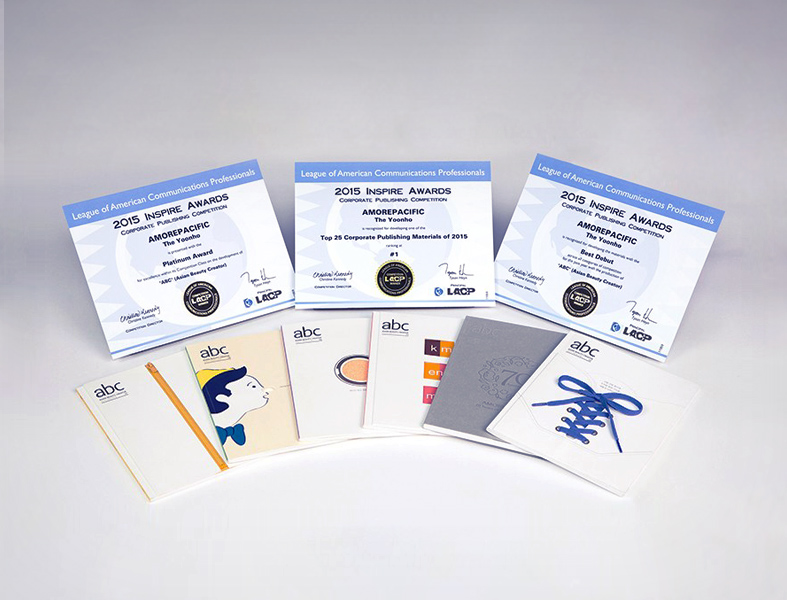 Amorepacific Corporation announced on April 20 that its in-house newsletter received the Platinum Award at the Inspire Awards, an international corporate internal communication managzine competition organized by League of American Communications Professionals LLC (LACP).
Inspire Award is a competition in which in-house magazines from all over the world gather to be evaluated purely based on their effectiveness in facilitation the internal communication within their companies regardless of organizational size, industry, revenue or other factors.
Amorepacific's newsletter ASIAN BEAUTY CREATOR received a total of 99 points from the expert panel with a perfect score on eight out of nine criteria including design, readability and creativity to rank first among the all nominated magazines. It also won a special prize given to the first entry company, namely Best Debut. These achievements followed after receiving a prize at the Korea Communication Awards hosted by the Korea Business Communicators Association last year. Amorepacific received the highest prize in the corporate newsletter publishing category given by the Minister of Culture, Sports and Tourism.
Since its first publication of a monthly beauty magazine Hwajanggye (now Hyangjang) in 1958 Amorepacific has led the history of Korean corporate magazines and publications. Then, in 2011, it published the newsletter ASIAN BEAUTY CREATOR for communication with people in and outside the company. The award-winning ASIAN BEAUTY CREATOR offers unique content and design which have been recognized globally for their excellence as communication materials.
"This is a significant achievement for the communication magazine ASIAN BEAUTY CREATOR, as it represents Amorepacific's drive to win international recognition. We will continue to create interesting contents and creative designs full of Amorepacific's unique colors for active communication with employees and customers," said director Lee Hui-bok from Amorepacific Corporation PR Division.
ASIAN BEAUTY CREATOR is published bimonthly for members of Amorepacific as well as stakeholders in Korean and abroad. It is available from Amorepacific's official webpage (www.apgroup.com), on mobile (abc.amorepacific.com) and via the ASIAN BEAUTY CREATOR's official Facebook page (www.facebook.com/saboabc).
LACP is a research institute that provides PR strategy and consulting, and holds the contest which evaluates and awards internal communication materials such as sustainability reports, company profile brochures, and in-house magazines