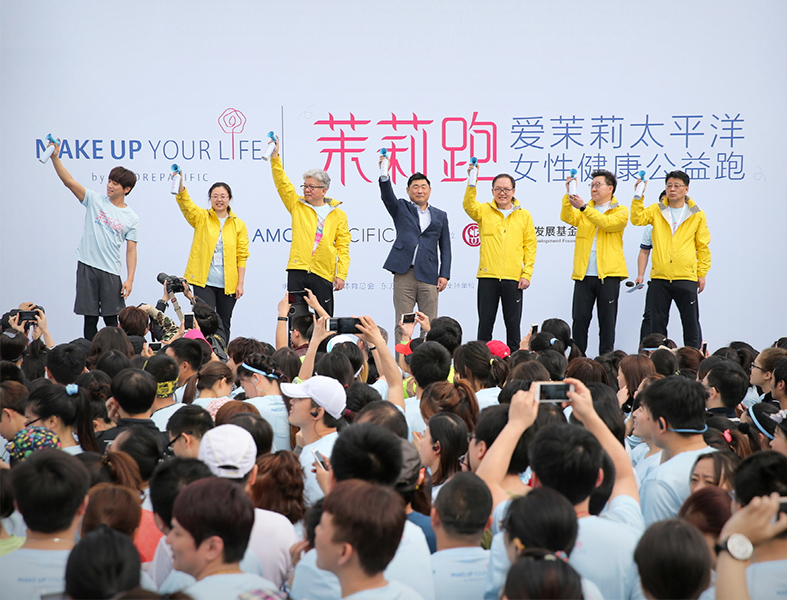 On April 10, 2016 AMOREPACIFIC successfully hosted the inaugural 'Moli Pao' [茉莉跑, henceforth Jasmine Running] in Shanghai Oriental Sports Center to raise awareness of breast and cervical cancer, the two most common cancers in Chinese women.
Hosted by AMOREPACIFIC China and endorsed by China Women's Development Foundation (CWDF), the Jasmine Running consisted of 5K and 10K courses which were joined by over 3,000 runners who shared in the cause. To all participants, AMOREPACIFIC provided a runner's kit which contained products of Amorepacific's star brands and held an after-party of diverse celebrity performances. Joining in this event were Zhen Yan, Vice President of CWDF, Han Heeseok, Consul General of South Korean Consulate General in Shanghai, and Jiading district officials, among others.
On this day, AMOREPACIFIC donated a total of 8-million yuan to AMOREPACIFIC Women's Fund, which is a joint establishment by the company and CWDF. The donation will be used to provide free breast and cervical cancer screening services and post-surgery recovery support to women in the most cancer-ridden regions and the lower income bracket in China. The 8-million yuan donation includes all the proceeds from Jasmine Running as well as 2.2-million yuan donation from month-long charity events organized by Amorepacific's seven brands - Sulwhasoo, LANEIGE, Mamonde, innisfree, Etude House, Ryo and IOPE.
AMOREPACIFIC also adopted innovative mobile technology to further the cause of Jasmine Running above and beyond the offline event. In cooperation with community exercise app JOYRUN, AMOREPACIFIC hosted an online running event as an extended effort to raise awareness. A week before the Jasmine Running event, 3,300 online participants from all over China joined to achieve accumulated distance of 41,437km.
Thanking all participants, Charles Kao, President of AMOREPACIFIC China emphasized that "caring for women has always been an essential part of Amorepacific's CSR commitments" and added that "this year, we will work with CWDF to prevent and aid treatment of breast and cervical cancer. The overwhelming support AMOREPACIFIC received from every single participant of today's Jasmine Running, non-profits and our own employees encourages us to fully dedicate ourselves to provide necessary aid for underprivileged women in need."
Zhen Yan, Vice President of CWDF also commented that "public awareness is critical to reduce two major cancer incidences in women, as well as continuous awareness and support from various parts of the society. We believe AMOREPACIFIC Women's Fund and your participation today will accelerate this process and help to create a more beautiful society."