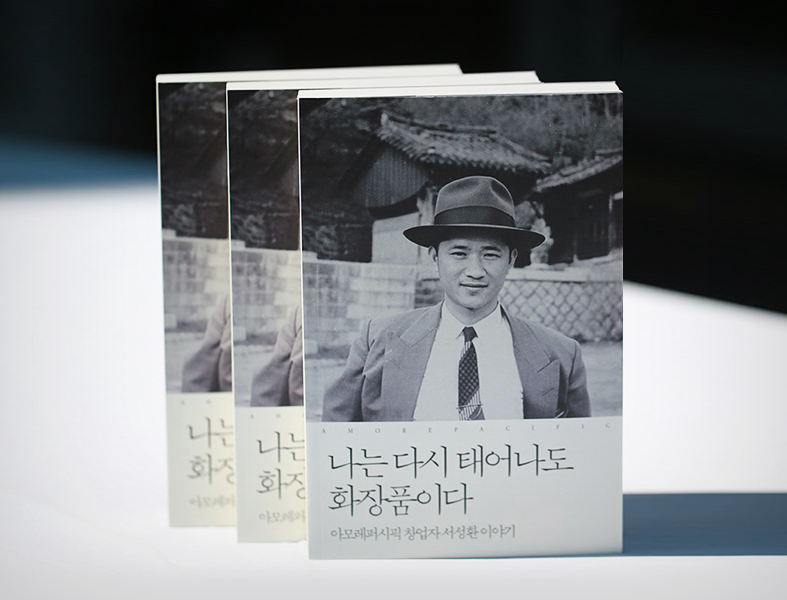 On January 8, Amorepacific (CEO Suh Kyung-bae) held a memorial ceremony to commemorate the 13th anniversary of the death of the founder Suh Sung-whan at Jangwon Memorial Hall and offices nationwide. Through this ceremony, Amorepacific had a chance to look back upon the spirit of the founder and reaffirm their commitment to accomplishing the vision of becoming a Great Global Brand Company.
The former CEO Suh Sung-whan (pen name Jangwon) died on January 9, 2003. He is the founder of Amorepacific, which was established in 1945, a pathfinder in Korean cosmetics industry, and is an entrepreneur who took the lead in embracing corporate social responsibilityas well as a 'tea master' who promoted tea culture in Korea. His business principle was always to provide better ways for his customers to become beautiful and healthier by developing technology, sourcing good ingredients and producing honest and safe products. This principle is well reflected in his corporate vocation - Asian Beauty Creator.
On Monday, January 4, the ceremony was held at Jangwon Memorial Hall where the founder's body is enshrined (located in Goyang-si, Gyeonggi-do, Korea), after the kick-off meeting with board members of Amorepacific in attendance. On Jan 8, 30 senior executives of Amorepacific visited Jangwon Memorial Hall and spent time to pay their respect to the founder's spirit and achievements.
At the memorial ceremony, two items were presented as a tribute of respect - a publication of the founder's biography 'Cosmetics would still be my purpose, even in another life' which was published in September 2015 and the 'Gold Tower Order of Industrial Service Merit' which was received at the 52nd Trade Day ceremony. This year's promoted manager-level employees of Amorepacific also visited the Jangwon Memorial Hall a week after. Through this ceremony, Amorepacific reaffirmed its commitment to becoming a Great Global Brand Company.
Meanwhile, employees of Amorepacific honored the founder's spirit and achievements on January 8 through its in-house broadcasting program and, during lunch time, Jangtteok (soybean pancake) was provided to cherish the memory of the former CEO. Jangtteok is food that former CEO Suh Sung-whan used to eat through tough times after independence from Japan and the Korean War and this represents the continuous challenge and innovation of Amorepacific building business while weathering difficulties.