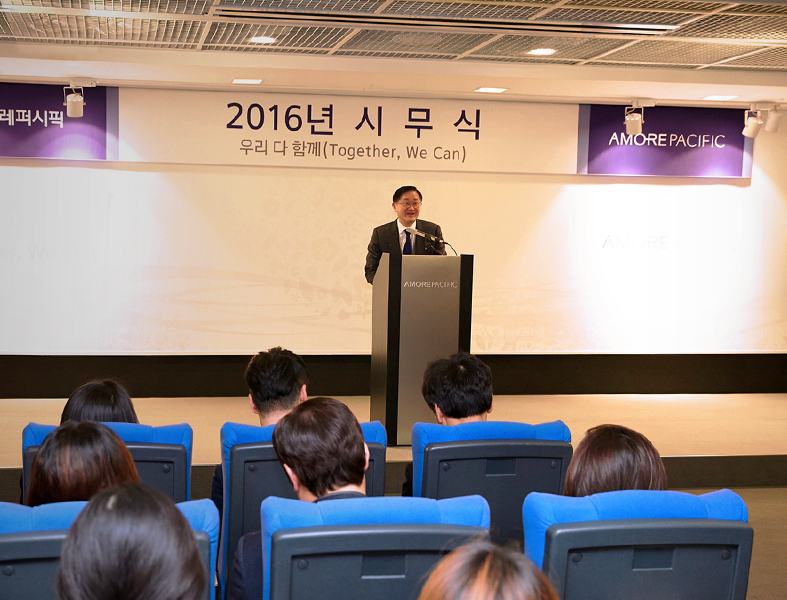 AMOREPACIFIC Group set 'Together, We Can' as the company's management principle for 2016. Under this slogan, AMOREPACIFIC will continue its vision of becoming a 'Great Global Brand Company' by responding to various industrial changes in domestic and overseas markets. In 2016, the company will focus on establishing strategies for global business expansion; digital leadership attainment; retail capability enhancement; innovation through 'Mirae(美來)' management; quality-focused management; and employee capability development and accelerating their achievements.
"Today we are witnessing a gradual shift of the global paradigm towards Asia. This change provides us with a valuable opportunity to firmly establish ourselves as 'a company that creates Asian beauty' and 'a company that represents Asian value', said Suh Kyung-bae, Chairman & CEO of AMOREPACIFIC, at the New Year kick-off meeting held at the AMOREPACIFIC headquarter located in Seoul on January 4. "In 2016, the company is standing at critical crossroads. We must keep on with our humble challenge of making AMOREPACIFIC a 'Great Global Brand Company'."
Global Business Expansion
AMOREPACIFIC will focus on the expansion of its five Global Champion Brands – Sulwhasoo, LANEIGE, Mamonde, innisfree and ETUDE to speed up its global market reach and secure global growth momentum by laying a business platform for the next global brands. It will boost its growth in China, ASEAN countries and other Asian markets and also gradually consolidate its position in advanced markets. The company will also continue to enhance its capabilities in mega cities with population over 10 million while developing new markets. The objective is to raise the value of Global Champion Brands in the global stage and nurture '1 trillion KRW brands' that pave the way for a genuine brand company.
Digital Leadership Attainment
AMOREPACIFIC will focus on close communication with its customers by developing various digital contents especially on mobile channels. It will also increase its competitiveness in global e-commerce, which will help bolster its digital leadership. The company will further differentiate its strategy in O2O (Online To Offline) and Omni-Channels. In all, it aims to become a leader in this age of beauty innovation by leveraging these digital platforms, which will enhance customer purchasing experiences in both online and offline channels.
Retail Capability Enhancecement
AMOREPACIFIC plans to add innovative technology, powerful product and singularity that no other can imitate, to its brand value. This combination will prompt the company to further reinforce its retail capabilities and respond quickly to different needs of customers. It will develop innovative professional capabilities that give all its customers special experiences they cannot find in others, through systematic management of its store network and close customer services, combined with optimal management process, and turn these capabilities into the foundation of its global competitiveness.
Innovation through Mirae(美來) Management
AMOREPACIFIC will continue with a number of customer-focused branding reinforcement activities, coupled with global customer study and expanded mid-to-long-term research, all designed to explore and realize 'special aesthetic value' unique to AMOREPACIFIC. It plans to implement Mirae (美來, which directly translates as "bringing beauty") management that brings beauty to the world by means of innovating existing retail channels, developing new channels, and innovating customer management based on online & offline purchasing behavior data.
Quality-focused Management
AMOREPACIFIC will continue to strengthen its 'Quality-focused Management', an initiative consistently emphasized across the company, and further implement the practice both in domestic and overseas markets. In particular, the company will focus on achieving qualitative growth by improving stores with deficit operation, establishing grounds for gaining revenues in advanced markets, improving organizational efficiency and reinforcing business capabilities.
Employee Capability Development
Last but not least, AMOREPACIFIC will nurture 'creative masters' who seek unique aesthetic values. To do so, the company will develop professional training courses to foster professionals with a sense of mission, coupled with a professional talent management system. A range of employee benefit programs will be put in place to foster a good workplace and culture.
The company will establish an integrated system which creates shared value (CSV) in addition to expanding collaboration programs for partners, franchises and other stakeholders, which enable it to continuously enhance a sustainable win-win partnership with them. As such, each and every one of AMOREPACIFIC employees will be continuously committed to the 'humble goal' of making all customers around the world most beautiful.