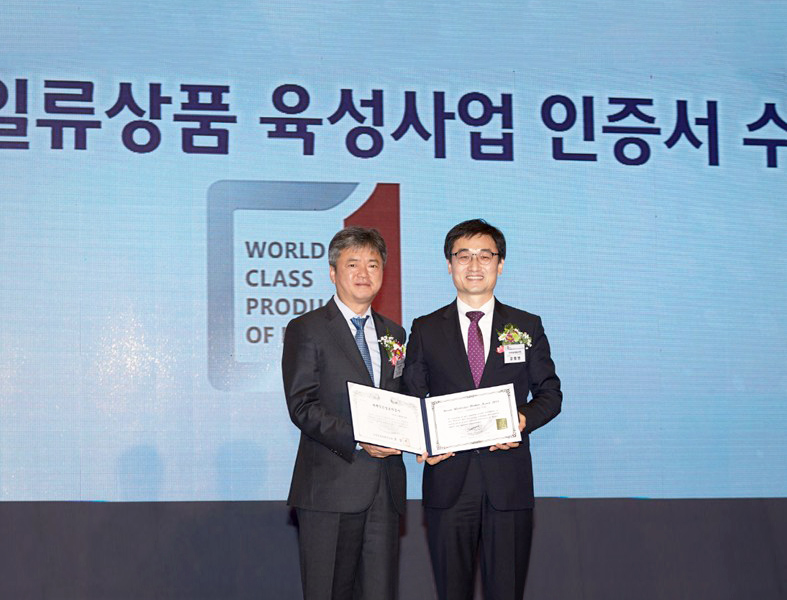 A sunscreen product of AMOREPACIFIC Corporation (COO Shim Sang-bae) was selected as a World Class Product at the 2015 World Class Product Certification Awards. The event was held at COEX Grand Ballroom, Samseong-dong, Seoul, Korea on December 16.
The World Class Product Certification is hosted by the Ministry of Trade, Industry and Energy and sponsored by Korea Trade Investment Promotion Agency (KOTRA), It is awarded to domestic businesses and products with technical innovation capabilities. Held every year since 2001, the program aims to support the improvement of global competitiveness in the global market for sustainable growth. World Class Products are selected through deliberation by World Class Product Development Deliberation Committee from among products whose global market share in production volume is 5% or above with global ranking of the world's top five or above. Its annual global market size should be greater than 50 million US dollars and at least two times bigger than their domestic market size, or the export size should above 5 million US dollars per year.
AMOREPACIFIC's sunscreen product, which was selected as a World Class Product, is a range of products that is designed to protect the skin by blocking UV rays that can accelerate the pigmentation and aging of the skin. According to Euromonitor International, a market analyzer, the total sales of sunscreen products produced in Korea last year amounted to 697 million US dollars. This is the world's third largest result and represents 8% of the entire sunscreen market sales (8.664 billion US dollars). AMOREPACIFIC Corporation posted sales of 234 million US dollars in the sunscreen market, becoming No.1 and No.7 in the Korean and global sunscreen markets, respectively, meeting the requirements for its selection as a World Class Product.
In total, AMOREPACIFIC Corporation has 88 domestic patents (49 applied and 39 registered) and 71 foreign patents (53 applied and 18 registered) related to sunscreen products (as of Sep. 2015). In addition, the company is currently undertaking various R&D projects to improve blocking efficiency, water-resisting qualities and the feeling of use, including turbidity. Thanks to its market-leading advanced technology, sunscreen products from various AMOREPACIFIC Corporation brands are becoming popular in many global markets, including Mainland China, Taiwan, Vietnam, Hong Kong (China) and Singapore.
"I believe it is an honor to have our sunscreen product recognized as a World Class Product and this product is the result of our efforts to bring more beauty to global customers as well as the result of our successful innovations to create special values," said Kang Byeong-yeong, director of Skincare Research Institute, AMOREPACIFIC R&D Center. "AMOREPACIFIC R&D Center will continue our all-out efforts to communicate with customers through relentless research activities."
The success this year follows AMOREPACIFIC Corporation'C mask/pack product which was selected as a World Class Product in 2014.