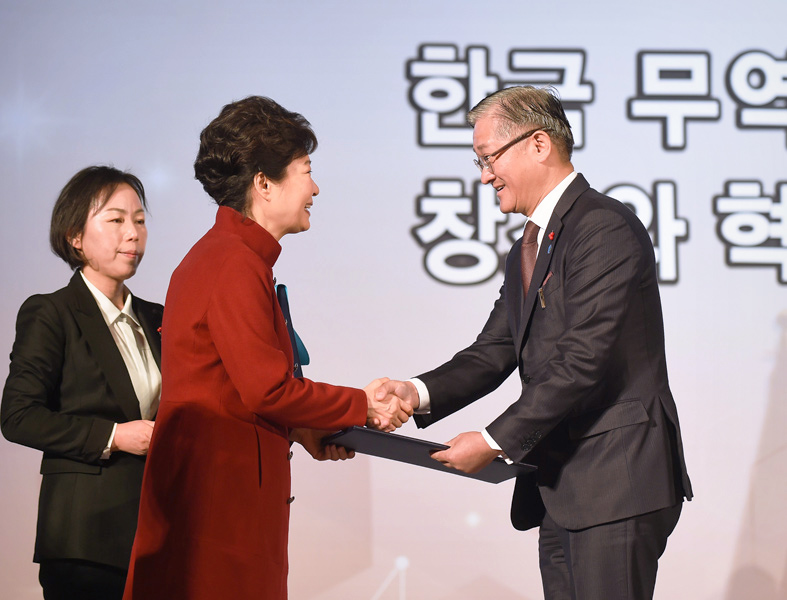 Suh Kyung-bae, chairman and CEO of AMOREPACIFIC Group, won the Gold Tower Order of Industrial Service Merit, which is the highest level among the orders, at the 52th Trade Day celebration held at Coex Convention & Exhibition Center in Samseong-dong, Seoul, Korea. Organized by Korea International Trade Association and sponsored by the Ministry of Trade, Industry and Energy, the Trade Day is a statutory anniversary day established to promote balanced development of trade and help the country establish a strong foothold as globall trade powerhouse. As part of the celebration event, those who contributed to expanding exports, improving the quality of trade and opening new markets into overseas, received governmental awards and Export Towers.
Suh won the Gold Tower Order of Industrial Service Merit for his contribution to developing the Korean cosmetics industry that was once considered to be a domestic and declining business into a thriving export industry. In particular, Suh was recognized for making a huge contribution to creating the K-beauty trend, enhancing the presence of Korean cosmetics in the global market and expanding exports, while leading building up unrivaled technology capabilities and developing innovative products over the past 30 years since joining AMOREPACIFIC (then Pacific) in 1987.
This year (Jul. 2014 - Jun. 2015), AMOREPACIFIC recorded exports of 197 million US dollars, up 51.4% from a year earlier (130 million US dollars). At the 50th Trade Day celebration in December 2013, AMOREPACIFIC became the first domestic cosmetics company to win the 100 Million US Dollar Export Tower. In 1964, the company produced the first domestic brand (named Oscar) to export and at the 17th Export Day celebration in December 1980, it won the Presidential Citation for attaining exports totaling 10 million US dollars.
On top of its achievements in exports, AMOREPACIFIC's global business is thriving. The company's global business attained revenues of 832.5 billion Korean won (based on K-IFRS) as of the end of 2014 and cumulative revenues for year-to-date for the third quarter 2015 of 860.1 billion Korean won, which represents 48.7% year-on-year. The company's outstanding results came primarily from expanding its business in major growth markets, including China and ASEAN, and in the US market, the company achieved a high revenue growth rate, which turned to surplus in operating profits thanks to good results across its sales channels.
"This achievement is the result of all the collected efforts from not only the cosmetics industry, but also many governmental authorities which have sought to develop the industry at home and abroad, including the Ministry of Food and Drug Safety, Ministry of Health and Welfare, Korea International Trade Association, and Korea Customs Service," said Suh Kyung-bae, CEO of AMOREPACIFIC Group. "Cosmetics, which was once seen as a declining domestic industry, has now become the best-selling export item that creates a significant trade surplus. Drawing on the potential of 'Asian Beauty', AMOREPACIFIC has diversified its brands and distribution, introduced a new position as a specialized cosmetics company, and grown as a key player in the global beauty market, realizing the globalization of Korean cosmetics. AMOREPACIFIC is committed to developing the Korean cosmetics industry and reinforcing national competitiveness by communicating with global customers based on the kind of beauty that only we can create."
Meanwhile, in the 52th Trade Day celebration, Choi Kyung-ho, director of C-Lab, AMOREPACIFIC R&D Center, and Lim Doo-hyun, head of Global Regulatory Affairs Team, also won the Minister of Trade, Industry and Energy Citation and the Korea International Trade Association President Citation, respectively, for their contribution to exports. Choi was recognized for his contribution to the selection of 'Cushion Makeup' as the World Class Product and its export, while Im was recognized for his achievements in exports, including analyzing local regulations related to export permissions and participating in the development of FTA negotiation agenda.