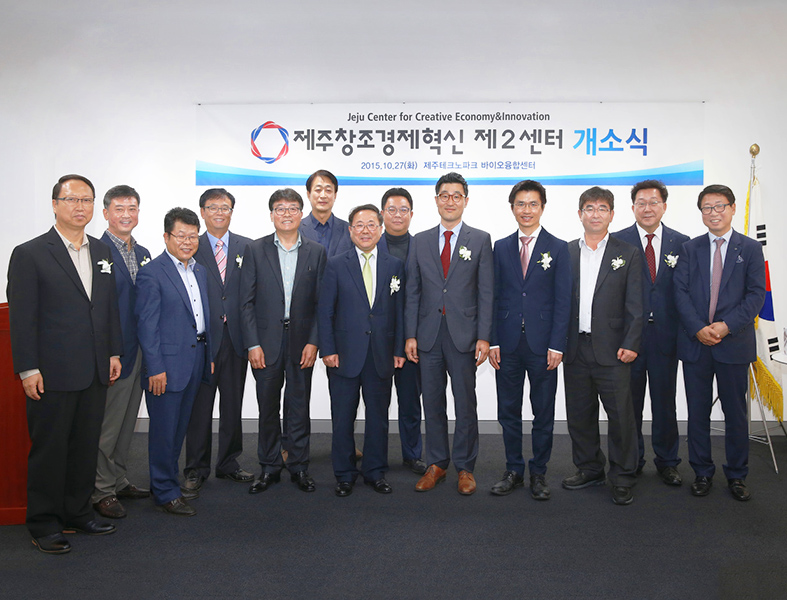 n Tuesday, October 27, the project for Jeju Island's Integrated Creation of Work-Leisure-Culture officially commenced with the opening ceremony for the 2nd Jeju Creative Economy Innovation Center under the leadership of AMOREPACIFIC Corporation held at Bio Conversion Center, Jeju Technopark, located in Arail-dong, Jeju City of Jeju Island.
CCEI - Centers for Creative Economy Innovation- have been established in 18 cities around the country in association with the central government, local municipalities and conglomerates. However, unlike other centers, the Jeju CCEI is being operated by two companies, Kakao and AMOREPACIFIC.
The 2nd Jeju CCEI is a branch of the Jeju CCEI specializing in the fostering of the beauty industry. The 330 square meter center features the spacious J Cloud Café, Open Desk and J Creative Lab for researchers.
The 2nd Jeju CCEI will concentrate on the following:
The center will take the initiative in promoting research of the beauty industry and small hidden champion companies on Jeju Island with the support of the AMOREPACIFIC Creative Economy Support Group (Reference-1) consisting of professionals in cosmetics research and development, PR and marketing.
Also, the center will develop high-quality tourism contents that intergrate K-beauty, culture and experience in order to drive the growth of the senary (sixth-level) industry and at the same time, build a Creative R&D base to heighten the value of resources unique to Jeju Island and revive the local economy.
With the opening of the 2nd Jeju CCEI, cosmetics companies, prospective startups, relevant organizations and universities on Jeju Island can fully utilize facilities in the 2nd Center including facilities for extracting and analyzing ingredients and studying cosmetics formulas, and participate in a special program pertaining to the manufacturing and sales of cosmetics.
Furthermore, they can receive help from professionals of AMOREPACIFIC in regard to manpower and material resources and knowhow and thus enhance their overall business competence.
"The 2nd Jeju CCEI has built a framework for creating the value of beauty and growing together with the local community on Jeju Island," touted Baek Seok-yoon, the head of AMOREPACIFIC Creative Economy Support Group.
"The 2nd Center will focus on supporting the commercialization of K-beauty and creating a role model associated with the senary industry while playing its part in preserving the cultural and environmental value of Jeju Island, in order to facilitate coexistence with nature while creating sustainable shared value," he added.
Meanwhile, AMOREPACIFIC came up with a blueprint (Reference-2) for shared growth with Jeju Island through construction of Green Beauty Valley and a themed tourism village, establishment of innisfree Foundation and shared growth fund with investment of over KRW 100 billion on Jeju Island when the Jeju Creative Economy Innovation Center was first established in June.
Since then, AMOREPACIFIC has been engaged in Jeju-Chungbuk economic cooperation projects and has been providing support through training programs and SCM consulting for fostering small yet promising beauty companies on Jeju Island.