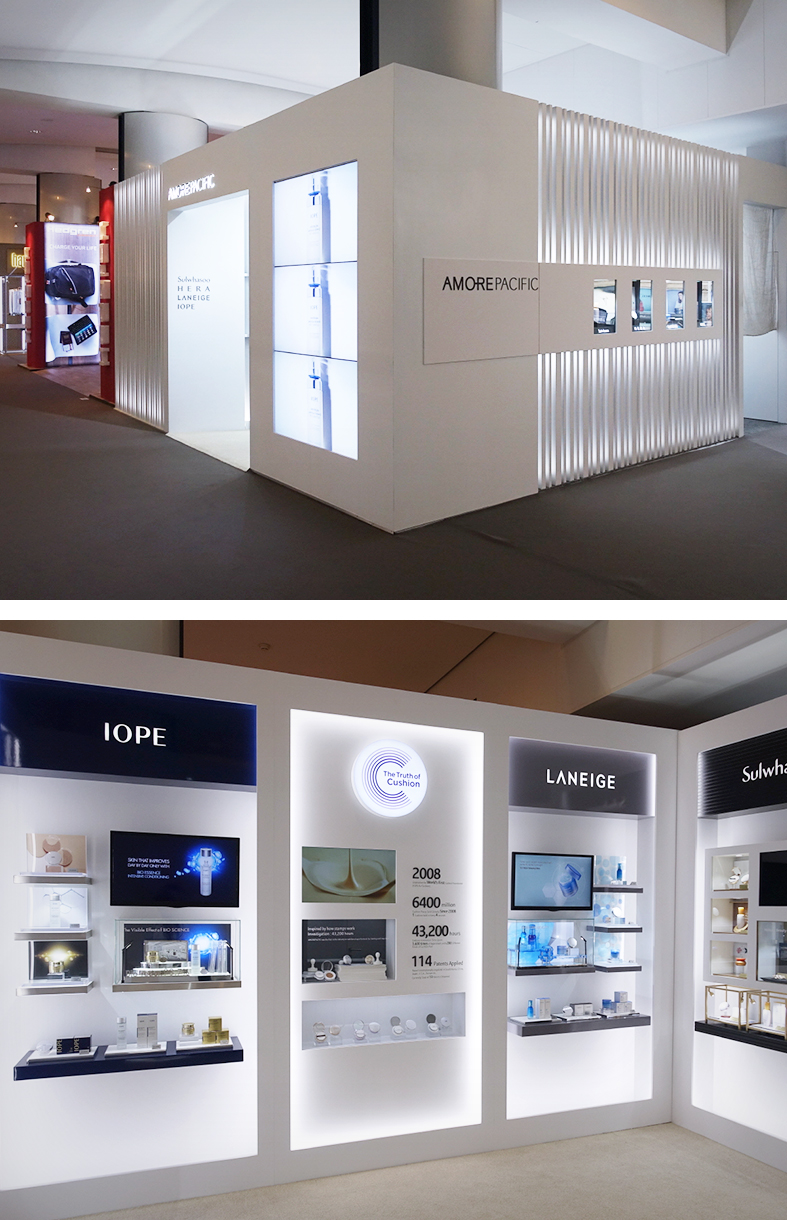 AMOREPACIFIC Corporation (CEO Suh Kyung-bae) took part in the 2015 TFWA World Exhibition & Conference held in Cannes, France from October 18 through October 23. AMOREPACIFIC Corporation has participated in this conference for 4 years straight, starting from its debut in 2012 through to this year's event, where it introduced Cushion products, which is leading a global makeup trend.
Hosted by the Tax Free World Association, the TFWA World Exhibition & Conference is the world's largest duty free and retail fair, and is held twice each year in Cannes and Singapore. The 2014 conference, held in Cannes, brought 475 travel retailers and manufacturers together from the perfume, cosmetics, fashion, accessories, jewelry, watch and wine sectors of 38 countries around the world who exhibited over 3,000 products.
Global Champion Brands of AMOREPACIFIC Corporation, including Sulwhasoo and LANEIGE, also took part in the conference, introducing buyers in the duty free market to the Sulwhasoo Essential Firming Cream, LANEIGE Two Tone Lip Bar and Lip Sleeping Mask. A special Cushion zone was prepared in the event hall to introduce buyers to Cushion products, which are recognized as an innovative product that's changing the way people all around the world do and think about cosmetics. The Cushion products of several brands of AMOREPACIFIC Corporation were exhibited, along with their history, benefits and innovative technologies.
"This exhibition proved the strong presence in the global tax free market of AMOREPACIFIC, which held double the number of meetings with mainstream global companies over the same period last year. We will continue to strengthen our competence in the duty free and travel retail market, which has been dubbed the sixth continent, and take the initiative to bring about innovation in the global beauty market," said Na Jung-kyun, the head of Duty Free Division.
The global duty free business of AMOREPACIFIC Corporation has shown high growth since the LANEIGE first opened a store in Changi Airport, Singapore in 2008 and, more recently in August this year, achieved USD 10 billion in worldwide duty free market sales (based on sales from each regional market), riding on brand portfolio expansion and improved performance in China and ASEAN regions. AMOREPACIFIC Corporation will enter into new duty free markets, including the Americas, Europe and Japan, and continue to make every effort to accomplish the vision of becoming a Great Global Brand Company.