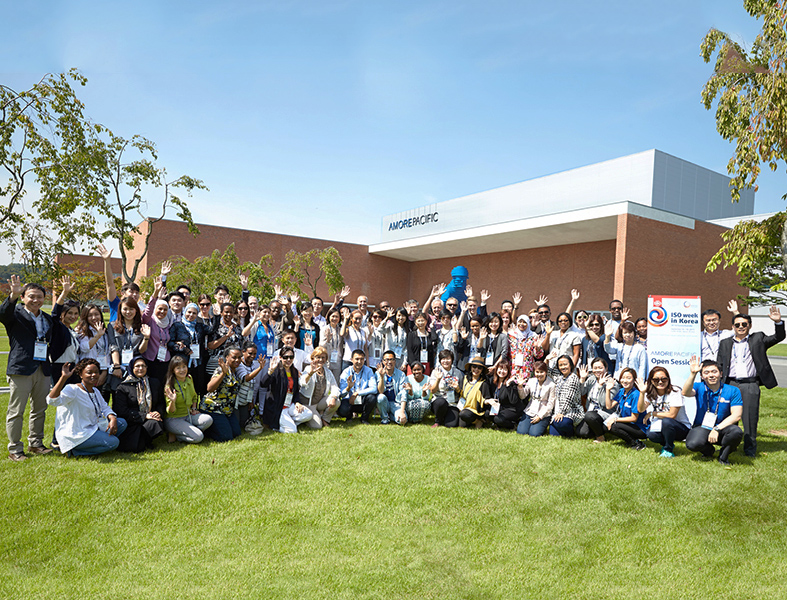 60 participants from the General Assembly of the ISO (International Organization for Standardization) held in Seoul visited the AMOREPACIFIC Story Garden in Osan, Korea on Friday, September 18. The General Assembly of ISO is the top legislative body of the ISO and is being held this year in Korea for the first time. To mark the occasion, a special session was prepared to visit companies representing each industrial sector of Korea, including electronics and chemistry companies. In total, 60 attendees visited the Story Garden and Raw Material Botanical Garden of AMOREPACIFIC, which was chosen as the leading light in the Korean chemistry industry.
While touring around Story Garden, the group learned about the 70-year history and technological innovations of AMOREPACIFIC. "Today, international standards serve as the basis for global industries, technologies and social systems. The standardization of technologies represents an important part in working toward becoming a Great Global Brand Company," said Choi Sook, AMOREPACIFIC SCM Business Management Division, who was on hand to welcome the group of visitors. In addition, the ISO standardization program of AMOREPACIFIC presented by Jeong Yoo-cheol, AMOREPACIFIC Skin Research Team drew much interest from visitors.
After the tour, visitors commented that they had been deeply impressed by the history of AMOREPACIFIC, the leader of the Korean cosmetics industry. We hope that with this visit from attendees of the General Assembly of ISO, AMOREPACIFIC will take a step closer to the goal of becoming a Great Global Brand Company.