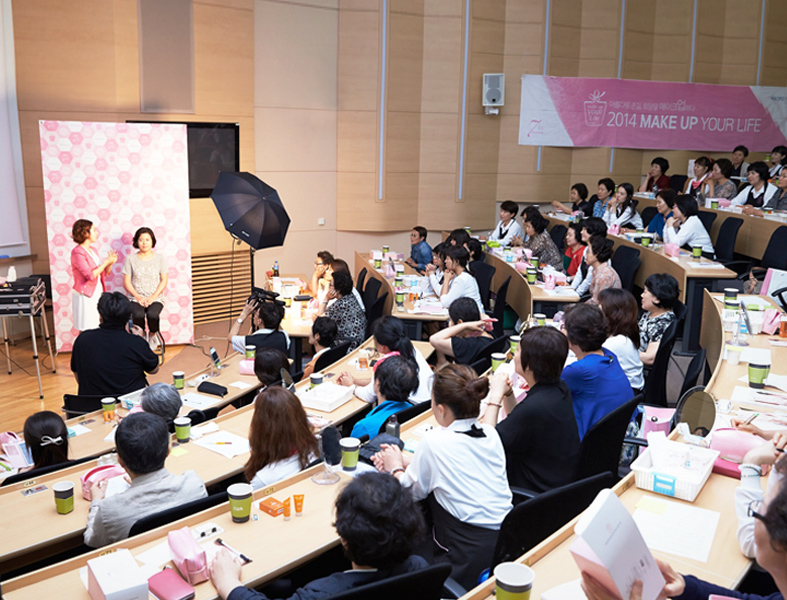 The latter half of the 2015 AMOREPACIFIC Makeup Your Life campaign, participated in by AMOREPACIFIC Corporation (CEO Suh Kyung-bae) and counselors for door-to-door sales, known as AMORE Counselors, begins on September 16 at Seoul National University Hospital and lasts for two months.
Makeup Your Life is a campaign to help female cancer patients who suffer from sudden changes in their appearance such as skin troubles or hair loss due to their cancer treatment become beautiful again. The campaign provides patients with beauty information about makeup, skincare and so on so that they can gain back their confidence about their appearance.
Through this campaign, AMOREPACIFIC aims to help patients overcome mental distress
so that they can regain their inner beauty and become positive about life. According to research released last February (Kim Sung-won, breast cancer specialist and president of Daerim St. Mary's Hospital), Makeup Your Life campaign reveals positive effects on the emotional state of patients: stress levels and difficulties coping with cancer decrease by around 17 % and 12 % respectively.
It will be held in 20 hospitals for 810 patients throughout Seoul and other areas of Korea from September to November and 324 AMORE Counselors will participate as volunteers. Any female patient who received cancer surgery within the past two years and are currently undergoing radiotherapy or chemotherapy can sign up for the program participation. All participants are provided with Makeup Your Life Kit consisting of a brochure, HERA makeup products, and Primera skincare products.
In this campaign, cosmetology instructors and AMORE Counselors will hold beauty classes to provide their makeup and skincare management know-hows as well as various daily beauty tips
Furthermore, some renowned social figures and AMORE Counselors whose lives have been affected by cancer will share their stories about how they have overcome and survived cancer. For patients who are unable to attend the program due to health concerns or lack of time, AMORE Counselors will visit their home or hospital room.
In addition to hospital campaigns, there will be special programs in collaboration with other brands such as OSULLOC, AMOREPACIFIC premium green tea brand, Kukka, flower subscription brand and Coloz, personal color community as well. By collaborating with these brands, more diverse educational programs such as tea ceremonies, flower crafts and personal color coaching will be provided and help patients to achieve a sound mind and body for inner and outer beauty.
Ryu Jae-cheon, vice president of AMOREPACIFIC Corporation Luxury BU said, "Since introducing a door-to-door sales system in 1964, AMORE Counselors have been committed to spreading the value of beauty throughout our society. I hope that the cancer patients can regain their health and beautiful life through this Makeup Your Life campaign."
This campaign is hosted by AMOREPACIFIC Corporation and sponsored by the Korea Breast Cancer Foundation, Korea Oncology Nursing Society, Korea Breast Cancer Society and Korea Foundation for Women. For more details and registration information, please contact the 2015 AMOREPACIFIC Makeup Your Life Operation Center.
(TEL: 02-318-8673/E-mail: makeupyourlife@amorepacific.com )
During last February, Kim Sung-won, breast cancer specialist and president of Daerim St. Mary's Hospital released a research paper titled "Makeup Program's Psychological Effects on Breast Cancer Patients (Co-authors: Prof. Kim Jung-hyeon, Prof. Park Hye-yeon, Seoul National University Bundang Hospital). This is the first research paper in Asia that proves the actual effects of the makeup program on breast cancer patients and published in the renowned medical journal European Journal of Cancer Care.
As medical technology develops and cancer survival rates improve, it becomes more important to take care of the emotional status of patients. In fact, cancer patients tend to suffer from extreme emotional stress while being screened and treated for cancer. This affects a patient's ability to cope with a cancer diagnosis or its treatment. This research paper intends to prove how a makeup program can affect the emotional states of breast cancer patients based on AMOREPACIFIC Makeup Your Life.
To compare and contrast the emotional states of patients before and after attending the makeup program, studies were conducted with 60 patients who received breast cancer surgery in Seoul National University Bundang Hospital. Data analysis reveals that the makeup program helps patients to cope with the feelings of anxiety and distress while being treated for cancer. For example, stress levels and difficulties coping with cancer decrease around 17 % and 12 % respectively after patients attend a single makeup program. Furthermore, the results show that patients become more confident of their appearance and have increased hopes for survival and more intimate conjugal relationships.
"It is amazing how breast cancer patients show positive psychological changes after participating in just a two-hour makeup program," Prof. Kim Sung-won said. "I hope that there are more educational programs for mind control, self-esteem or conjugal relationships in the campaign so patients can further cope with their stress while being treated. This will positively help them to overcome and survive cancer."