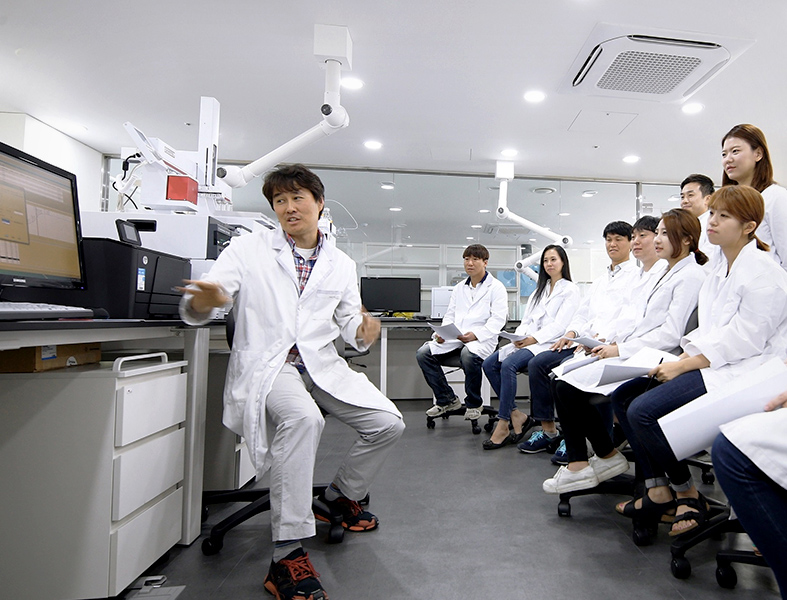 AMOREPACIFIC Corporation (COO Shim Sang-bae) opened the Consortium Learning Center, an exclusive training center for the Consortium for HRD Ability Magnified Program (CHAMP), in Suwon, Gyeonggi-do in July to provide support for the employees of partner companies (in manufacturing and logistics) to systematically develop competences.
The Consortium for HRD Ability Magnified Program (CHAMP), which is organized by the Ministry of Employment and Labor and Human Resources Development Service of Korea, is a program that aims to achieve win-win growth and support closer working relationships between conglomerates and small/medium businesses. Appointed as the operating organization for CHAMP in 2013, AMOREPACIFIC Corporation has offered programs designed to improve the job performance of employees of partner companies in the cosmetics manufacturing and logistics industries.
The new Consortium Learning Center boasts about a new training area equipped with newly purchased facilities in 18 different item categories which is specially designed to promote hands-on practice of employees. The Center has been funded by a 500 million KRW grant from the Ministry of Employment and Labor. The Center also includes a lecture hall and common space area equipped with state-of-the-art education facilities to support both theoretical education and the exchange of job-related information.
AMOREPACIFIC Corporation will offer 59 sessions of education programs in the latter half of the year, such as on-the-job training, core job training, core competency education, and leadership education. In total, 1,274 employees of partner companies will be taking courses at the Consortium Learning Center and the Daejeon L&D Center of AMOREPACIFIC Corporation. Under the three educational policies --- field-centered, technology-centered, practice-centered --- AMOREPACIFIC Corporation plans to lend multi-pronged support to help the Consortium Learning Center to faithfully perform its role as a technical training center for partners, such as expanding training programs focused on hands-on experience and practical learning and enhancing competences of lecturers.
"The establishment of the Consortium Learning Center is a clear sign of our continuing commitment to providing more systematic on-the-job training for our partners as part of CHAMP," said Jung Hyung-kwon, Managing Director of HR at AMOREPACIFIC Corporation, who went on to express his resolve to achieving win-win growth. "AMOREPACIFIC Corporation will continue to strengthen collaboration with our partners, and strive to create a business ecosystem where we can all develop together."