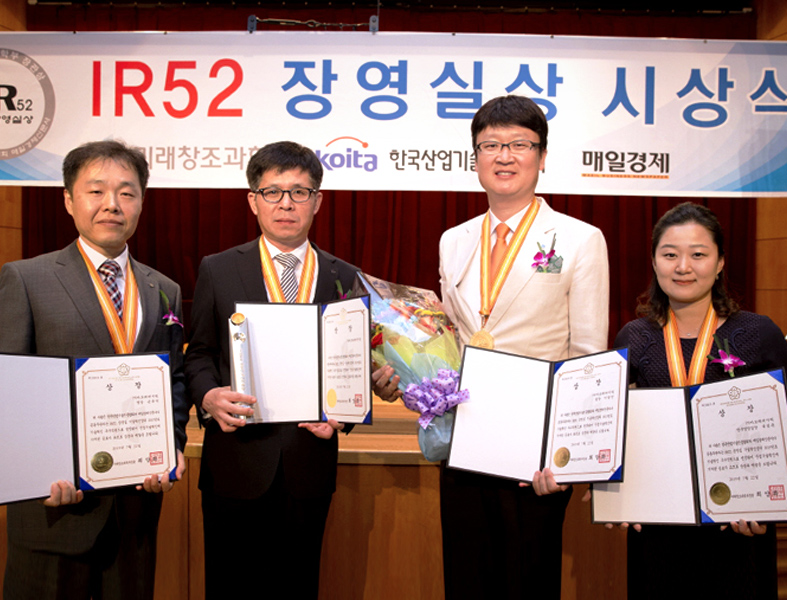 AMOREPACIFIC Corporation (COO Shim Sang-bae) R&D Center received the IR52 Jang Young-shil Award for Technological Innovation for its efforts to build a creative and innovative research culture. The award ceremony was held in the Maekyung Media Center located in Jung-gu, Seoul at 10 a.m. on the 22nd (today).
The IR52 Jang Young-shil Award was founded in 1991 to honor the scientific spirit of Jang Young-shil, a prominent scientist in the time of King Sejong during the Joseon Dynasty. The award was set up to award companies or research institutes in Korea that made great contributions to development and commercialization of new technologies or products, while also bringing innovation to industrial technology. The goal is to foster a favourable atmosphere for developing scientific technology in Korea and to promote technological development. In particular, the Technological Innovation Award is to award the research organizations that have shown outstanding achievements through innovative ideas and activities.
In winning this award, AMOREPACIFIC Corporation R&D Center is acknowledged for its constant efforts to build a creative and innovative research culture. It is particularly highly acclaimed for its list of accomplishments, which include forming an organization for technological innovation by fostering talented individuals, operating a system to discover innovative technologies based on small-group activities of Creative Technology, continuous research into materials for Asian Beauty, such as ginseng / beans / green tea / camellia, and establishing a platform technology to develop new beauty solutions.
"Receiving this award has great significance in that it recognizes AMOREPACIFIC R&D Center's ceaseless efforts to create the first and the most innovative products," said Han Sang-hoon, Director of AMOREPACIFIC Corporation R&D Center. "We will continue to take the initiative in developing innovative technologies so that we can produce more excellent products for customers worldwide."
Since establishing the first cosmetics lab in the cosmetic industry back in 1954, AMOREPACIFIC Corporation R&D Center has been leading many kinds of technological innovation. It is also making constant efforts to promptly respond to market trends by building an extensive research network with prominent universities and research centers all over the world.