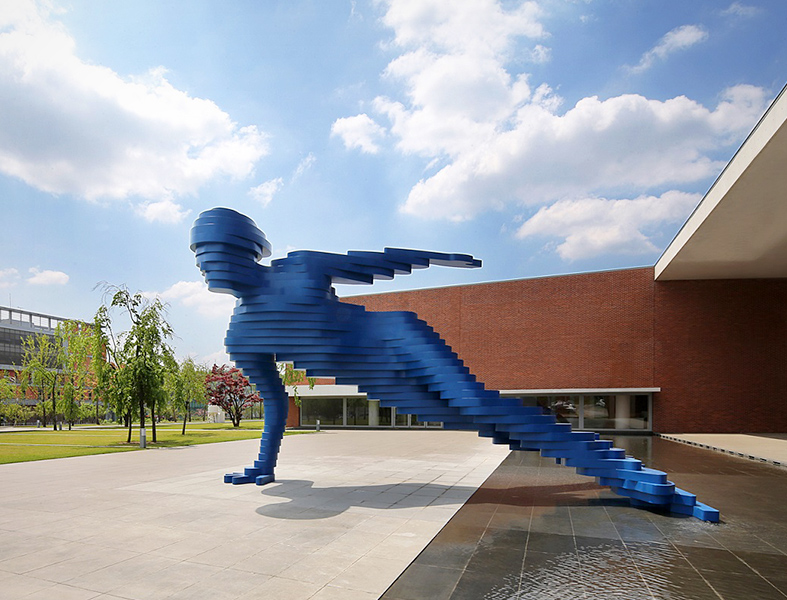 AMOREPACIFIC Corporaion (CEO Suh Kyung-bae) unveiled a permanent exhibition of a large installation titled The Skater at AMOREPACIFIC Beauty Campus (integrated production and distribution center located in Gajangsaneopdong-ro, Osan-si, Gyeonggi-do, Korea). This 5 meter tall and 9 meter wide installatiion portrays the powerful glide of a skater with one hand on the ground for balance.
Created by French artist Xavier Veilhan, the installation was already planned in 2010 during the early stage of construction planning of Osan beauty campus(completed in 2012) which is an advanced integrated production and distribution center providing products of absolute quality to customers all around the world. AMOREPACIFIC Corporation turned to Xavier Veilhan to create an artwork emblematic of the value and purpose of AMOREPACIFIC Corporation going global.
Inspired by the Korean short-track skaters, the artist first carefully observed the size of the actual building and calculated the space for the installation to began creating an artwork that portrays a skater moveing fast with a smooth, effortless glide by harnessing force, direction and speed.
The artist wanted to represent that the movement of the skater resembles the dynamic movement of AMOREPACIFIC Corporation going toward the global market.
Dozens of artists and staff members from France, the U.S. and Korea worked in collaboration over 5 years to install and keep this slanted large piece of artwork stable. It took more than 9 months to carve the body out of aluminum and steel, and the whole sculpture was split into 5 pieces and delivered through shipping in two 40-foot containers.
The Skater has the shape of an arch under the arm, allowing visitors to walk under the installation and commune with it. This rare, large-scale public artwork is expected to be a landmark, giving a boost to the local community. For more information about the installation, click on News on the AMOREPACIFIC Museum homepage (http://museum.amorepacific.co.kr).
AMOREPACIFIC Beauty Campus continues to open new cultural spaces for customers, including a range of thought-provoking and inspiring artworks, such as AMORE Raw Material Botanical Garden, where plants used in cosmetic products are grown, and Story Garden, which offers a full, sensuous experience reflecting the company's brand identity and history.
[Note] About the artist: Xavier Veilhan
Xavier Veilhan (born in Lyon, France in 1963) is one of the leading artists in France. His work is not limited to one genre, but encompasses painting, sculpture, installation art, photography and film. He experiments with a variety of media to create works of art. His works shows the hallmarks of the chosen object in its simplest form. Veilhan is particularly well known for being the leading artist for public art projects. He makes stunning, impressive works from what is familiar in everyday life.