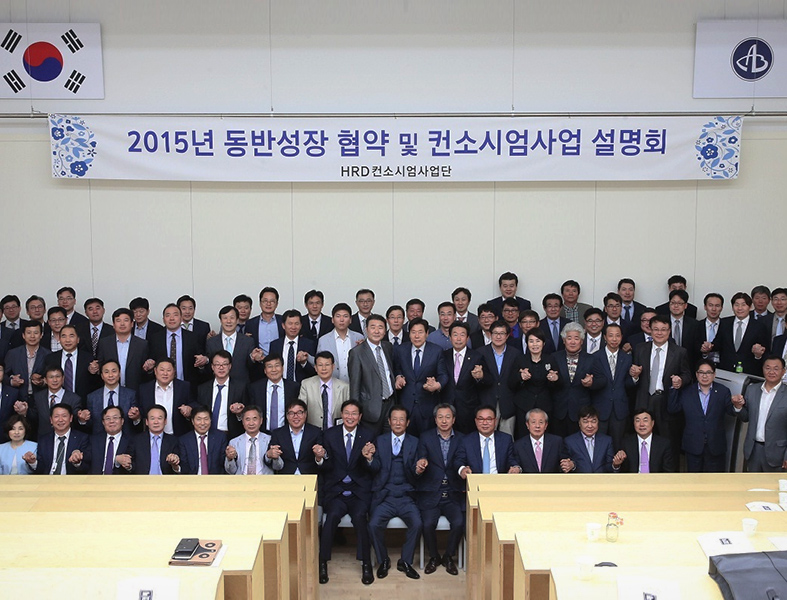 AMOREPACIFIC Corporation (CEO Shim Sang-bae) held a briefing session on the National Human Resource Development Consortium Project at the integrated production base AMOREPACIFIC Beauty Campus in Osan, Gyeonggi-do, Korea in April 29.
This session was intended to build up a foundation for the 2015 shared growth activities with around 100 attendees, including AMOREPACIFIC Corporation executives and others from 90 major partner companies. Throughout the session, attendees shared the performance results of the 2014 National Human Resource Development Consortium Project and 2015 plan and also signed the Fair Trade and Shared Growth Agreement for building mutual trust with SCM partners.
The National Human Resource Development Consortium Project organized by the Ministry of Employment and Labor and the Human Resources Development Service of Korea aims to promote mutual growth and cooperation between conglomerates and small-sized businesses. To be specific, it intends to foster the talented on-site workers that are necessary for the enhancement of small-sized businesses' competitiveness. The training program will be carried out in the training facilities owned by large conglomerates, focusing on improving the productivity and job skills of workers.
AMOREPACIFIC Corporation was selected as an operating agency of the National Human Resource Development Consortium Project in 2013. Since then, it has operated a competency development for the employees of its partners in positions related to cosmetics manufacturing and distribution. As a result of its effort to build a systematic, practical and substantial training program with the three policies – field, technology and practice-oriented, AMOREPACIFIC Corporation has been able to provide 33 training courses in 2014, with 1,348 employees taking part, which is up 154% compared to 2013.
In 2015, AMOREPACIFIC Corporation plans to provide new leadership and core competency development courses and give greater weight to share practical knowledge and technology that could be used on the job. Moreover, it is planning on holding management forums and a manager academy, as well as publishing magazine on a regular basis with the goal of enhancing communication channel with partners. This year, 44 training courses will be provided and 1,920 employees from 238 partners are expected to participate
Meanwhile, AMOREPACIFIC Corporation signed the 2015 Fair Trade and Shared Growth Agreement with 60 major SCM partners at the session to enhance mutual growth management. AMOREPACIFIC Corporation is set to operate a KRW 24.4 billion-worth mutual growth fund for financial support to partners, move up the payment date as part of the improvement in the standard terms and conditions for subcontract price payment and provide R&D support through joint R&D and patent application.
AMOREPACIFIC Corporation COO Shim Sang-bae said that AMOREPACIFIC has continued to work toward building a strategic partnership with partners based on mutual growth system from economic, environmental and social perspectives and it will continue its efforts to share a future dream with partners to become a true Great Global Brand Company as part of its resolve for mutual growth.