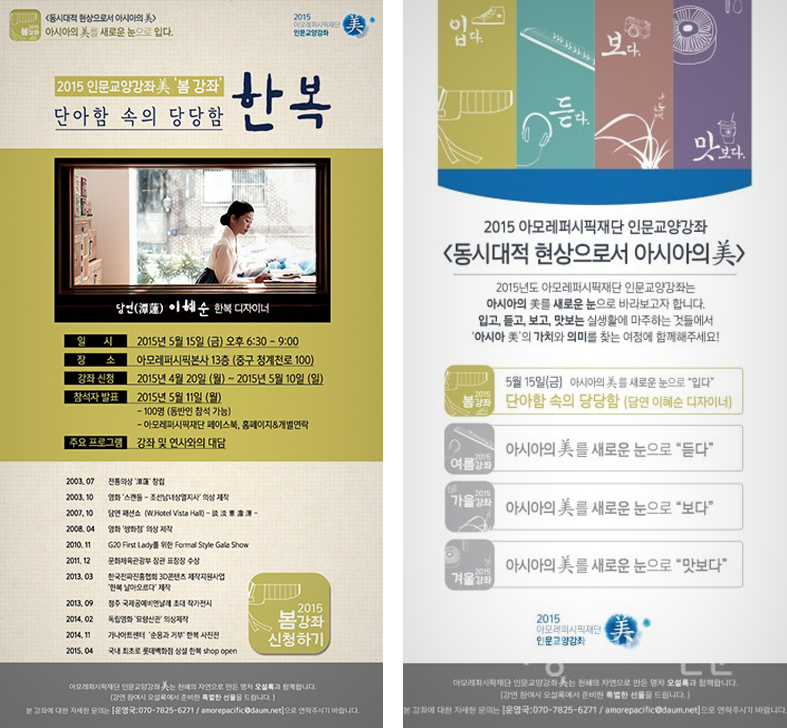 The culture program "Beauty" hosted by AMOREPACIFIC Foundation (Chairman Lim Hui-taek) and sponsored by OSULLOC embarked on a beautiful journey in 2015 starting with the spring lecture. The culture program "Beauty" was the main cultural lecture program of AMOREPACIFIC Foundation. It provided 100 people invited each quarter of the year with an opportunity to explore Asian Beauty together with the public and share different views.
This year, the culture program "Beauty" aimed to discover the value of Asian Beauty found in 4 everyday actions – clothing, hearing, seeing and tasting- and reinterpret its meaning. In line with the theme, experts in clothes, music, painting and food drew the value of Asian beauty from each area and engage in in-depth talks to enhance interaction with participants.
The spring lecture with the theme of "clothing" was held at May 15 in AMOREPACIFIC HQ in Korea. As part of the lecture titled Dignity in Elegance, Hanbok (Korean traditional clothes), Hanbok Designer Lee Hye-soon talked about beauty and philosophy found in Hanbok. Lee Hye-soon is a renowned Hanbok designer in Korea whose creations have featured in many films such as Untold Scandal and A Frozen Flower. She is best known for her efforts to portray the distinctive beauty of Hanbok in everyday life in recognition of Hanbok's value as an artwork of our ancestors, rather than as mere clothing.
AMOREPACIFIC Foundation and OSULLOC has conducted the culture lecture program "Beauty" every quarter since 2012 to promote communication between the public and distinguished people in cultural fields, ranging from architecture and film, through literature, art and music. It has shed new light on the value of Asian Beauty, with an enthusiastic response from the wider cultural community.
[Note]
1. Application and requests
AMOREPACIFIC Foundation: homepage (http://ascf.amorepacific.co.kr)
T. 070-7825-6271 / E: amorepacific@daum.net
2. Lectures provided
In 2012: A woman in an old painting talks to women of today
| | | |
| --- | --- | --- |
| Schedule | Subject | Lecturer |
| November | A woman in an old painting talks to women of today | Prof. Kang Myung-gwan at Busan National University |
In 2013: Asian and beauty
| | | |
| --- | --- | --- |
| Schedule | Subject | Lecturer |
| May | Why do we pay so much attention to beauty? | Prof. Choi Jae-cheon in Eco Science Department, Ewha Womans University |
| July | Buildings on the ground and their landscape | Architect Seung Hyo-sang |
| October | Hangul and Mutjit (Design) | Designer Ahn Sang-su |
| November | Two reservoirs in the history of Korean architecture | Kim Bong-ryol, President of Korean National University of Arts |
In 2014: Asian Beauty found on-the-spot
| | | |
| --- | --- | --- |
| Schedule | Subject | Lecturer |
| April | A structure of Buddha from the perspective of Buddhist art | Prof. Lee Ju-hyung in Archaeology and Art History, Seoul National University |
| June | Asian Beauty found in filming locations | Film Director Jang Ryul |
| September | Asian Beauty found in filming locations | Film Researcher Cho Young-jeong |
| November | Asian Beauty found in the literary world | Prof. Jang Jin-seong in Archaeology and Art History, Seoul National University |
In 2015: Asian Beauty found in contemporary phenomena
| | | |
| --- | --- | --- |
| Schedule | Subject | Lecturer |
| May | Clothing Asian Beauty from a new perspective | Hanbok Designer Lee Hye-soon |
| July | Hearing Asian Beauty from a new perspective | To be determined |
| October | Seeing Asian Beauty from a new perspective | To be determined |
| December | Tasting Asian Beauty from a new perspective | To be determined |