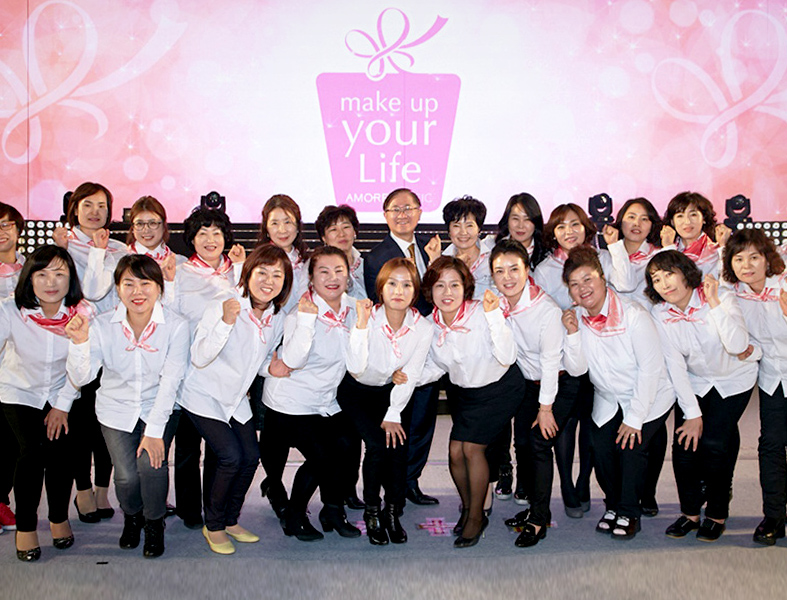 AMOREPACIFIC Corporation (CEO Suh Kyung-bae) hosted the 16th AMORE Counselor Conference, a festival for AMOREPACIFIC door-to-door saleswoman, known as AMORE counselors, yesterday (April 8) at Seoul Olympic Gymnastics Arena, Korea. AMORE Counselor Conference is an annual event that first started in 2000 to instill a sense of belonging and pride into AMORE counselors while, at the same time, motivating them to take on the challenges of a growing business as professional saleswoman.
With a catchphrase of 'Be With You' that indicates the underlying ethos of shared growth with customers, AMORE counselors and AMOREPACIFIC Group, this conference was attended by 7,000 AMORE counselors and members of AMOREPACIFIC Group [HKJ1] from all over the world. 62 AMORE counselors who made outstanding results in 2014 were awarded and Senior Master Ok Hye-seon from Saedongrae Sole Representation Store, Busan Sales 5 Team earned the glory of winning the coveted title of Best AMORE Counselor of the Year.
And the Award for Dedication was presented to counselors who demonstrated lasting commitment to spreading true beauty via various sharing programs, including the Makeup Your Life campaign. AMOREPACIFIC Makeup Your Life campaign was in fact developed through talent donations from AMORE counselors. The main CSR (Corporate Social Responsibility) program of AMOREPACIFIC, it's designed to pass on professional makeup knowhow to female cancer patients and help them regain their self-confidence. The conference also a welcoming ceremony for 2015 AMOREPACIFIC Makeup Your Life volunteer group held, with 490 members of the volunteer group attending, who had demonstrated their determination and commitment to the campaign throughout the year.
Moreover, CEO Suh Kyung-bae of AMOREPACIFIC gave a solid-gold business card inscribed with a special handwritten message offering words of encouragement to 5 outstanding counselors who had made their way up once again as beauty experts.
"Your effort and commitment to spreading beauty across the world with your belief in the value of proximity and integrity have helped endear AMOREPACIFIC to customers. Just as the aims of today's conference say, AMOREPACIFIC will continue to walk the path of making AMOREPACIFIC, customers and AMORE counselors happy together," said CEO Suh Kyung-bae in his opening speech at the conference.
Meanwhile, there were various brand booths, a photo wall and an AMOREPACIFIC Makeup Your Life photo zone prepared at the square outside, where the pre-conference ceremony took place. During the conference, the award winners were announced. What's more, there were various video clips played throughout, including performances designed to communicate the vision as AMORE counselors as well as One Dream. These performances were presented by members of AMOREPACIFIC Group in appreciation of the work of AMORE counselors. There were also special performances by singers Kim Kun-mo and Lim Chang-jeong and Jun Ji-hyun, the model for the brand HERA, who attended the conference and offered a message of support to AMORE counselors.