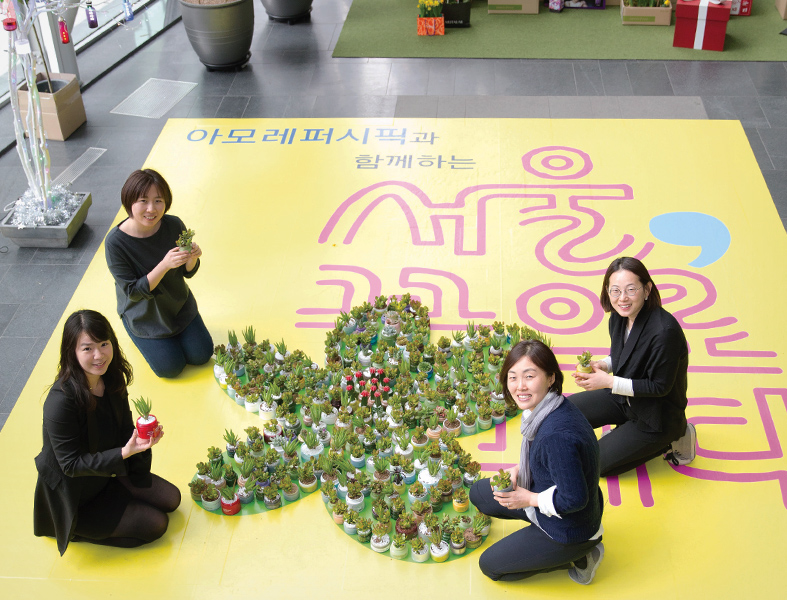 AMOREPACIFIC Corporation (CEO Suh Kyung-bae) took part in the permanent Seoul in Blossom exhibition installed at the 1st floor lobby of the new Seoul City Hall from March 17 (Tuesday) through 29 (Sunday) as part of its environmentally-friendly CSR (Corporate Social Responsibility) program – the GREENCYCLE campaign.
The GREENCYCLE campaign is AMOREPACIFIC's main environmentally-friendly CSR program, encompassing upcycling and recycling of, for example, empty cosmetic bottles. With its participation in the annual urban greening campaign of Seoul Metropolitan Government titled Seoul in Blossom, AMOREPACIFIC aims to encourage public interest and support for the culture of voluntary green practice.
Being part of the permanent exhibition, Seoul in Blossom, again this year, has allowed AMOREPACIFIC to exhibit environmentally-friendly artworks over 2 weeks and provide useful gardening tips using recyclables. Plus, AMOREPACIFIC has also showcased how various plants and flowers can be planted in its brands' empty cosmetic bottles, disposable cups and paper boxes to create a vibrant, green garden. And what makes this year's exhibition special is the large flower zone that's been specially decorated with glass flowers made from empty cosmetic bottles lit by LED lighting, which wowed visitors.
AMOREPACIFIC held a special experiential program on the opening day (March 17) where visitors were given the chance to plant succulent plants in empty cosmetic bottles and shape the Seoul in Blossom logo with them. This activity helped people better appreciate the value of recycling by taking part in an environmentally-friendly CSR program.
The exhibition also features a special event in which visitors have the chance to win a prize by taking a picture of an artwork that most fully expresses the value of recycling and posting it on AMOREPACIFIC CSR's mobile web. For more information about the GREENCYCLE campaign and the event, go to AMOREPACIFIC CSR portal (PC:http://makeupyourlife.amorepacific.com/ mobile: m.makeupyourlife.co.kr).
Meanwhile, AMOREPACIFIC GREENCYCLE campaign will also take part in a 2-month GREENCYCLE Osan Exhibition hosted by the Osan Culture Foundation starting on March 24 (Tuesday). The exhibition, while will be held in Osan where AMOREPACIFIC Beauty Campus is situated, will see AMOREPACIFIC hold an experience-oriented workshop together with Osan citizens, while also featuring various communication programs designed to raise awareness of green culture.