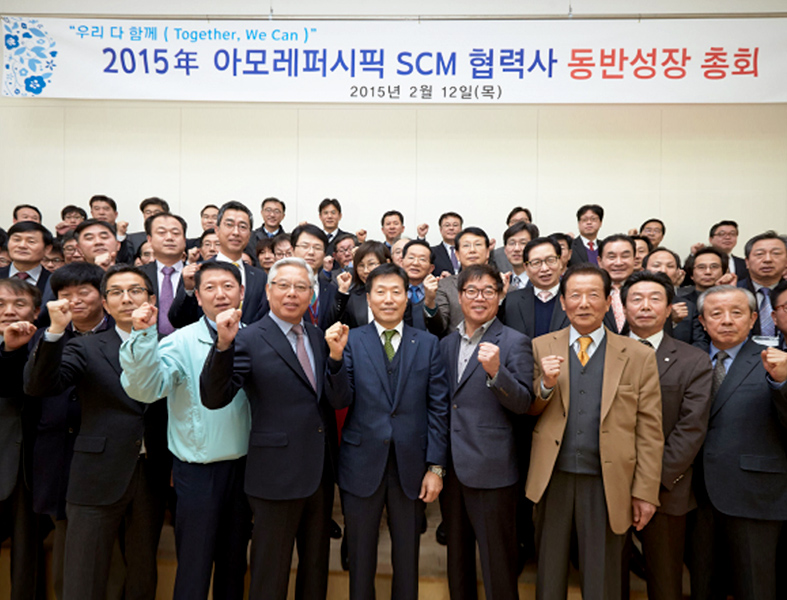 AMOREPACIFIC Corporation (CEO Sim Sang-bae) held the 2015 general meeting for mutual growth with SCM (Supply Chain Management) partners on Febrary. 12 at the integrated production and logistics center - AMOREPACIFIC Beauty Campus - situated in Osan, Gyeonggi-do, Korea.
This annual general meeting for mutual growth has been held by AMOREPACIFIC since 2010 to establish a systematic mutual-growth management system with SCM partners. This year, it was participated by 100 people including AMOREPACIFIC membersengaged in SCM, with those from more than 70 partner companies across various sectors such as raw material, packaging material, ODM, production and distribution. They all attended the meeting toshare business performance in 2014and seek purchase and quality management strategies for 2015.
At the meeting, AMOREPACIFIC Corporation awarded partners with excellent performance partners based on rigorous evaluation across six categories: technological prowess, quality, supply capacity, competitive prime cost, reliability and sustainability. AMOREPACIFIC Corporation provided rewards worth a total of 230 million KRW worth 230 million KRW to twelve partners in raw materials, packaging materials, ODM, production and distribution areas. What's more, ten employees of the award-winning partners will be given a chance to study overseas.
At the meeting, AMOREPACIFIC Corporation unveiled a project to implement an integrated purchase portal that will be carried out in 2015 for strategic communication with SCM partners. This integrated purchase portal project aims to systemize the management and evaluation of partners, standardize purchase activities and grant a channel for close interaction between AMOREPACIFIC Corporation and partners. AMOREPACIFIC Corporation sees the integrated purchase portal as helping to establish a more strategic and efficient purchase collaboration environment with partners.
"AMOREPACIFIC Corporation sees itself as a Great Global Brand Company that changes the world to become more beautiful and healthier under the 2015 management policy of Together We Can. Through our effort toward mutual growth, we expect that our partners will play a key role in spreading the K-beauty craze across the world," said Kang Byeong-do, the head of SCM Division, AMOREPACIFIC Corporation.
AMOREPACIFIC Corporation SCM Division is set to promote innovation activities targeting partners throughout 2015 with a focus on the operation of integrated innovation activities, upgrading strategic evaluation system and spread of a mutual-growth culture. At the same time, AMOREPACIFIC Corporation is seeking to continue to push forward with support for partners, including through earmarking a mutual-growth fund worth 24.3 billion KRW, training talent in different areas, advancing communication in relation to corporate culture and assistance services based on the requirements of the on-site staff.