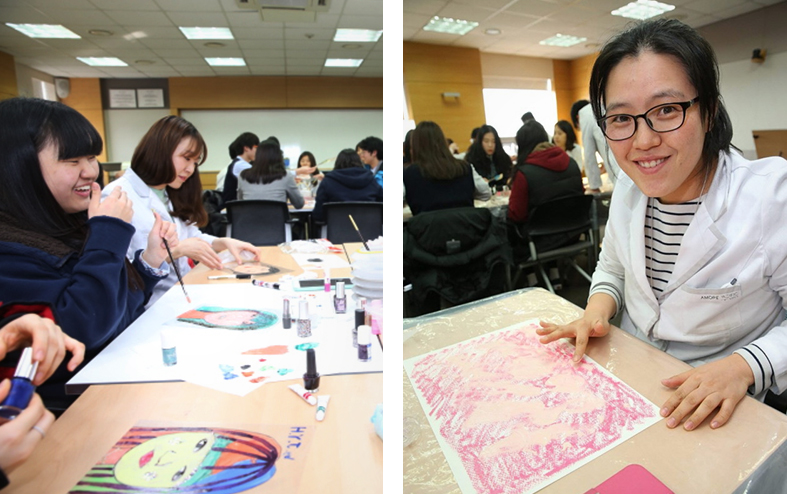 AMOREPACIFIC Group (CEO Suh Kyung-bae) held a career mentoring program in association with the Osan city government in Yongin R&D Center on February 11 (yesterday) for 80 high school students living in Osan. The career mentoring program was carried out by the dermatological researchers of AMOREPACIFIC who willingly volunteered to participate as a career coach. This program is part of the GREENCYCLE campaign, which is an eco-friendly corporate social responsibility (CSR) program.
The GREENCYCLE campaign is an upgraded version of the eco-friendly CSR campaigns of AMOREPACIFIC that used to be carried out in many different ways, such as by collecting empty bottles. It covers various upcycling and recycling activities using empty cosmetic bottles. While the campaign has so far been focused on collecting empty bottles, it has been extended to include a program with career mentoring for high school students seeking to become dermatological researchers. Along with the career mentoring, the program offers the students an arts class to use the cosmetic products which were left over after testing to collaborately create an artwork.
80 dermatological researchers of AMOREPACIFIC participated in the program and introduced how cosmetics are developed, how the skin looks under a microscope with other various stories about skin research to communicate the invisible world of beauty to the students.
The researchers brought themselves down to the level of students by providing in-depth description of things that students may be interested in, but may not otherwise encounter, such as detailed analysis of the skin, hair and scalp. Students were able to observe the skin at the microscopic level, which served to encourage them to pursue their dream of becoming dermatological researchers.
After the lecture, students participated in in the GREENCYCLE art program to make artworks with the color makeup products of AMOREPACIFIC Group's brands including ARITAUM, ETUDE HOUSE and eSpoir that had been left over after being used for tests.Researchers helped the students observe the difference in color when the color products such as lipsticks or nail polishes are applied onto the canvas. Students showcased unique artworks made with experimental instruments used at the lab such as tube, glass rod and medicine spoon as objets d'art.
This program stems from the idea of making an artwork using cosmetics through a vote among researchers. It was then followed up and implemented through volunteer work of the researcher who willingly donated their talents to take part in the Beautiful Sharing initiative in which all AMOREPACIFIC Group members can take part. This artwork program using cosmetics will not be a one-time event, but will exhibit artworks at AMOREPACIFIC GREENCYCLE Exhibition being held by the Osan Culture Foundation over two months starting from March. The program will also be offered to citizens of Osan.
"Through this talent donation that fits our work of dermatological research, we talked with students about the meaning of true beauty, and gave them the chance to make unique, special works of art using cosmetics. We will continue to develop ideas and turn them into activities for improved communications with members of the local community," said Lee Jon-whan, Director of AMOREPACIFIC Dermatology R&D Center.
To find more about GREENCYCLE campaign and program, go to AMOREPACIFIC CSR portal (PC: http://makeupyourlife.amorepacific.com/mobile: m.makeupyourlife.co.kr).
[Note] AMOREPACIFIC's GREENCYCLE campaign
AMOREPACIFIC (CEO Suh Kyung-bae) has carried out activities to identify the possible environmental impact involved in the entire lifecycle of product development from conception through research, production, distribution, consumption and disposal. At the same time, it actively studies the choice of materials, production and distribution methods to minimize such impact in order to improve eco- and economic efficiency. These initiatives follow its declaration of the doctrine of unlimited corporate responsibility for the environment, products and customers in 1993.
AMOREPACIFIC has devoted efforts into implementing a world-class environmental management system and reducing greenhouse gas emissions while, at the same time, promoting sustainable management through the use of safe materials, the development of green products and production technology, and the management of eco-friendly supply. It has also taken an active part in driving the use of eco-friendly package design and packaging as well as the spread of healthy consumption culture.
Indeed, AMOREPACIFIC has been actively engaged in the GREENCYCLE campaign as an eco-friendly CSR program. As a new-look version of the previous eco-friendly CSR campaign that it ran across many different ways, such as collecting empty bottles, the upgraded GREENCYCLE campaign covers various upcycling and recycling activities using empty cosmetic bottles.