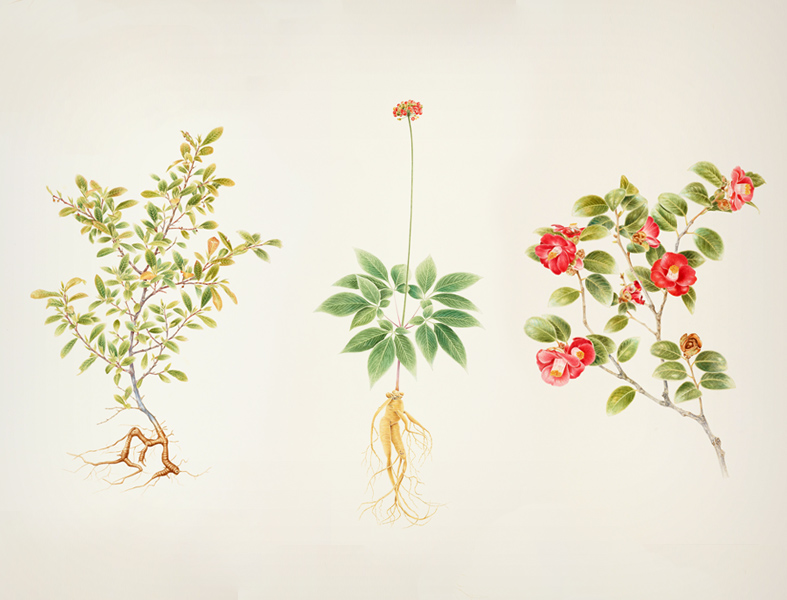 AMOREPACIFIC Corporation (CEO Suh Kyung-bae) announced on February 5 that it published 'Beyond Flower', a book of native Korean plants used as cosmetic ingredients with 100 miniature drawings of flowers indigenous to Korea. This illustrated compendium of native Korean plants reveals AMOREPACIFIC''s deep affection for plants that has been passed down since the company's foundation. As such, the book is designed to record, preserve and spread the value of native Korean plants as widely as possible.
AMOREPACIFIC Corporation has undertaken continuous research into plant ingredients with a keen interest in them, particularly given the founder Suh Sung-whan's belief that good products come from good ingredients. The founder Suh Sung-whan strengthened his belief in the virtues of plants native to Korea while travelling long distances by bike to get good-quality camellia ingredients to help his mother, Yun Dok-jeong with her cosmetic business in the 1930s. With his belief and deep affection for ginseng grown in Gaeseong, he launched the world's first ginseng-based cosmetic product named ABC Ginseng Cream in 1966. And, in the 1970s, he began to cultivate a barren land in Jeju to turn it into a green tea planatation as part of the efforts to revive the Korean green tea culture and invested in many ways to preserve plant resources indigenous to Korea. Given the belief of the founder, AMOREPACIFIC has devoted considerable efforts into spreading the value of native Korean plants. As part of such efforts, AMOREPACIFIC has restored white chrysanthemum for the first time in the world, as well as the rare Korean-native bean. And in 2012, AMOREPACIFIC built the Botanical Garden in AMOREPACIFIC Beauty Campus in Osan, Gyeonggi-do, Korea to cultivate and study all kinds of plants while, at the same time, allowing customers to enjoy the beauty of plants native to Korea.
In order to follow the spirit of the founder and his love for plants, AMOREPACIFIC Museum of Art undertook a plant miniature painting project in association with Song Hun, the first generation Korean miniaturist. After travelling all over the country to seek out medicinal plants indigenous to Korea, he completed 100 paintings, and in February 2015, his works were published as an illustrated book. Each painting depicts the plants' detailed structures and shapes with the beauty of harmony between scientific objectivity and artistic subjectivity that photos seldom deliver. These paintings aim to deliver information about plants native to Korea in the most efficient fashion.
In the book, the key ingredients of AMOREPACIFIC products such as ginseng, camellia, green kernel black bean, white chrysanthemum and peony are included along with a description and the painting technique used. In particular, flower petals, leaf veins, stems, tinniest thorns and even fuzz are captured in detail.
The passing of time is depicted in full with seeds, flowers and fruits portrayed alongside one another, while the inclusion of both young and yellowing leaves helps readers understand the entire life span of one plant in a single painting.
"The healthy beauty and fragrance of plants and flowers native to Korea are precious assets that we should pass onto the next generation. Collaboration with the miniaturist Song Hun has given us a chance to retain the integrity of these assets and we hope that this book does much to popularize the value and beauty of plants native to Korea," said Suh Kyung-bae, CEO of AMOREPACIFIC Corporation.
Meanwhile, AMOREPACIFIC Corporation has sought to publicize the importance of plants native to Korea and protect them through the study and use of plants indigenous to Korea to make cosmetics. In 2012, it published a book titled Beautiful Story of Native Plants on Jeju Island with description of 20 kinds of Jeju-native plants, including camellia, bija and common calanthe, their dermatological effects and related knowledge to help people understand the assets found in Jeju Island and heighten their value as a way of protecting them.