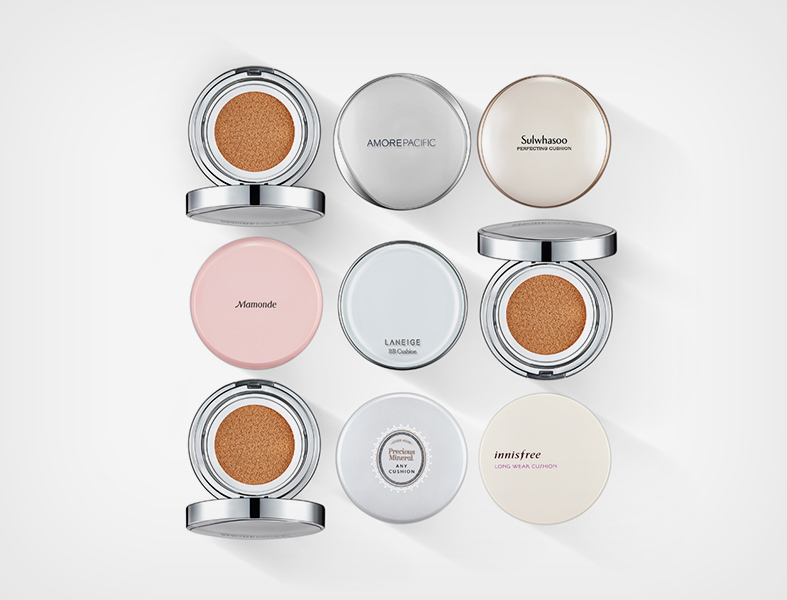 January 21, 2015 (Seoul) Craze for Cushion, which started in Korea, is now drawing worldwide attention and revolutionizing the makeup routine for women around the world.
AMOREPACIFIC Group (AMOREPACIFIC) announced today that the global sales of Cushion products under its brands are expected to exceed 50 million units on a cumulative basis during January 2015. With the total sales of Cushion products increasing 105% YoY to 26 million units, an AMOREPACIFIC Cushion was sold every 1.2 seconds in 2014. In particular, the sales of the Cushion products outside of Korea surged a whopping approximately 140% YoY.
Cushion refers to a makeup compact built with a specially-designed urethane foam that safely contains and preserves makeup liquid comprised of foundation, sunscreen and skincare formula. Already popular as the 'must-have' item in Korea for easy and flawless skin makeup, Cushion has more recently gained keen attention in the global cosmetics market.
AMOREPACIFIC began its research and development for Cushion in January 2007. In order to develop a multi-functional sun protection product that is easier to carry and apply than conventional tube or pump-type products, AMOREPACIFIC conducted over 3,600 tests using 200 different types of sponges, ranging from latex used in beddings to types used as bath sponges. From these trials AMOREPACIFIC introduced the 'IOPE AIR CUSHION®' in March 2008.
Committed to its 'Absolute Quality' principle, AMOREPACIFIC continuously improved the technology and quality of its Cushion products by conducting more than 15 upgrades since the first launch. In addition, AMOREPACIFIC has filed for 114 patent applications and registered 13 patents in Korea, China, Japan, US, and Europe. With Cushion, AMOREPACIFIC was recognized for the innovativeness of its technology and contribution to the beauty industry. In 2014, AMOREPACIFIC succeeded in automating the entire Cushion production procedure. Its new Cushion production system enables the company to respond to the growing demand for the Cushion products globally and manage product quality at the same time.
Based on these efforts, the sales of IOPE AIR CUSHION®, which totaled 3.8 billion KRW in the first year launched, surpassed 200 billion KRW in 2014 alone, becoming one of the best-selling items in the Korean cosmetics market. And with the industry-leading technology, AMOREPACIFIC has launched numerous Cushion products with different functional benefits through its brands, such as the LANEIGE BB Cushion, Sulwhasoo Evenfair Perfecting Cushion, Innisfree Mineral Melting BB Cushion and ETUDE HOUSE Precious Mineral Any Cushion. With marketing catered to the local market, approximately 1.17 million units of LANEIGE BB Cushion were sold in China in 2014. As of January 2015, AMOREPACIFIC offers a total of 19 Cushion products from its 13 brands in more than ten countries in the Asian and North American regions, leading the 'globalization' of the Korean-born Cushion.
According to 2013 survey conducted by the Korea Tourism Organization, more than 50% of the foreign visitors to Korea have purchased Korean cosmetics products, indicating that the influence of K-Beauty (Korean beauty) is ever-growing. Among the Korean cosmetics products, Cushion, which has changed the way Korean women wear makeup, is now creating a global beauty trend beyond its popularity in Korea
Another study conducted by the global research firm TNS Korea that surveyed 800 Korean female consumers found that 75% of Korean women have used or are currently using Cushion products. The respondents chose the portability and the convenience of creating the natural-looking flawless skin as their reasons for choosing Cushion.
Morever, the survey showed that Cushion was in fact has changed the makeup habilts of Korean women by reducing the steps and time needed in creating the skin-looks they prefer. 75% said that since using Cushion their makeup routine was shortened, and 76% replied that they were now easily reapplying makeup and sunscreen with Cushions. 55% of women responded that their sole base makeup product was Cushion. The survey showed more than 8 out of 10 most-favored Cushion brands were from the category creator AMOREPACIFIC, including IOPE and LANEIGE.
"Cushion, created from AMOREPACIFIC's innovative technology, is a revolutionary product that is changing the makeup routines of women across the world and is going to be at the center of global beauty trend in 2015," said Suh Kyung-Bae, Chairman & CEO AMOREPACIFIC Group. "AMOREPACIFIC will continue to pioneer and lead the global Cushion market with the company's unparalleled technology and superior products." he added.