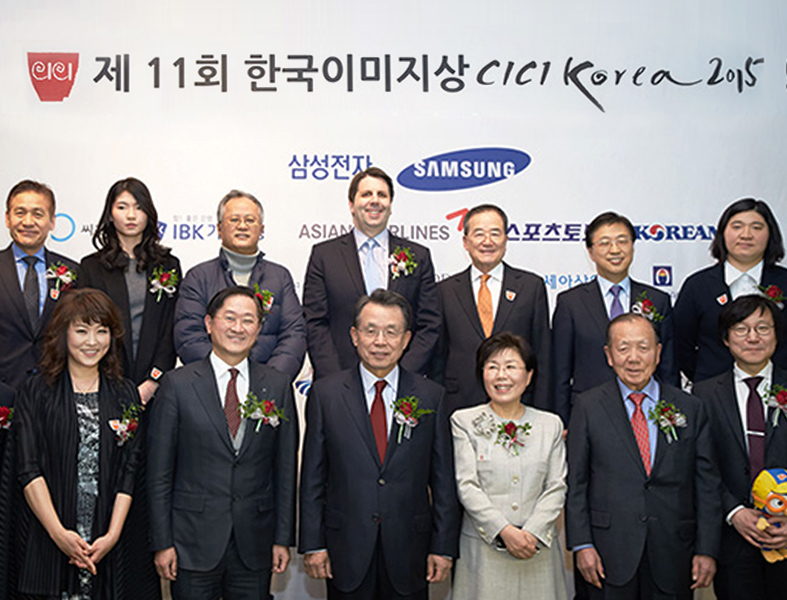 AMOREPACIFIC Group received the 'Korea Image Stepping Stone Award' at the 'CICI Korea 2015 Korea Image Awards' held on Jan. 12, 2015 at the COEX InterContinental Hotel in Seoul, for its contribution to promote Korea's image to the world
The CICI Korea Image Awards, hosted by the Corea Image Communication Institute (CICI), has been held to honor persons, places or companies that have contributed to advocating Korea's images around the world for the past 11 years. AMOREPACIFIC has been selected winner of this year's 'Korea Image Stepping Stone' for spreading Korean beauty and brand power all over the world. Through its innovative research and development and challenging spirit, AMOREPACIFIC has led the Korean beauty industry with the 'first' and 'best' accomplishments since its foundation.
AMOREPACIFIC has continuously striven to realize its corporate vocation as the 'Asia Beauty Creator' by launching innovative brands and products since its establishment in 1945. Its journey started from 'Melody Cream,' launched under the group's uncompromising quality principle and was much welcomed by women looking for quality products right after the liberation of Korea. Since then, AMOREPACIFIC has expanded to develop the world's first cosmetic brand inspired by the Korean herbal medicine brand 'Sulwhasoo', as well as products like 'IOPE Retinol 2500' which was based on the company's world-first retinol stability technology. AMOREPACIFIC 'Cushion' product is its latest innovation that is changing the make-up routines for women around the world and creating the new beauty culture globally.
"Winning the Korea Image Stepping Stone Award in 2015 is especially meaningful for the group as it celebrates the 70th anniversary this year," said Suh Kyung-bae, Chairman and CEO of AMOREPACIFIC. "As the Asian Beauty Creator, AMOREPACIFIC will continue to spread Asian beauty to the world, doing its best to grow as a leading company that contributes in enhancing Korea's image and national competitiveness," he added.
Meanwhile, Chinese actress Tang Weil received the Korea Image Stepping Stone Bridge Award for her role in conveying Korean culture to the rest of the world, and the Korean speed skater Shim Suk-hee, who promoted Korea's image to the world, won the Korea Image Budding Youth Award' at this year's awards ceremony.