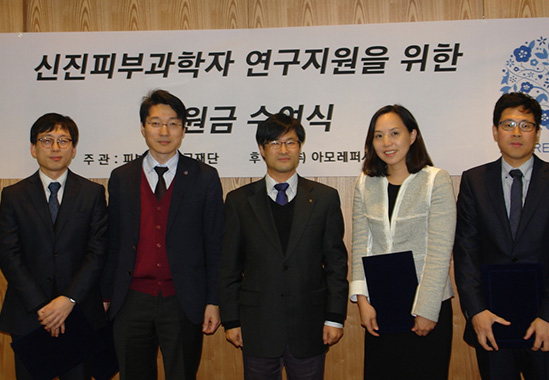 Under its 'AMOREPACIFIC Rising Dermatologist Research Support Program', AMOREPACIFIC (CEO Sang Bae Shim), awarded on December 18, 2014 grants to 4 young and rising dermatologists at the office of Korea Dermatological Association in Seoul.
AMOREPACIFIC and the Dermatology Research Foundation established "Rising Dermatologist Research Support Program" in 2010 to enhance research capabilities and competitiveness in skin study. The project annually provides KRW 20 million for two years to four promising dermatologists selected by the foundation in order to engage in basic skin science research. A total of 20 rising dermatologists were selected for the last five years and a total of KRW 800 million in research funds will be provided until next year.
The dermatologists selected for the grants in this year include Prof. Lee Won-ju at Kyungpook National University School of Medicine, Prof. Won Jong-hyeon at Asan Medical Center of University of Ulsan College of Medicine, Prof. Kim Do-yeong at Yonsei University College of Medicine, and Prof. Yu Hwa-jeong at Korea University Anam Hospital. With grants, Prof. Lee Won-ju will conduct research on 'Effect of Vitamin D on Cultured Sebum Cells' for two years, while Prof. Won Jong-hyeon will carry out a 'Study on Method of Accelerating Growth of Hair Using Signaling Pathway of AMP Kinase'. And, Prof. Kim Do-yeong and Prof. Yu Hwa-jeong will conduct research on 'Investigation on Revelation of TRIM Protein and Clinical Significance in Behcet's Disease', and 'Study on Mechanism of Controlling Revelation of TSLP by IL-33 in Keratinocyte HaCat Cells', respectively.
At the grant awarding ceremony, Director Yeong-ho Park of Medical Beauty Research Institute in AMOREPACIFIC's Technology Research Center said, "We hope the research grants will help promising dermatologists invigorate research activities and contribute to sharpening competitiveness in dermatology study. AMOREPACIFIC is committed to expanding international exchanges in this area to build environment where people around the world can have a healthier and more beautiful skin."
Meanwhile, AMOREPACIFIC has been leading technological innovation since it established the Technology Research Center in 1954, the first of its kind in the cosmetics industry in Korea. And it is expanding research networks with universities and research organizations in Korea and other countries to rapidly deal with trends in the market.