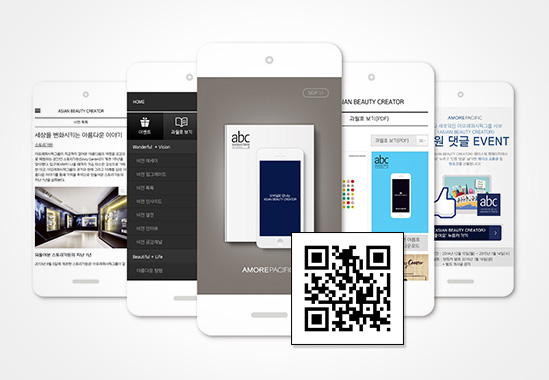 AMOREPACIFIC Group (CEO Suh Kyung-bae) launched the mobile website(http://abc.amorepacific.com) of its company magazine "Asian Beauty Creator" on December 15. In order to enhace its communication with its customers, thecompany magazine of AMOREPACIFIC which had been previously distributed only to the employees will be now provided to the public, too.
"Asian Beauty Creator" is a communication magazine of AMOREPACIFIC Group published since 2011. It has delivered diverse contents on the employees' efforts for customer satisfaction, development of innovative products, corporate history, as well as the calling and values of the AMOREPACIFICGroup. The magazine received favorable comments for consistently introducing interesting contents and unique cover designs. Since its launching, it has been awarded the "Korea Business Communications Award" every year which is annually hosted by the Korea Business Communications Association.
"Asian Beauty Creator" - which had been previously distributed only to the employees of
AMOREPACIFIC Group in the form of a booklet— will be provided to the public as well in the form of a mobile website in order to expand its readership
To use the website, users do not need any separate membership enrollment but can simply access it from any type of mobile device. Services, such as sharing articles on SNS, image viewing and viewing back-issue magazines and collected images will be provided. It also plans to add new contents to the existing booklet by adding video clips and the like.
The title, "Asian Beauty Creator" derives from AMOREPACIFIC's calling. Thus, until now, we have delivered stories of various members of the compant who have endeavored to spread 'Asian Beauty; across the world. said Hee-bok Lee, executive director of AMOREPACIFIC PR Division. "It is our hope that the newly launched mobile website provides us the opportunity to communicate with more consumers as AmorePacific transforms into a global company."
Meanwhile, various events will also be held to commemorate the launching of the mobile website On the "Asian Beauty Creator" Facebook page (http://www.facebook.com/saboabc), events, such as posting of cheering tags and quizzes, will be held. Advance movie tickets, as well as coupons for cakes and coffee will be provided to participants in the events as awards.