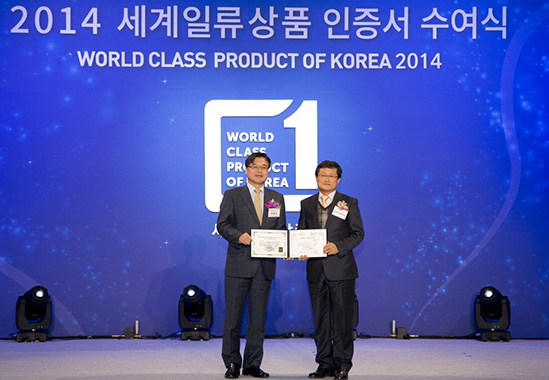 AmorePacific (CEO Sang Bae Shim)'s mask and pack products were selected as the "2014 World Class Products of Korea" during the "2014 World Class Products of Korea Certificate Awards." The ceremony was held in the afternoon of December 8 (yesterday) in the Grand Ballroom, COEX, Samseong-dong, Seoul, Korea.
Hosted by the Korean Ministry of Trade, Industry and Energy, and organized by the Korea Trade-Investment Promotion Agency (KOTRA), the "World Class Products of Korea Certificate Awards" aims to foster world-class companies that lead the global market. Since 2001, it has selected companies and products with a technologically innovative capacity. Among products with over 5% global market share or those within the world's top 5 in terms of global market share, the ministry and KOTRA selected "World Class Products of Korea" that marked an annual export scale of over USD 5 million or over twice the scale of the Korean market; or an annual global market scale of over USD 50 million with over 5% global market share.
The mask and pack products selected for this year's World Class Products of Korea are special skincare products that form a moisture-locking membrane on the face to nourish and moisturize skin. The AMOREPACIFIC R&D Center grasped the needs of Asian consumers for simple-to-use mask and pack products with instant effects and launched the "LANEIGE Water Sleeping Pack" as a sleeping mask pack in 2002. Over 3.6 million packs had been sold annually as of 2013. It posts an annual sales growth rate of 82% on average and 92% in the global market. It is a representative product that has been awarded recently.
"LANEIGE Water Sleeping Pack" contains Schizophyllum commune Fr.–derived biopolymer moisturizer, a beta-glucan, which the AmorePacific R&D Center developed using exclusive technology. It richly hydrates and nourishes skin during sleeping hours. In addition, SleepscentTM, a sleep-inducing scent, and other cognitive neuroscience technologies are merged with the product. Patents related to the product in terms of texture, material, technology and effects amount to 17 in Korea and globally (6 registered and 11 applied). In particular, the LANEIGE Water Sleeping Pack is considered to be a very innovative product. By enabling women to conveniently apply the pack and wear it during sleep without the need to remove it in the next morning, it created a new skincare habit among women in Asia and the world.
"The selection of our mask and pack products as World Class Products of Korea means that the unique technological capacity of the AmorePacific R&D Center and the market competitiveness of our products have been globally acknowledged, said Sang-hun Han, executive director and head of the AMOREPACIFIC R&D Center. "AMOREPACIFIC will continue to relentlessly research to deliver innovative products to our consumers."