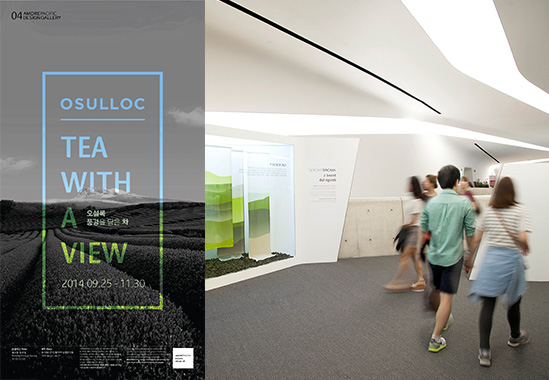 AMOREPACIFIC (CEO Suh Kyung-bae) will hold the exhibition in the "AMOREPACIFIC Design Gallery," which is on the second floor of Dongdaemun Design Plaza (DDP) Sallim Zone until November 30.
is the fourth design exhibition of AMOREPACIFIC, following the exhibition in April under the brand "Hanyul" which is a premium brand based on Jeonraeminbang -a traditional medicinal book containing full of wisdom gained from plants-, and the other two design& concept exhibitions under the brand "Mamonde" held respectively in July and September.
At the exhibition, designs expressing the world of "OSULLOC"—the brand name of AMOREPACIFIC premium tea brand will be exhibited. OSULLOC's brand name comes from the exclamation "Oh!" when one encounters the tenacious nature of green tea that stays green throughout the winter. SULLOC means "snow green" inspired from the view of green tea shrubs covered in snow on Jeju Island. It is said that green tea must be enjoyed with all five senses — the clear sound of pouring green tea into a cup; the transparent yellow-green infused from the tea leaves; the refreshing scent; the warmth; and finally, tasting the tea. Borrowing from this philosophy, the 'OSULLOC: Tea with a view' exhibition introduces designs that awaken all five senses.
The interior is painted with a mist gray color that represents Jeju Island's fog and dark gray from basalt. The décor includes a rough but natural finish of the furniture, as well as pictures and videos of Jeju's landscape as the hometown of "OSULLOC". The utensils are designed in flowing organic shapes that resemble tea trees and leaves. All of them are the key to the space design of "OSULLOC" helping visitors to create their own images about Jeju Island. At the exhibition, visitors can also see the space design of the OSULLOC Tea House decorated into different moods reflecting the environment of Jeju and product designs that deliver the scent, taste, and atmosphere of Jeju.
Meanwhile, AMOREPACIFIC opened the design gallery in the Dongdaemun Design Plaza to actively communicate the design philosophy of its beauty brands and moreover, to show the culmination of Korean beauty brand design. For the detailed schedule of the AMOREPACIFIC Design Gallery exhibition, check on the website (http://design.amorepacific.com). All exhibitions are free admission and open from Monday to Sunday from 10:00 a.m. to 10:00 p.m.