Amorepacific received the Minister of Trade, Industry and Energy Award at the Korea Technology Awards 2022 for AmoretinolTM: the world's best technology to stabilize pure retinol.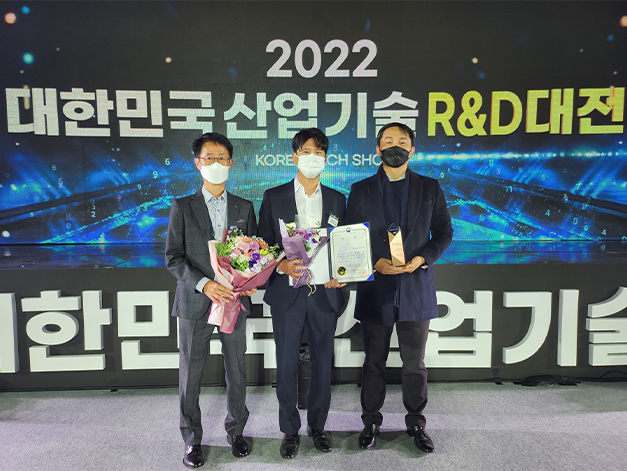 ▲ Amorepacific Research Executive Chae Byeong-Geun, Principal Researcher Han Jae-Il, and Chief Researcher Park Seung-Han participating in the award ceremony (from left)
Retinol which is highly effective in wrinkle improvement is extremely sensitive to light, heat, and oxygen, making it difficult to be used in products. Amorepacific developed an original formulation technology that allows pure retinol to be directly injected into cosmetic formulations. In addition, it also developed a multi-step process and special containers to minimize retinol's exposure to external light, heat and oxygen during production and distribution. These developments dramatically increased the stability and absorption of retinol, thereby raising the bar one notch higher for Korean anti-aging cosmetics.
Since 1995, Amorepacific has been intensively researching retinol. In 1997, it launched IOPE Retinol 2500, commercializing the technology of high-content retinol double capsules for the first time in Korea. The Korean beauty and cosmetic giant, which has developed retinol technology for the past 28 years, has now reached the level where it can put high-purity, high-content pure retinol in its products without capsules.
Chae Byeong-Geun, Research Executive at Amorepacific R&I Center, who participated in the award ceremony, said, "I remember the time when I first took on the challenge of studying retinol in 1995. Retinol is particularly difficult to deal with among cosmetic ingredients. I am very pleased to receive the Ministry Award today. It is recognition for our constant efforts aiming at being the first and best ever since we were first certified for wrinkle functional cosmetics with IOPE retinol products in Korea in 1997."
The Korea Technology Awards hosted by the Ministry of Trade, Industry and Energy is an annual event that recognizes companies, research institutes, and universities that have developed excellent new technologies and products with huge impacts on domestic industries. As a side event of the Awards, the Korea Industrial Technology R&D Exhibition is held at COEX for three days starting from December 7th where the award-winning AmoretinolTM technology and related product IOPE Retinol Expert are on display.