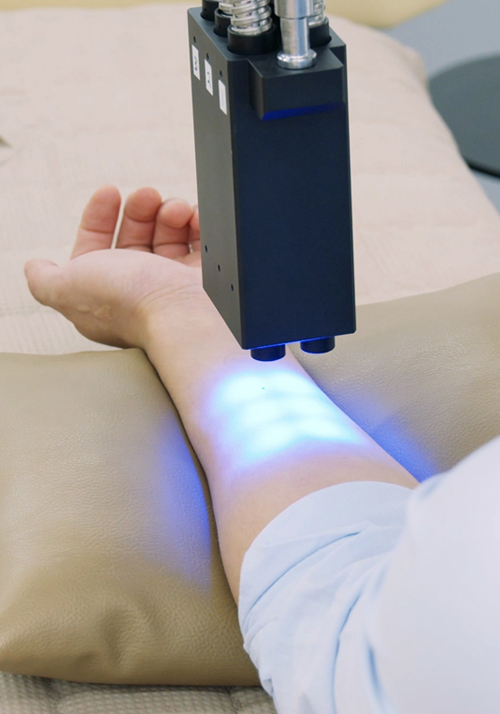 Anti-pollution Research Center, R&D Center, Amorepacific, developed a clinical evaluation method for skin protection from blue light for the first time in the world. Its paper confirming the harmful impact on skin from blue light, development of a clinical device, and verification of the effectiveness of blue light blocker was published on a SCI-grade international journal, Journal of Cosmetic Dermatology, on August 18 (year 2020, issue no. 19). (Paper title: Clinical evaluation method for blue light (456 nm) protection of skin)
Blue light is the light ray of the blue end that exists in the wavelength between 380 and 500nm (nanometer). It has the shortest wavelength and produces high amount of energy among all visible rays. If exposed to blue light for a long time, it can disturb sleep or damage vision. Blue light also has a negative impact on skin causing pigmentation, loss of firmness or moisture. In the past, however, there has been no clinical trials that verified in detail the harmful impact on skin from everyday blue light exposure.
Senior Researcher Jo Hong-li at Clinical Evaluation Lab of Anti-pollution Research Center identified the blue light wavelength harmful to skin and developed a device to clinically evaluate blue light protection of skin in that identified wavelength. The newly developed device creates the blue light wavelength spectrum exposed to modern consumers through artificial light that comes from the use of smartphones and TV. In addition, the device can precisely adjust the intensity and exposure time, supporting a more accurate clinical evaluation of skin damage caused by everyday exposure to blue light.
In the experiments using the clinical device, R&D Center found that blue light of a 456nm wavelength causes skin pigmentation. And based on this finding, the Center observed whether the blue light blocker developed and launched by Amorepacific can prevent skin pigmentation. It proved the product's effect of protecting the skin from blue light by measuring the changes in melanin levels.
Amorepacific R&D Center began studying the impact of blue light on skin since 2017. It also presented its research on clinical evaluation method for blue light protection developed for the first time in the world at the International Federation of Societies of Cosmetic Chemists (IFSCC) held in 2018 in Munich, Germany.
Based on such results, Amorepacific R&D Center Anti-pollution Research Center has applied and verified the effects of protecting skin from or alleviating damages caused by blue light of various products, including Sulwhasoo UV Wise Brightening Multi Protector, HERA Sun Mate Excellence, IOPE UV Shield Sun Anti-Pollution, LANEIGE Radian-C Cream, and LANEIGE Neo Cushion. Amorepacific is dedicated to studying harmful environment and its impact on skin conditions and developing products that will protect the skin health of customers worldwide.