Sustainable paper packaging
Amorepacific Group uses more sustainable paper packaging.
Amorepacific Group uses sustainable paper such as FSC-certified paper and paper made of plant byproducts in carton boxes, the secondary packaging of products, to respond to deforestation.
FSC is an international certification granted to paper materials made from forests that are managed in a sustainable manner, and not by excessive logging. In addition, Amorepacific Group uses paper made of plant byproducts, which combines discarded plant resources such as tangerine peel or seaweed with recycled pulp, creating sustainable packaging materials.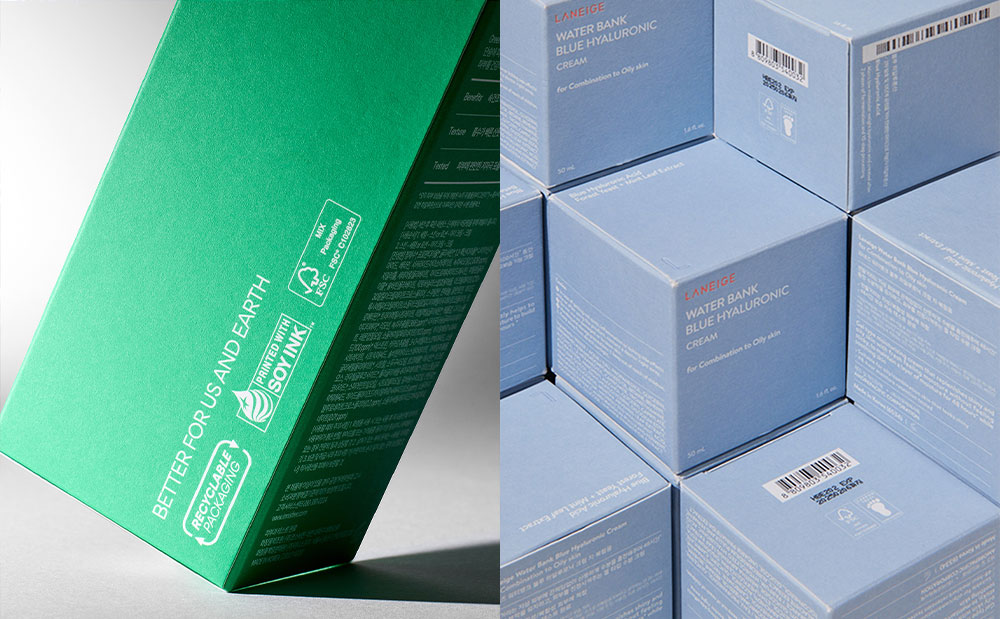 Eco-friendly Carton Boxes
Use of FSC-certified paper
Brands such as Sulwhasoo, LANEIGE, Mamonde, HERA, primera, IOPE, and HANYUL have manufactured product packaging boxes with FSC-certified paper: 303 items in 2019 and 249 items in 2022. In addition, innisfree has contributed to sustainable forestry by using FSC-certified paper for their delivery boxes.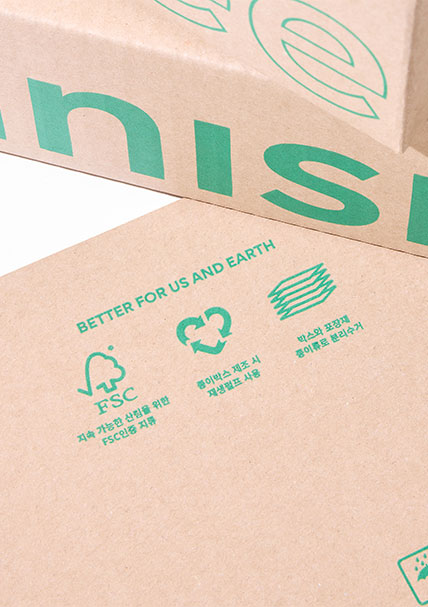 Use of Plant By-product Paper
innisfree has been using tangerine paper made by mixing discarded tangerine peels from Jeju. Since 2018, the brand applied it to the single layer boxes of 153 new products, including the Green Tea Seed Serum. LIRIKOS also used seaweed paper made from a mixture of seaweed and recycled pulp in the boxes of 9 new products, including the Deep Sea Waterfall Cream, in 2018. In 2019, innisfree, ETUDE, and LIRIKOS used boxes made of plant by-products such as tangerine paper, sugarcane paper, and seaweed paper in packaging
In 2022, 15 items, including innisfree Black Tea Youth Enhancing Treatment Essence and ETUDE Soon Jung pH 5.5 Relief Toner, were made using plant by-product paper.