Kids' environment camp 'Love the Earth'
Love the Earth Children's Environment Camp, an environmental problem that children can think about and solve together
Protecting the environment is protecting the dreams and hopes of future generations. Since 2019, AMOREPACIFIC Group has been running an environmental camp, Love the Earth, with elementary school students in Korea and abroad every summer to raise childrens' interest in eco-friendly living. We strive to provide a platform for children to be a good influence and grow as eco-influencers by finding ways to protect the environment on their own.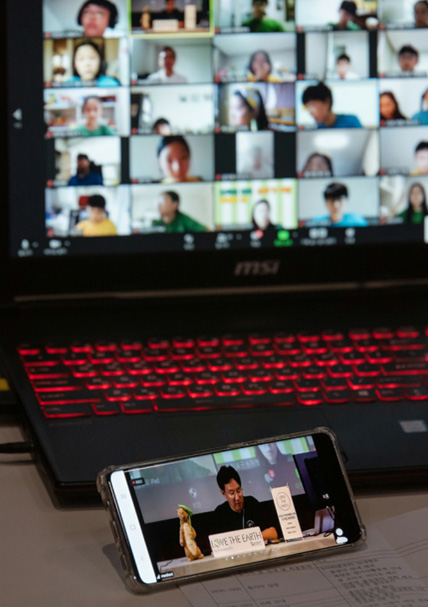 The 2020 Children's Environmental Camp was changed from an offline, 2 day and 1 night camp to an online course for 6 weeks due to the outbreak of the COVID19 pandemic. The children who participated in the camp in various spaces using a video conferencing system discussed upcycling and climate change by topic with an environmental education expert and learned how to make a video from a video expert. In addition, in order to nurture children into AP Eco Creators, various Plastic Free missions were carried out to develop sensitivity of the environment. At the online graduation ceremony, a preview of an environmental film shot and produced by the children was held to spread their good influence and they were awarded with the Amorepacific Group Honorary Employee Appointment.
The Children's Environmental Camp held in 2020 was the first environmental camp held online, and 50 5th and 6th graders in 15 cities in Korea and Malaysia participated. We plan to expand the program around the globe so that children's ideas about the environment can be spread more widely.