Delivering Sustainable Stores
Sustainable consumables
We are conscious of the environment from as small as essential consumables frequently used at our stores every day. Amorepacific Group strives to improve every relevant element in our stores to spread a culture of sustainable consumption.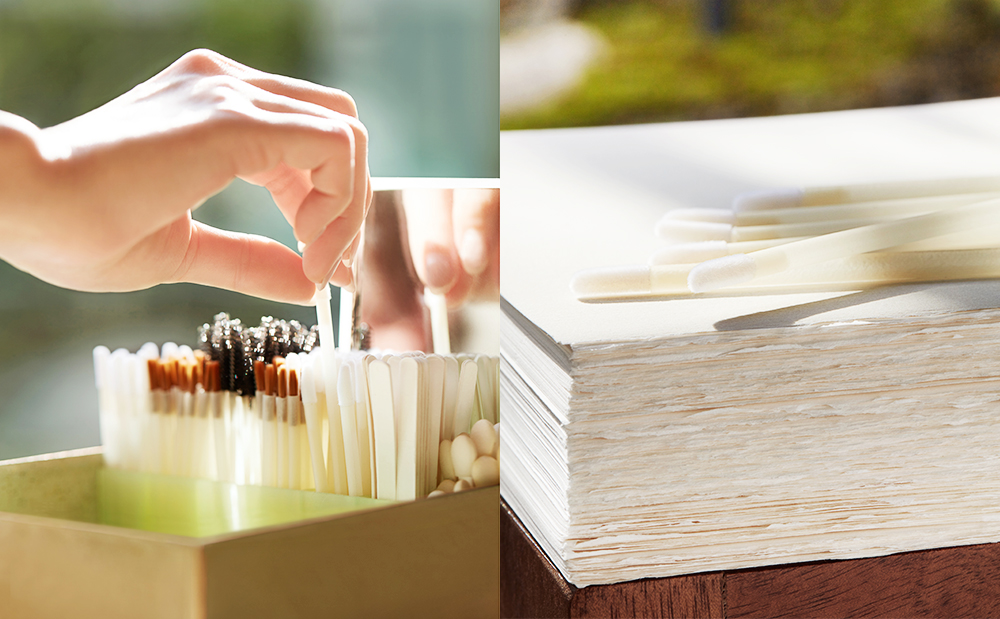 Using Sustainable Shopping Bags and Consumables
Sustainable Shopping Bags
In 2017, ARITAUM used FSC-certified paper in 4 items, including newly designed paper bags and shopping bags. In 2018, FSC-certified paper was used in a total of 5 items, including perfume shopping bags as well. Through such efforts, in 2019, ARITAUM achieved 99.7% in using sustainable packaging.
Applicator Close to Nature
Applicators, which are disposable makeup tools used to try out products in stores, are mostly made of plastic, leading to generating a lot of plastic waste. In 2019, we developed 4 materials close to nature to replace these applicators. The alternatives are paper sticks without PVC coating, steamed pulp sticks, food-grade paper to replace the plastic spatula, and rice sticks made of rice and tapioca.
Introducing Smart Receipts
Amorepacific Group was the first cosmetics company in Korea to introduce mobile point-of-sale (mPOS) system in 2017 in ARITAUM, ETUDE and eSpoir stores in Seoul's key commercial districts. By combining barcode reading sensors, credit card readers and cameras in mobile, mPOS handles various functions from customer reference, product information, payments to issuing electronic receipts. mPOS system allows customers to receive counseling and immediately pay for their purchases. It is convenient for customers and also contributes to environmental protection as the system sends e-receipts in text messages instead of printing paper receipts. Since 2018, innisfree significantly reduced the amount of wasted paper receipts by issuing smart receipts as a default option for customers using innisfree's app.
Replacing Disposable Plastic Straws
Since 2018, Osulloc Tea Houses and innisfree Green Cafes have each replaced disposable plastic straws with paper straws and biodegradable straws, significantly reducing the amount of plastic used at stores. In addition, the stores use a new type of cup lid that allows customers to enjoy their drinks without using a straw, minimizing inconvenience as well as reducing the use of disposable straws.