Pink Ribbon campaign aims to support the health of women by raising awareness on breast cancer and the importance of early detection. Amorepacific hopes all women can achieve healthy beauty by looking after their body and health through various activities anyone can take part in.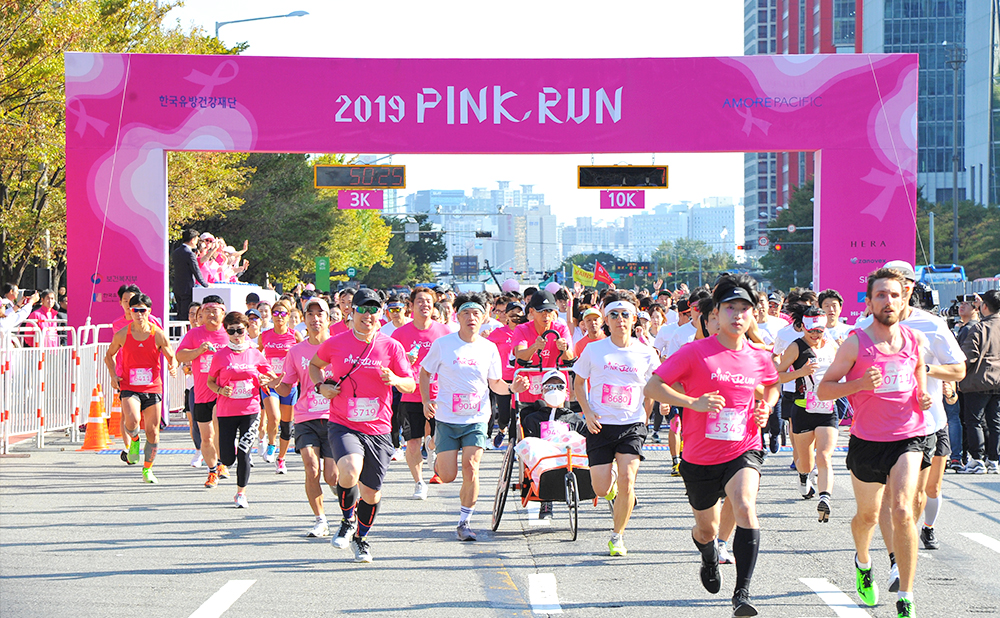 Healthy Life Free from Breast Cancer
Three Healthy Habits to Prevent Breast Cancer
There is a difference in breast cancer seen in Asian patients, such as Korea, and patients in Western countries. Studies have shown that 85% of patients in Western countries occur in postmenopausal women, while 50% of patients in Asia, including Korea, develop cancer before menopause. However, more and more women are exposed to risk factors for breast cancer such as westernized diet and there is a shift in trend towards the type of breast cancer seen in Western countries. Here are 3 healthy habits you can practice every day to protect your health and prevent breast cancer, which is increasing in incidence rate.
"Regular checkups", "Regular exercise", "Balanced diet"
Pink Run and Pink Tour
Pink Run is a program that raises interest around women's health and awareness of the importance of early detection, encouraging early screening of breast and uterine cancers through a running festival engaging the participation of the public. Pink Run in Korea is held across 5 regions nationwide every year, and the entire proceeds from entry fees collected (KRW 10,000 per person) is donated to Korea Breast Cancer Foundation to be used to support surgery and breast cancer screening.
Enter Pink Run
Breast health education program Pink Tour is a program that reaches out to the community to share ways to perform breast self-examination for early detection. From 2001 to 2019, it has held about 1,500 classes across the nation, in which 370,000 people learned about how to perform self-exams along with everyday tips on protecting breast health. Pink Tour has established itself as one of the most successful breast health education programs.
Apply for Pink Tour
Expanding into a Global Campaign
Since 2017, Amorepacific China, in partnership with China Women's Development Foundation, has been offering free screenings of women's two major cancers (breast and cervical cancer) as well as education programs. In 2019, it expanded the screenings and education, which were only provided to women in rural areas, to low-income women in cities, conducting the program in 10 prefectures in 3 provinces, including Ningxia Hui Autonomous Region, Guizhou, and Heilongjiang. Amorepacific China also hosts Moripao Marathon to raise awareness of the importance of early screening for the two cancers. Moripao is a global version of the running festival Pink Run and has been held since 2016 by Amorepacific China to raise awareness on breast and uterine health. It is an event held to reaffirm the importance of women's health with about 5,000 participants every year.
Accumulated Achievements (2001~2019)
Improve Awareness

388,050

persons

Support for Education

656,729

persons

Health Support

102,165

persons

Support for Surgery

1,177

persons