MEET YOUR DREAM is a program where Amorepacific members offer career mentoring and share their skills to teenagers who dream of becoming makeup artists, hair designers, cosmetics researchers, marketers, and designers.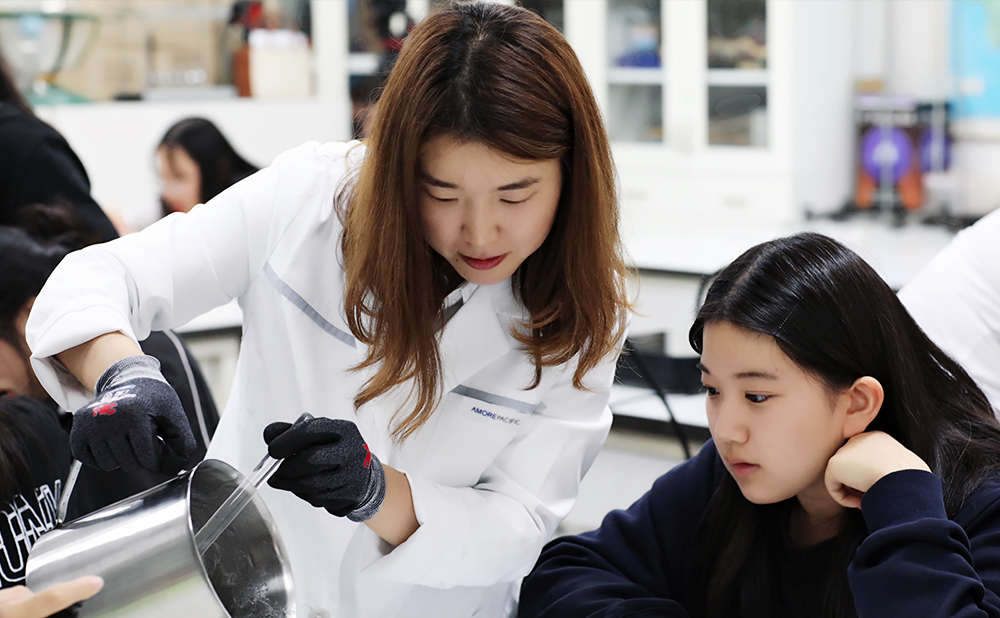 Meeting the Mentors of Your Dream Job
Employee ProBono Activities
Since 2013, Amorepacific has been carrying out 'MEET YOUR DREAM' probono activity, where a group of job experts composed of employees provide career mentoring to women and teenagers, transferring their professional skills. In 2022, we worked hard to systematize the program, including for online mentoring. We developed a new career mentoring curriculum for researchers (big data, customized cosmetics), and also introduced a marketer career mentoring program, which gained high satisfaction from participants.
Supporting Dreams
Amorepacific signed a business agreement with Gyeonggi-do Province and the Gyeonggi-do Office of Education in 2021, to promote 'Gyeonggi-do Career Experience where Students and Companies Meet,' and provided support for career experience education for middle school students in Gyeonggi-do Province from 2022. Moreover, a total of 48 scholarship students were selected from 2017 to 2022 to nurture experts in the future makeup and hair fields, with 40 of them obtained expert certificates.
Cumulative Activity Results (2013~2022)
Beneficiaries,

4,829

persons

Total Expenditure,

Approximately KRW

780

million