Fostering A Great Place to Work
Enhancing the Well-being of Salespeople
Amorepacific Group Beauty Partners (salespeople at stores) are important members who serve our customers most closely at our stores. We provide healthy work environment that ensures Beauty Partners' quality of life and capacity building programs so that they can offer professional services to our customers.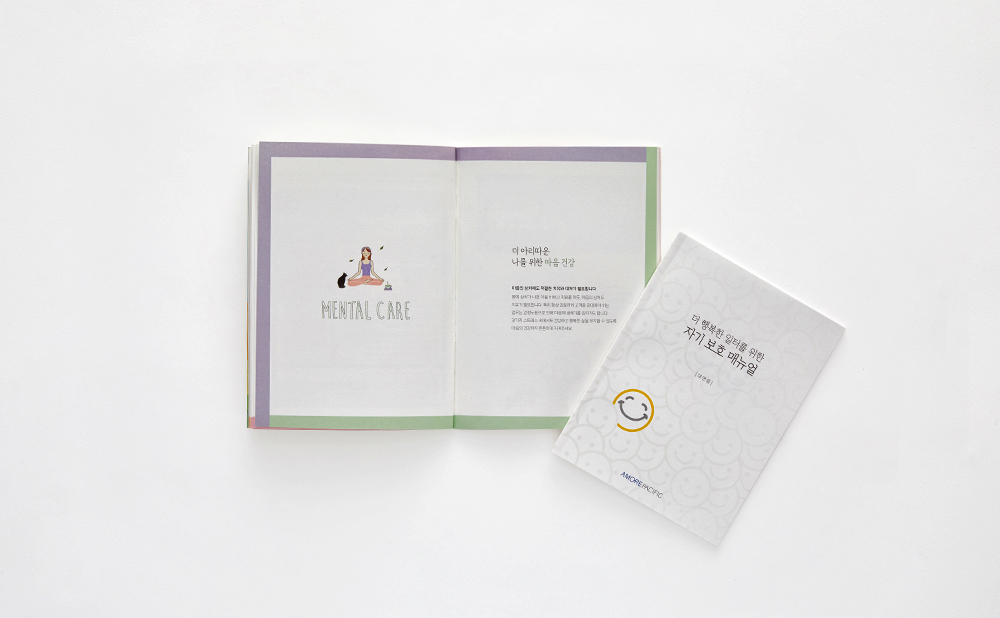 Protecting Emotional Labor Workers
The emotional labor of Beauty Partners who interact with and serve customers at stores can cause worsening health. To prevent and resolve any potential stress of Beauty Partners that can occur during work, Amorepacific Group published and distributed Self Protection Manual for a Happier Workplace, a guide proposing ways to respond to complaints made by difficult customers. In addition, 'Happy Life Consulting' is a consultation service for employees' happiness and psychological stability, helping Beauty Partners resolve stress and psychological anxiety that comes from emotional labor.
Providing Healthy Work Environment
Beauty Partners are likely to suffer from musculoskeletal disorders as they stand all day working at stores. To provide a better work environment by improving working conditions and relieving stress quickly, innisfree provides 'GreenUs Well-being Kits' to its Beauty Partners, GreenUs. The GreenUs Well-being Kit, which started with providing leg massagers and making leg fatigue relieving products for GreenUs in 2013, is updated with items they need at work based on surveys. innisfree makes and provides foot patches, leg gels, back acupressure products and back massages every year. And in 2018, Innisfree provided hand massagers to 1,600 GreenUs to care for their hands, which represent specific points of the entire body.
Supporting Growth and Capacity Building
Amos Professional offers differentiated training for Beauty Masters who perform salon sales at the brand's authorized stores. The training program covers a wide range of topics from building up their vocation awareness as Beauty Masters, fostering sales confidence to practical salon sales knowhows. We aim to strengthen a win-win relationship that pursues shared growth with Beauty Masters by continuously developing systematic training programs.