Facilitating plastic recycling
Plastic can be a resource, not waste, depending on the recycling efficiency. Amorepacific Group is leading a new path in reducing plastic waste by increasing the recyclability of plastic packaging.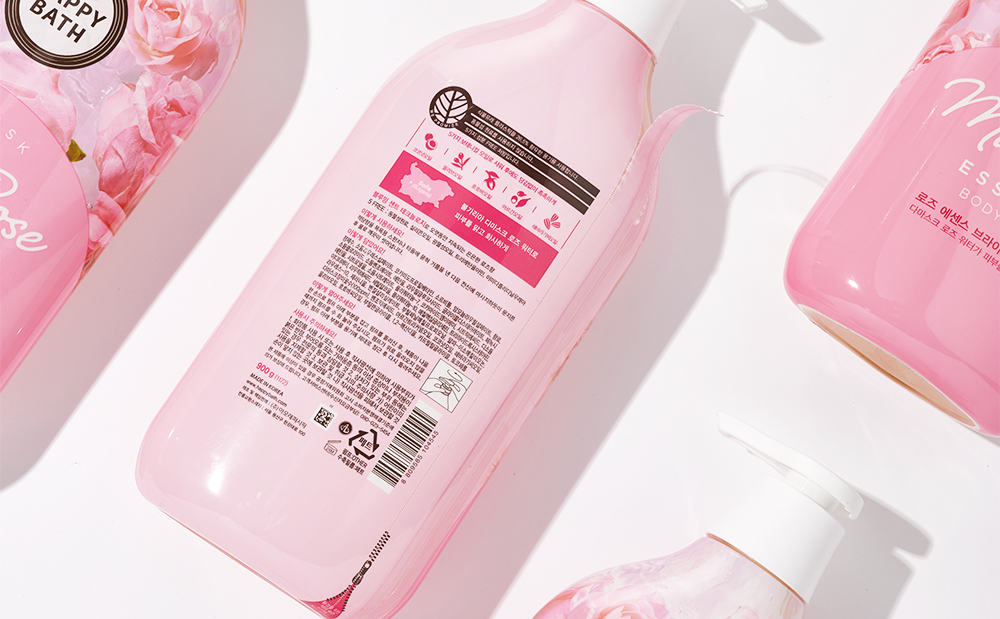 Development of metal zero pump without a metal spring
Metal springs that are typically included pumps make pumps a composite material, which makes it difficult to recycle. AMOREPACIFIC Group developed a pump made of only plastic and no metal and applied it to the Happy Bath Grapefruit Essence Body Wash for the first time. This pump does not use a metal spring, so after use, it can be separated and discharged without any separate work, so even the pump can be easily recycled.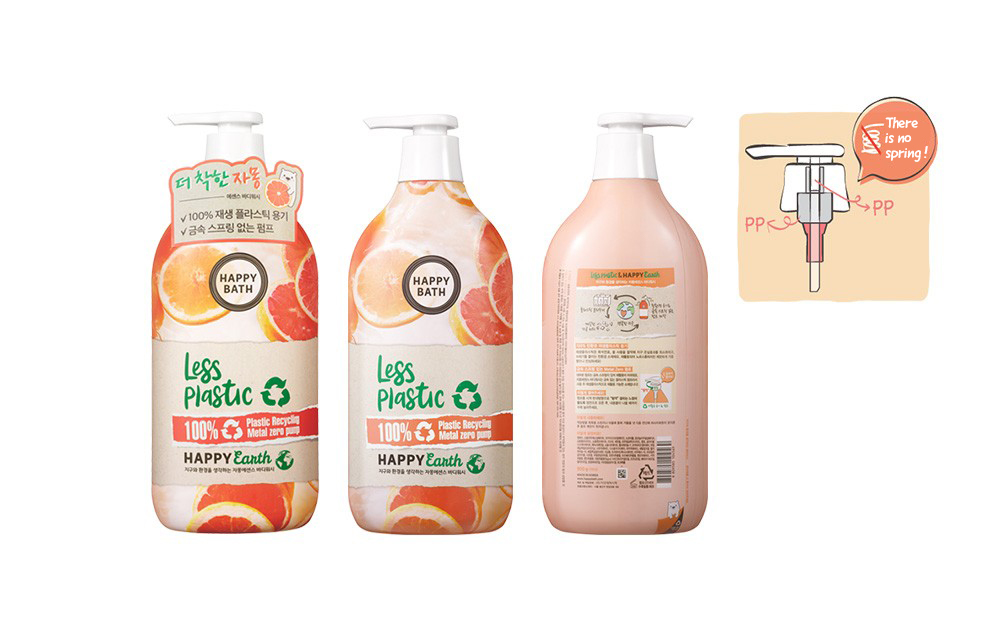 Sustainability reinforced by the development and application of new product design principles
primera has developed a new product design principle, Product Identity, for its skin care line to take the lead in reducing packaging waste and recycling containers.
The new principle clearly sets out which material will be used for each part of the product. A clear glass container and a recycled plastic cap are used for the primary packaging, and an easily-removable label is applied so that the label can be easily removed when disposing recycling. Earth pact, an eco-friendly paper that is made from 100% sugar cane residue and is biodegradable, is used for the secondary packaging material. The new principle has been applied since the renewed Alpine Berry Watery Cream launched in October 2020, and will continue to expand in the future.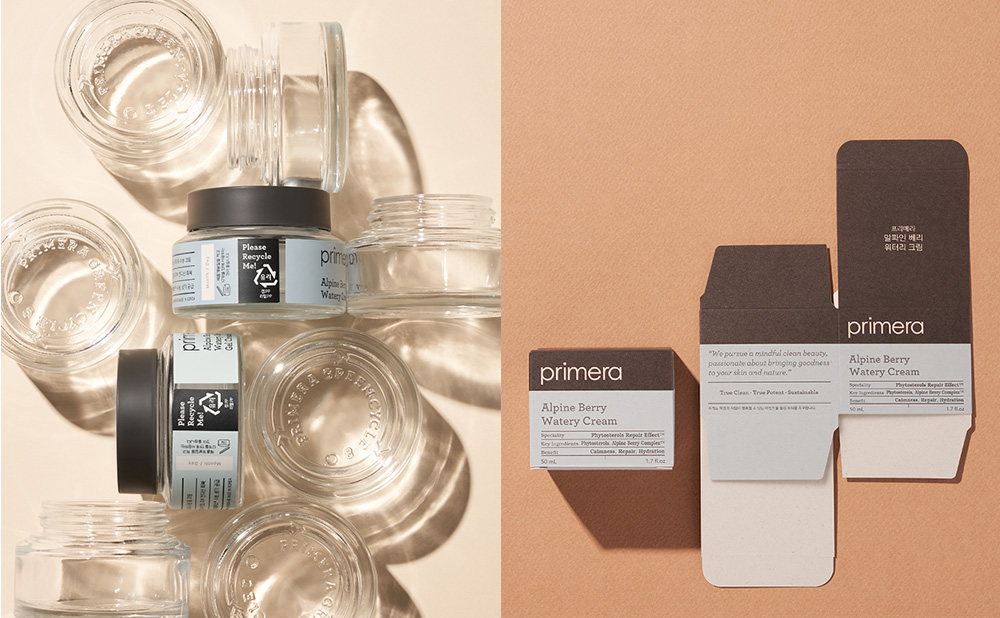 More Recyclable Packagings
Transparent Plastic
olored plastic or plastic with adhesive has a lower possibility of being recycled. To increase the recycling potential of products, we use transparent plastic and apply shrinking film labels that can be placed on the containers without the use of adhesives. There are perforated lines on the labels making it easy for anyone to rip off and sort to recycle. In 2018, HAPPY BATH used transparent PET container and shrinking film label for its Creamy Milk Body Wash. And in 2019, such packaging was applied to more products. Ryo also began using transparent plastic containers in 2019.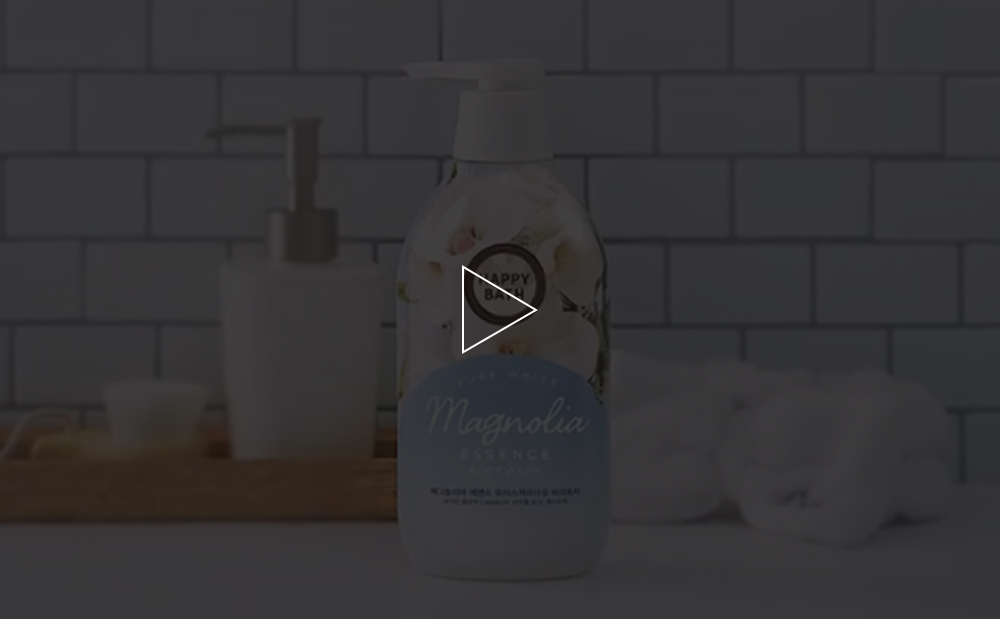 Single Material Packaging
Plastics are not easy to recycle without careful seperate collection of waste by materials. The recycling potential drops for any plastic material that is not made with a single material. Through continuous research, Amorepacific successfully used single-material plastic in packaging of illiyoon Probiotics Skin Barrier Essence Drop in 2019.
Minimizing the Remains of Contents
Airless Pump
Products of high viscosity easily leave behind remaining or residual content in a typical pump container. To resolve this, Amorepacific Group improved the structure of product packaging by using airless pump dispensers. By reducing the amount of residual content that gets thrown out along with the container after use, we prevent environmental pollution and resources from being wasted.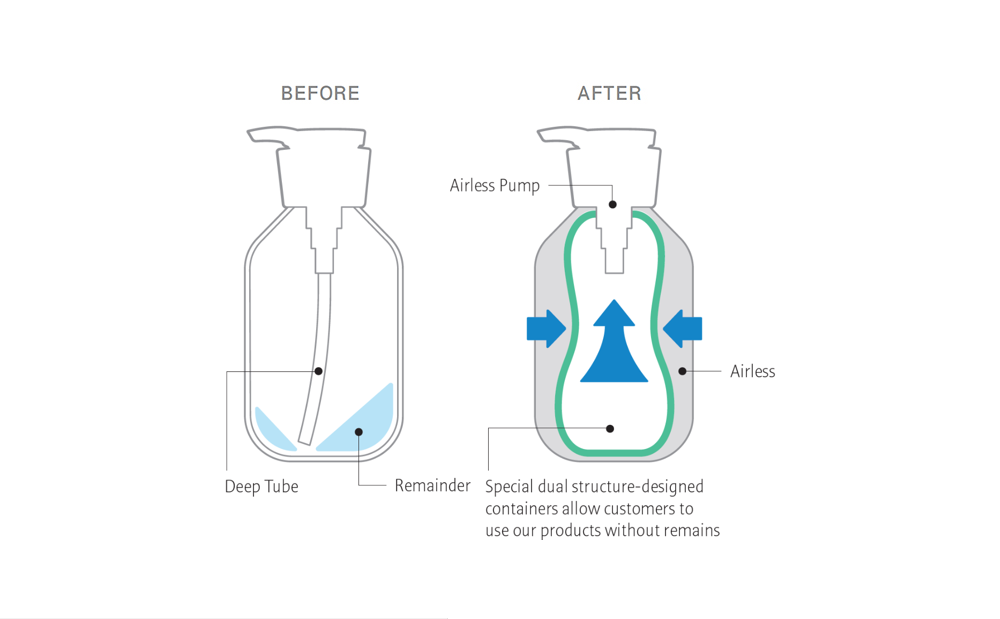 Since 2017, illiyoon applied airless pump-type dual-structure container, which reduces the residual content to less than 5%, in its Ceramide Ato Lotion and expanded the use of such containers to 3 more new products including Ultra Repair Lotion in 2018.
Improving Pump Direction
In 2019, innisfree improved the structure of its Forest All-in-one Essence container so that the mouth of the pump and the end of the deep tube that reaches the floor of the container are always in the same direction, enabling the content to be used up simply by tilting the container when pumping.